Richard Rankin (Roger Mackenzie) and Sophie Skelton (Brianna Randall) have returned to filming season three of Outlander.  They were seen today filming in the West End of Glasgow, Scotland.  Yesterday, we saw photos of the preparation of filming these scenes.  The scenes are being shot at Christmastime and are believed to be set in Boston.  This means Roger has crossed the pond to visit the Randall ladies.
More photos will be added as they become available.
Update: Caitriona Balfe showed up later to film also.  She is seen leaving the Boston home with luggage.  The 1960s hair is there.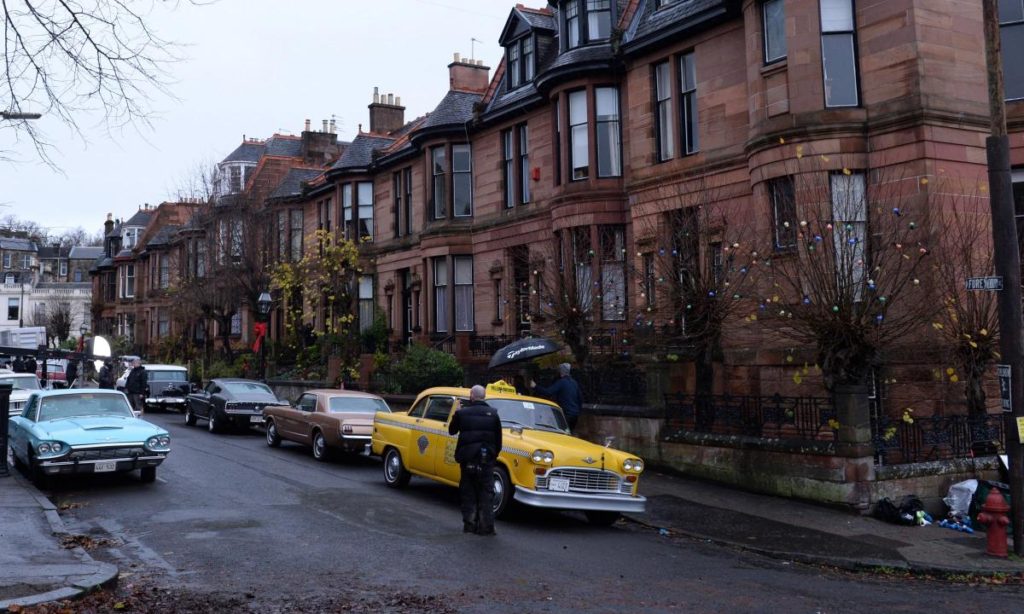 Sophie Skelton is on set #outlander pic.twitter.com/70kOyNQvY4

— Iain (@Iainyoung43) November 18, 2016
Vintage yellow cab arrives #outlander pic.twitter.com/UFPKBTJ1Jv

— Iain (@Iainyoung43) November 18, 2016
Night cab for Claire #Outlander pic.twitter.com/ngq6NHZkjs

— Iain (@Iainyoung43) November 18, 2016
Taxi for ????? #outlander pic.twitter.com/sB7sHl9Eld

— Iain (@Iainyoung43) November 18, 2016
Catriona Balfe is in the street #outlander pic.twitter.com/BFR1mZ6Taz

— Iain (@Iainyoung43) November 18, 2016
.@Outlanderfans #outlander #jgssets @BarryWaldo It's beginning to look a lot like….. pic.twitter.com/k5aUtrMUmz

— JON GARY STEELE (@jongarysteele) November 17, 2016
Glasgow getting ready to become Christmas in Boston. #Outlander pic.twitter.com/rdKXZNK5x4

— Iain (@Iainyoung43) November 16, 2016
Claire's 1960's wig, washed,conditioned,set and now baking in the Wig oven! #outlander #makeupartist #1968 pic.twitter.com/Vw45vlC1O0

— AnitaAndersonMUA (@AnitAndersonMUA) November 18, 2016
Source: Evening Times, Daily Mail, respective Twitter accounts