Entertainment Weekly has a sneak peak of Tara Bennett's upcoming book, The Making of Outlander: The Series: The Official Guide to Seasons One & Two, out October 18, 2016.  In this peek, executive producer explains the story and circumstance between five behind the scenes photos from seasons one and two of Outlander.  To read the entire article, head over to EW.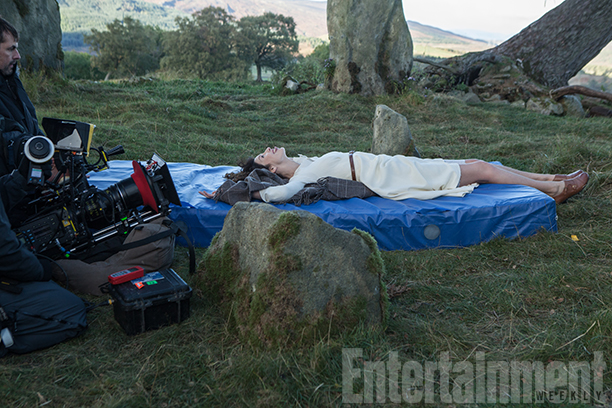 Though the giant stones of Craigh na Dun were constructed out of foam with hard coating to help preserve the ground, the rest of the scene didn't require special effects — which Davis says everyone took as a positive sign. "I have such a fabulous memory of this specific scene," Davis says. "It was so ethereal up there. We didn't use the wind machine, because every time she went to go do [the scene], the wind picked up. It was so weird for everyone there that day."

"It was just like a meant-to-be moment," she adds. "We had really beautiful weather, which is unusual for Scotland, so I think we were all tricked into thinking that [the rest of filming would be easy]… There's just a look of pure joy on Caitriona's face there. It was a magical setup for what would become a really magical shoot." Then again, noteverything was picture perfect. "We had a really difficult time finding the blue flowers that Diana had described in the books," she recalls.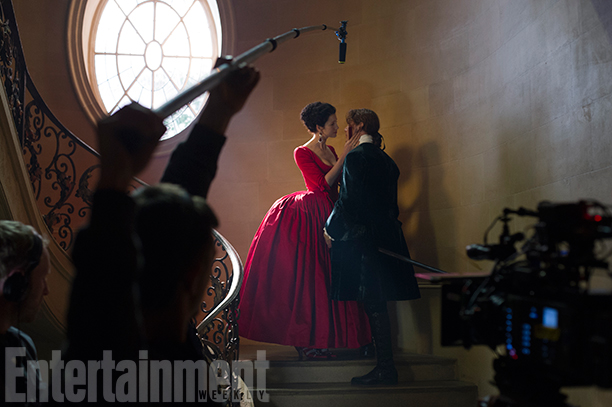 The shot shows just a bit of the crew surrounding them in the bottom left corner, which Davis says is a common sight for the Balfe and Heughan, especially in their closest scenes. "It's like Jamie, Claire, and 20 other people," she laughs. "From the start, [Caitriona and Sam] had this amazing relationship. They get along so well. If they didn't, we'd be in trouble."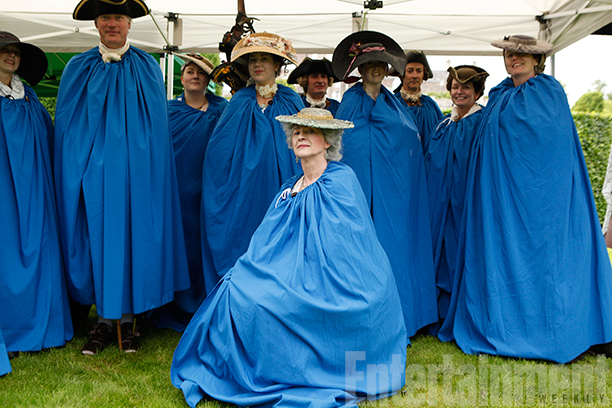 Blue ponchos are ubiquitous on the Outlander set. "The Scottish weather and landscape is rough. It rains all the time, we have to work in the mud and the dirt," she says. "The mountain of umbrellas and ponchos we have is just kind of a constant… It's become second nature [to see extras like this]."
This shot comes during the episode in which Claire flashes back to her time in World War II, experiencing PTSD on top of her grief over losing Faith and abandoning her life in Paris. "When we were breaking this episode, [writer] Matthew B. Roberts realized that Claire didn't have a lot to do during those chapters," Davis explains. "Matt came up with the idea of the PTSD moment, because we felt like she never talks about her experience in war that much, and it seemed likely that at that point, she would be dealing with the effect of being in war." Focusing on Claire's difficult headspace, though, did ironically give them some levity. "It gave us a fun little moment where we could show the origin for the line, 'Jesus H. Roosevelt Christ,' which she says a lot," Davis says. "That was a fun Easter egg moment for fans."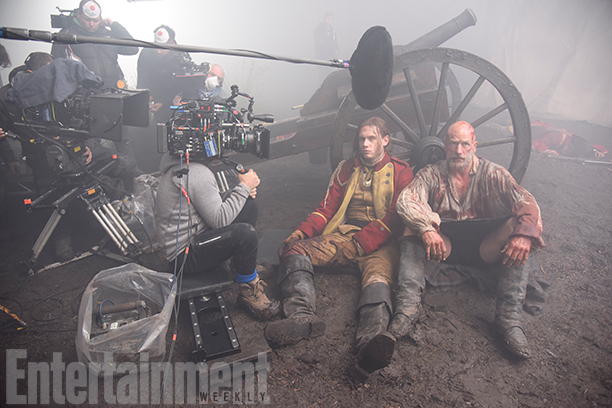 Shooting battles is never easy, and for the Battle of Prestonpans, production had to also deal with — yes, again — uncooperative Scottish weather. "The true battle happened in quite a bit of fog, and we wanted to recapture that, but we discovered very quickly that with the wind, we couldn't capture the fog with a smoke machine," Davis says. Instead, the team constructed a marquee tent, filled it with smoke, and then filmed the entire battle inside. "It was a pretty ingenious idea that saved us in the end, but I mean, it got pretty disgusting with the blood and horses and mud and everything."
Source: EW