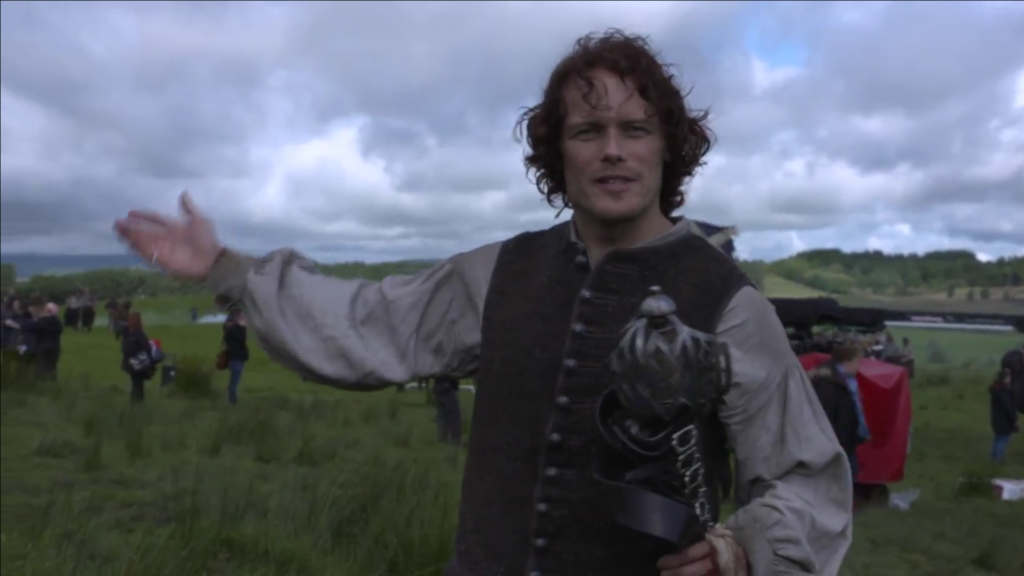 Sam Heughan recently did an interview with People Magazine about becoming the global brand ambassador for Barbour.  While fashion style was discussed, he did talk about Outlander as well.  See the quote below, and head to People Magazine to read the entire article.
"As beautiful as [the swan nipple dress] looks, I have no desire to [wear it]," Heughan tells PeopleStyle, laughing. "The women on the show have all of the corsets, the underwear and the underdressing they have to wear. It is really is a lot of material to be worn. So I feel very fortunate to be wearing kilts. They're very easy to put on — and very easy to take off."

"In this season, we span over 20 years — we go to Scotland, Jamaica and England and also end up in North Carolina, so it's a real adventure," he says, adding that they filmed a few scenes the crew didn't even know about. "I was like, 'Oh my God. What are you doing?' So there's going to be some surprises and really dramatic, epic scenes."

"[Caitriona and my] hair is very much a part of the show," he says. "It's all about big hair. Claire's hair is very unkempt. And same with Jamie. His hair is very much a part of who he is — the color and the look to him. It's an honor playing this character for over three years now. It feels like a part of me. It'll be a sad day when I'll have to lose it [the hair]." Um, we second that.
Source: People Magazine