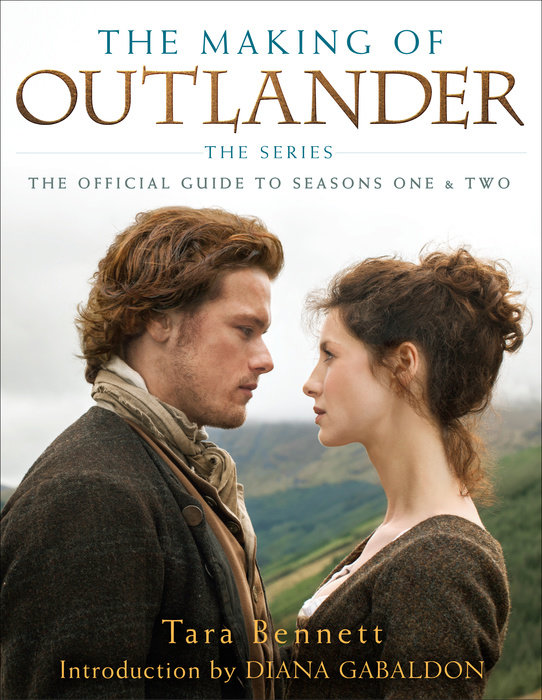 "…If there's something you want urgently to do in life—do it. The universe will usually come out to meet you." –Diana Gabaldon.
As a somewhat obsessive Outlander fan, I needed to own this behind-the-scenes guide for two reasons:
To add to my growing collection of Outlander texts, trinkets and random fandom paraphernalia
And on the off chance that just maybe I'd stumble upon a new mind-altering tidbit of information about the actors, writers or production crew, a tiny glimmer into their spectacular universe.
Based on those criteria alone, The Making of Outlander The Series The Official Guide to Seasons One & Two by Tara Bennett fulfilled my expectations. The book, rich with season one and two photos, chronicles the making of each episode, occasionally interjecting chapters that focus on an actor or key production person. Bennett's style is journalistic; she sets the scene and then relies on direct quotes and interviews to do the majority of the work.
I must admit, I was already familiar with roughly 90 percent of the content and anecdotes, but as blog-runner Sarah pointed out, that's what comes with show blog territory. So perhaps that critique is somewhat subjective.
Things I loved:
Tobias Menzies content. I've loved Tobias since I first saw him as Brutus on the HBO series Rome. But the man is stoic at best. I often find myself feeling unfulfilled after watching his interviews as his answers tend to be vague. He is heavily featured throughout, and his insights into Black Jack/Frank and their dynamic with both Jamie and Claire are wonderful. His approach to portraying his own characters and giving them an honest motivation is academic and fastidious. It was a breath of fresh air to hear more about what he really thinks and how he works.
Tidbits and Easter Eggs:
I did in fact learn a few new things. My understanding of how Outlander got to Ron Moore was that it happened one night over dinner. Moore, his wife and Outlander Costume Designer Terry Dresbach had dinner with his production partner Maril Davis. Both Dresbach and Davis were avid fans of the book series and convinced Moore to read it. As it turns out, Outlander Writer and Producer Matt B. Roberts actually recommended the books to Davis years earlier. He really is the heart of the show.
The Comte's music theme is legitimately the Comte's music theme. In prepping for season two, composer Bear McCreary researched the historic figure Le Comte' San Germain. Apparently he was also a composer. McCreary found one of his more prominent compositions and weaved the melody into the overall score.
There are a number of parallels between The Wedding episode and what happens to Jamie (Sam Heughan) in Wentworth Prison. For example, Black Jack circles Jamie in a manner akin to Claire when they consummated the marriage. I totally missed that.
Things I missed:
I wish there were more previously unseen photos. Granted, I recognize we live in the viral ethos and that it's harder and harder to keep photos and footage under wraps, but the imagery was nothing new. I also thought the photo spreads lacked consistency and cohesion. In the episode chapter Useful Occupations and Deceptions, there's a lovely anecdote from Maril Davis about how Casting found Bouton, the disease-sniffing dog. But no picture of Bouton! Few photos in life are better received than cute dog photos.
Character chapters were missing. Grant O'Rourke (Rupert) got his own chapter but Stephen Walters (Angus) did not. Nor did Steven Cree (Ian) or Nell Hudson (Laoghaire) among others.
Overall, the book was a walk down Memory Lane. I learned a few new things and admittedly The Making of Outlander The Series The Official Guide to Seasons One & Two will make a nice addition to my two Outlandish Companions.