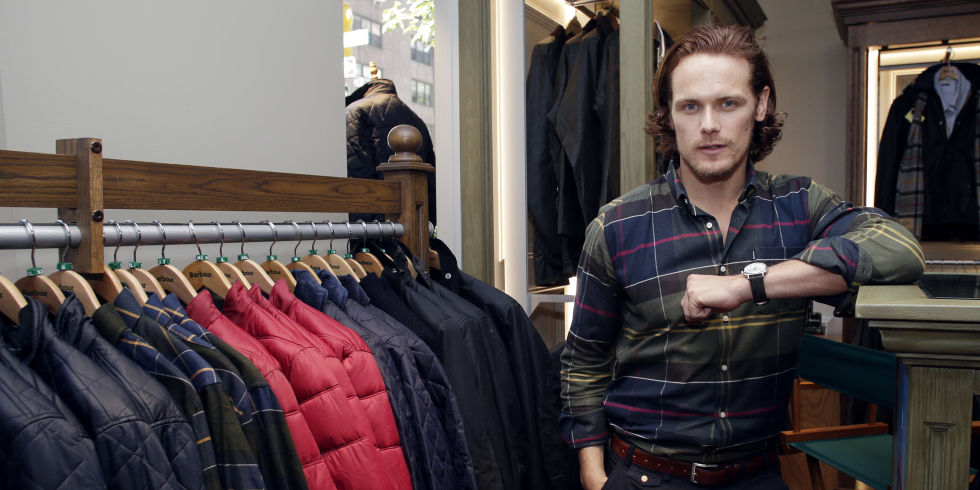 Elle sat down with Sam Heughan on his NYC trip representing the Barbour brand.  Below are excerpts from the interview, but head over to Elle for the whole interview. He talks about the third season of Outlander, sheep dipping and growing up on castle grounds . . . he had an interesting childhood.
Do you have any particular outdoor memories of your childhood in that village?

It sounds almost unreal, but I was born and raised on old castlegrounds—Kenmure Castle.

That does sound made up.

It's pretty ridiculous, isn't it? But it was also a working farm, so we used to go help the local farmers dip the sheep and round up the sheep. The local shepherd, I vividly remember his old Barbour jacket, with a hipflask in the pocket. It just feels very familiar—like part of my childhood. The smell of the wax. Whenever I put one on now, it just feels comforting.

I imagine it's pretty cold in Scotland while you're filming.

I came from Scotland this week—I'm filming now, and just finished the first two episodes of the third season. It's freezing cold. It's raining.

Isn't it summer?

Yeah. It's Scotland. It's always wet. Scotland is about layering. The weather changes every 10 minutes.

But you have it easier than your costar Caitriona Balfe, who has to wear giant dresses that she can't even get through doors. Is she mad at you sometimes?

You know, every day I feel very fortunate, because it's tough for women. In those days, it was terrible—in these corsets, to be almost trussed up in something very constrictive. Whereas for men, it was very relaxed. They give me half an hour to get ready in the morning, to get my kilt on. I can do it in two minutes. It's great. Poor Caitriona is there for 45 minutes.

Is there anything you can tell us about the forthcoming season?

The third season is based on the third book. I don't want to jinx it, but it feels very strong, very exciting. There's a lot that happens in it. If the second season was very political—a lot of intrigue, and even Diana Gabaldon said it's a hard book to adapt—I think the third book is the one everyone's excited about. So much time passes by—20 years—the characters are apart and together again, so there's some big emotional stuff.

Are you spending a lot of time in makeup to capture the passing of time?

[Squints cagily] Jamie has to age—I'm not giving away how. But I think it's less about looking older and more about the experiences he's gone through. I spend hours in makeup anyway, because I'm always covered in mud or blood. You can still see makeup on my nails here. It just won't come off. I've spent the last two weeks on a battlefield.
Source: Elle.com