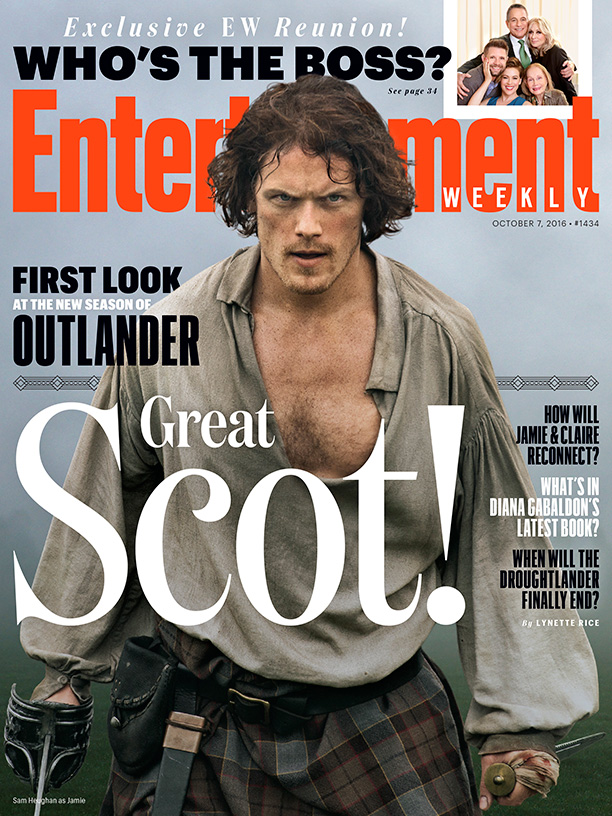 It's a big day in Outlander news.  Outlander, specifically war-torn Jamie (Sam Heughan), graces the cover of Entertainment Weekly for the second time.  Woohoo!
If that is not enough, below are the first official photos from season three, specifically the first episode.  Outlander may be making us wait a while for season three, but at least they are keeping us entertained.  The photos show Jaime, Black Jack Randall (Tobias Menzies), and Claire (Caitriona Balfe).  What do we think about the Claire photo?  It looks like a dream sequence.
Here is what showrunner Ronald D. Moore had to say about season three in relation to showing Culloden.
"It just felt like for the TV show, we've been promising this for a while and it just felt like we should have something," executive producer Ronald D. Moore tells EW of the conflict that was first teased in the season 2 finale between the French-backed highlanders and the British army. "We should give the audience some sense of what happened on that moor."

"We're playing it out more," promises Moore, who says the epic shoot in Scotland in August was "easily one of our biggest set pieces."
We will definitely have the whole EW Outlander feature up when it is released, but if you don't subscribe and had a hard time finding the first sexy issue, buy a copy here.
"Tobias [Menzies] and I love doing the battle scenes," says Sam Heughan. "It felt very intense, very emotional for both characters. Something they both have been seeking."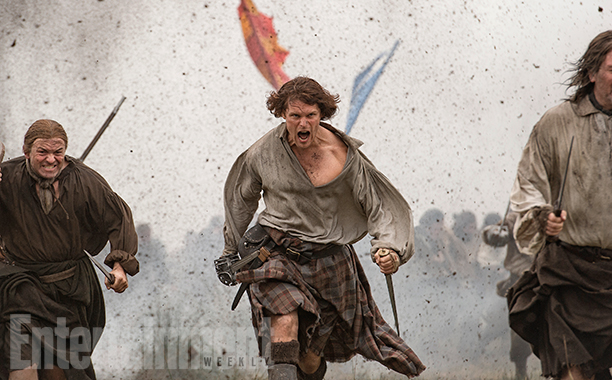 "It felt like everyone was really desperate to get into this battle," says Heughan. "This is a big part of our culture and our history."
"For the first few episodes, we're going to show the parallel journeys that Jamie and Claire took during their 20 years apart from one another," explains Caitriona Balfe.