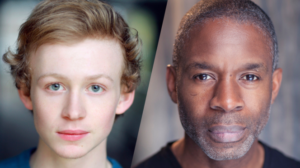 Variety just released two new casting announcements. Jamie's nephew "Young Ian" will be played by John Bell, and Claire's best bud from the 1960's "Joe Abernathy" (Joe is one of my absolute hands-down favorite characters from Voyager) will be portrayed by Wil Johnson. (YEEEEEEEE!!!!!)
Based on the synopsis released earlier from Starz, Season Three deals with Claire and Jamie attempting to live their lives in their own times and without the other. In spite of their mutual loss, they find kindred spirits in odd places. In Jamie's case, it's through his nephew Ian. Claire finds her intellectual equal in her med school colleague, Joe.
According to Variety (Excerpts):
Young Ian is a tall, gangly Scottish lad with a heart of gold, a stubborn streak and a penchant for getting into trouble. Bursting with charm, he's more like his adventurous, fierce uncle Jamie than his farmer father Ian — but when we meet him, he is still a very gawky boy.
Joe is a fellow doctor-in-training whom Claire befriends in medical school. Intelligent, charismatic, with a wry and irreverent sense of humor, Joe is a loyal confidant with great affection for Claire. He puts on a good face, but he is all too aware of his place in the Civil Rights era. Joe and Claire both feel out of place in the mostly all-white, all-male medical field, which bonds them together in a lifelong friendship.
Outlander Lists gives the following descriptions *Edited to remove spoilers*:
Ian Murray (Young Ian)
Full name: Ian Fraser Murray
Also known as: Wolf's Brother
Born: November 1752
Parents: Ian Murray (Snr) & Jenny Fraser
Siblings: Young Jamie, Maggie, Kitty, Michael, Janet
Physical Characteristics: Dark brown hair, large ears, and beautiful brown eyes like a deer's. Ian's face is homely being long and bony …
Ian is the youngest of Jenny & Ian's brood of children and has a knack for getting into difficult situations. He is very close to his uncle Jamie and due to his aforementioned knack of getting into difficult situations has spent most of his adult life living with or close by Jamie and Claire…
Significant Moments:
Ian makes his appearance into the world in Voyager. Please click on the link below to access more of his timeline John Bell's IMDB 
Joe Abernathy
Full name: Dr Joseph Abernathy
Children: son Lenny who changed his name to Muhammad Ishmael Shabazz III, and a daughter (V, chapter 20)
Physical Characteristics: Joe has a gold tooth far back on the right side (V, chapter 18) He has warm golden-brown eyes and wears spectacles for some things (V, chapter 20)
Joe is Claire's closest friend from Medical School. Claire says Joe is one of only four people she's met who will tell you the truth about themselves straight out. The other three are Jamie, Master Raymond and Roger (V, chapter 7) Joe's mother wanted him to be a preacher (V, chapter 18) Joe sometimes gets called on to do forensic work for the coroner's office on badly deteriorated bodies (V, chapter 20)
Significant Moments:
1955: Joe starts medical training the same time as Claire. They are both interns at Boston General, Joe being the only black intern, Claire the only female one, but they don't become friends until the end of their internship when they bond over a badly written romance novel (V, chapter 18) Wil Johnson's IMDB
Season Three is chug chug chuggin' along, y'all!
Source: Variety.com, Outlander Lists