It looks like today Tobias Menzies and Caitriona Balfe are in the west end of Glasgow filming scenes for season three of Outlander.  By the looks of Caitriona and Tobias in costume and the cars, they look to filming Boston scenes from after Claire returns from Jamie.  Thanks to the fans and bystanders for taking pictures (and video).
If any more are posted today, we will update this post.  Keep checking back.
Update (7:06 PM): More photos added.  They moved to shooting at night in the same location and moved up a bit in the timeline (notice the cars).
Living near #Outlander Base camp is a bit surreal. This is part of the magic. Lots of 1940s cars around. pic.twitter.com/SGddyehEGj

— Danielle Fatzinger (@bonniecelt) September 21, 2016
So cool just to know that up this street #Outlander is filming. pic.twitter.com/qXfEgt5qZj

— Danielle Fatzinger (@bonniecelt) September 21, 2016
Picture of @caitrionambalfe filming in Glasgow for #Outlander pic.twitter.com/sYKqAmTqzn

— OutlanderPhilippines (@OutlanderPHL) September 21, 2016
Catriona balfe getting ready for filming. #Outlander pic.twitter.com/E5pmIi0USa

— Iain (@Iainyoung43) September 21, 2016
#Outlander rehearsals outside house today pic.twitter.com/YQgcu3WqAS

— Iain (@Iainyoung43) September 21, 2016
#Outlander filming in #Glasgow. Actor Tobias Menzies in character. pic.twitter.com/6OCHj4QwRt

— Heart Scotland News (@HeartScotNews) September 21, 2016
Filming for the next series of #Outlander in the west end of #Glasgow pic.twitter.com/PQSHQd7a7G

— Heart Scotland News (@HeartScotNews) September 21, 2016
.@TheMattBRoberts Saw Boston (Glasgow) property 4 sale! We want 2 make an offer! @caitrionambalfe @TobiasMenzies @SamHeughan @jongarysteele pic.twitter.com/D8x8XMi30X

— Clan Heughan (@ClanHeughan) September 21, 2016
Enjoyable time watching the making of #outlander pic.twitter.com/qqX3v6TVi3

— Iain (@Iainyoung43) September 21, 2016
Jumping to the 1960s #Outlander pic.twitter.com/xGAjiNVbSy

— Iain (@Iainyoung43) September 21, 2016
Nighttime filming under the bright lights #Outlander pic.twitter.com/OXNXFH5DTK

— Iain (@Iainyoung43) September 21, 2016
It's raining in Glasgow (Boston) #outlander pic.twitter.com/zk1Ntz6O0Q

— Iain (@Iainyoung43) September 21, 2016
Spent the whole day on the Outlander set in Glasgow today … lots of fun #Outlander #scotland #glasgowi pic.twitter.com/Whcl5oWtzl

— Andree Poppleton (@poppy53) September 21, 2016
Glasgow twinned as Boston for the new series of Outlander. #outlander #outlanderseason3 #glasgow #scotland pic.twitter.com/c7JgSHXCXv

— michael mcgurk (@mickmcgurk) September 21, 2016
#outlander #filming #westend#glasgow pic.twitter.com/pWIMROcZVC

— Noreen Lyon (@nlyontourscot) September 22, 2016
.Couldn't help but notice Claire's silver wedding ring that Jamie gave her on Cait's right hand! ❤️ @OutlanderTVNews @VoteOutlander @Sheugs pic.twitter.com/btQnK7P0eW

— Clan Heughan (@ClanHeughan) September 21, 2016
https://twitter.com/ClanHeughan/status/778684342281220096
.@caitrionambalfe trying to autograph something for me n the rain! So kind and very beautiful! @OutlanderTVNews #Outlander @LittleM97472774 pic.twitter.com/6VtcqhTG8u

— Clan Heughan (@ClanHeughan) September 21, 2016
.@ClanHeughan @OutlanderTVNews @rthacarr just icing on the cake! @caitrionambalfe was so lovely and very gracious to all of us. #Outlander pic.twitter.com/yQjIMFVJXJ

— Lori Kuhns (@lorikuhns) September 21, 2016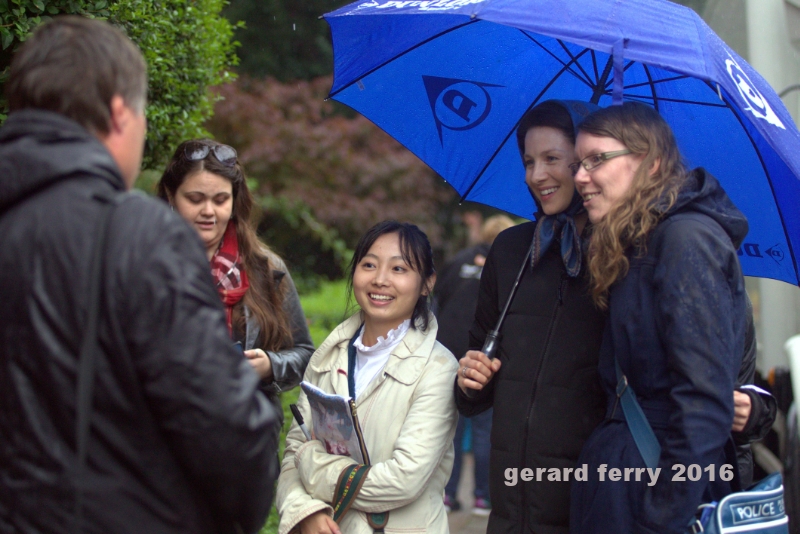 Sources: Respective Twitter and Instagram accounts, Glasgow Live, Herald Scotland, The Daily Record, The Sun, Gerard Ferry, The Scottish Sun