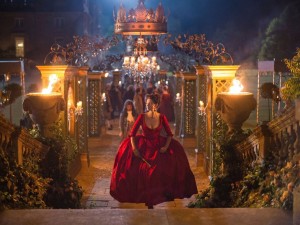 Harper's BAZAAR (HB) caught up with Outlander besties Costume Desginer Terry Dresbach (TB) and Production Designer Jon Gary Steele (JGS) to learn just how the two maintain their creative dynamic while bringing the time-traveling fantasy to life. According to Dresbach it's easy, "creatively, he's my twin."
Enjoy these excerpts or see the full interview here>>.
EXCERPTS:
Harper's BAZAAR: How do your teams collaborate to create the feel of the show?
Terry Dresbach: Gary and I have been best friends for, I hate to say, almost 30 years. I know him better than maybe I know my own husband in some ways. Creatively he's like my twin. We confer a bit—"What color is that wall" or "What color is that dress?"—but we're always linked creatively.
Jon Gary Steele: We actually think alike. If we're walking the streets we'll both notice the same thing. We always show each other as many colors of what we're doing in advance. In Paris especially, everything was discussed. We were going for deep, dark rich colors for the walls and things like that, so her costumes would pop off. The first year we couldn't use red because Ron [Moore, Outlander showrunner] wanted the Redcoats to be only red. It's all thought-out and talked about.
HB: Are pieces of the sets echoed in the costumes? 
TD: Always. Gary and I take vacations together and road trips. I make him chocolate cookies and he brings over a giant stack of design magazines. It doesn't matter whether its fashion design or interiors, we're both going, "Oh my God, look at that color." I'll open my email and be like, "You've got to see this image from Elle Décor " or "I just saw this dress or this piece of jewelry," so we're always in sync. Those little pieces get echoed. I'll walk on a set and go, "That looks like that jewelry piece you showed me last month." Or he'll go, "There's that fabric color you were talking about." It's always threading through everything we do together.
JGS: I noticed there was a scene in Jamie and Claire's bedroom and Claire was wearing some kind of metallic thing that was like a chain. It was a very old, ancient thing and it went from one part of her chest down to a little pocket, and Jamie has these buttons on the coat he was wearing. They're sitting by the fireplace in this chair that had studs all up and down the sides. The fire was hitting the studs and his buttons and this piece of chain that she had on. We discussed it later; it was like it was all planned. We're all trying to achieve the same magical thing and it does happen a lot.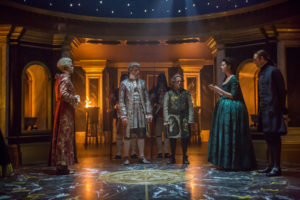 HB: What can you tell me about Season 3? 
JGS: Well we're in America, we're in some Caribbean islands and we are also in Scotland—that's the only set that plays more than one period. It'll be there all three seasons. That set is still up, that's the only set that's been up that long. I don't know if I should tell, but we're building a huge Boston apartment. I'm excited about the look of Boston. And the print show is gonna be awesome. We had two real print presses made by a guy who makes replicas for museums. I'm trying to make it feel like one of the first factories, with a pre-industrial look to it. It's gonna be awesome. I walked around through it last week. It's a big set. There will be all kinds of fun stuff to keep everybody going. It's a completely different look.
TD: It is a completely different show. This is a really good season for us because it's almost like a transition, story-wise and it's not hard on us. The beauty of a show about time travel is that it's a show about time travel. We are bouncing back and forth right now between the '60s and the 18th century. Right now I'm knee-deep in the '60s. That's so much fun. Just when you think you can't see one more 18th century gown, you're suddenly doing mini skirts. There's a few surprises out there that are gonna excite a lot of people and piss a lot of people off. I can tell everybody that right now. And beyond those, it's kind of a low-key season for us and then Season 4 is huge! Because we've been picked up for two seasons, we've put a lot of our focus on what's going to be happening in 4. It took us a year to prep for Season 2 and it's going to take a year to prep for Season 4. Season 4 will be another biggie.
HB: There are particular challenges for Season 3 for you, Terry. You have to deal with changing body types. Jamie's been living in a cave for years!
TD: He's living in a cave for several years and I don't think anybody's bringing in a new rack of clothing every week. We have different issues. We have issues of breakdown in aging—you gotta believe that everybody looks the way they're supposed to, so we have a different set of challenges. It's not going to be about building huge spectacular costumes like we did in Paris and it's not like Scotland. It's a new world and a new reality that we have to create and it's already fantastic. 
"We've barely started. We were out on set, we saw the first day of shooting and we were like, 'OK, here we go again!' It's a fascinating show that way."–Terry Dresbach
In anticipation of season three, we agree with JGS, "It's gonna be awesome."
Source: HarpersBazaar