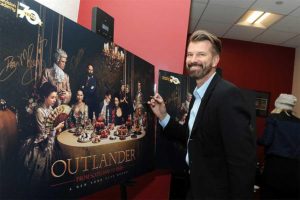 In his recent interview with GoldDerby.com, Production Designer Jon Gary Steele–quite possibly the yin to Costume Designer Terry Dresbach's yang (they're also besties in real life)–talks about his first Emmy nomination among other things, for his work on the STARZ hit Outlander. 
In addition to the nomination, Steele discusses extreme scenery changes with budget constraints, creative challenges, Dangerous Liaisons and why the work matters; The fans!
"It's like a train that never stops, but just keeps going."
Steele received Emmy nominations for his work on episodes Not in Scotland Anymore and Faith, both from season two.
Follow Jon on Twitter: @JonGarySteele
Source: GoldDerby.com