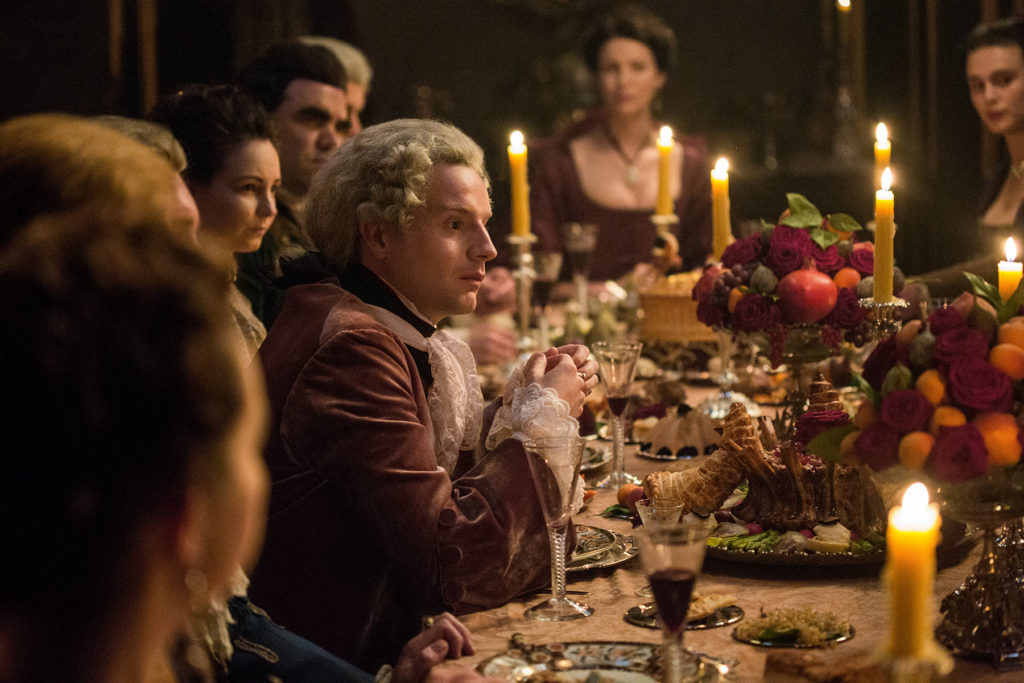 Bravo, Andrew Gower!  With only one episode left of season two, one of the most memorable characters for this season has been Bonnie Prince Charlie played by Andrew Gower.  He is indeed the guy who made me laugh every time he says, "Mark me," and made me disgusted about how out of touch the Prince is with his men and his land and cause.  We saw what Andrew was going to look like as the Prince before we saw his portrayal on screen.  I don't think he disappointed anyone, except maybe the hangovers endured after playing the "Mark me" drinking game.
Yahoo has really great interview with Andrew about his role.  Excerpts are below, but please read the entire interview because it is too good to miss.  There is a little tease for the season finale below.
How has life changed since becoming a part of a show with such a dedicated fanbase? Do people recognize you when you are in your modern-day look?
Stephen had told me how loyal the following was, and I have been lucky enough to experience it firsthand now. It feels validating. I don't get recognized on the street. I would be worried if I did, given that I wear a wig at all times on the show and have quite a different wardrobe, and the facial expressions I pull even. The day I start getting recognized as Charlie, I will be worried. There's been none of that. But virtually over Twitter, it has changed tremendously. I have so many more followers now. And all good, positive interactions. I am quite happy that I can still walk down the street every day in a pair of jogging bottoms and my woolly hat, and no one knows who I am. That's nice.

You play a historical figure, Bonnie Prince Charles Stuart. Did you do much research on him?
A hell of a lot. The Frank McLynn biography became my bible basically up until recently when I lost it on a flight between Edinburgh and London. It was so important to read his letters and to know more about his relationship with his father and his time in Italy and Paris. When you are playing somebody who did exist and there is good source material on them, whether it is a biography or archives or experts, you would be stupid not to delve into them. But there is a point in the process where you leave the books alone, and instead, you focus on the script and creating your version.

I'm wondering if his catchphrase "Mark me" is based on research, or was that just something that came from the book or from the writers' minds?
There is no mention of that particular phrase in my bible on Charlie. It has become such a part of the character. Quite interestingly, it was in a first draft and read-through for my first-ever appearance on Outlander. There was a speech in the brothel, and from that point I wanted to build on that. I kept adding a few more "Mark me's" because it felt like his way of demanding attention and saying, "This is my moment. Pay attention." I took it also as a very military phrase, and he is a guy who is interested in that as in, "Mark my gun" or "Mark my sword." In a way, for me in trying to play someone with a lack of identity, I wanted to give him a phrase that he routinely uses and that speaks to who he is. The scenes where I have not used it, I was a bit more raw and emotionally cut up. I have enjoyed the collaboration with the directors and writers on deciding when to throw one in or when to cut it out. It was a nice thing to add to the character.

What took more getting used to — the wig, the kilts, or the high-neck bows and ruffles?
The wig. Definitely the wig. Although I do not have the knees for kilts either. If I do come back, I am going to have to work on the legs. [Sam Heughan's] legs put mine to shame.

Can you tease the finale?
I am going to give you very short, mysterious clues — wax, an unfinished battle, and more God. It is going to be a great, great episode. Not to be missed.
Source: Yahoo