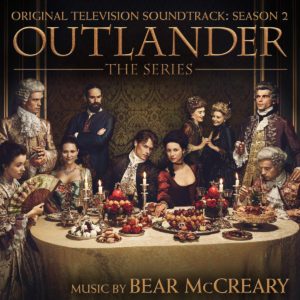 One of the first rules of strong telling is Set the Scene. A well-written score does this before the audience gets a glimpse of the visual. A well-written score evokes raw emotion like angst, grief or elation. And, a well-written score moves the story forward. (Or in Outlander's case, backward then forward then backward then forward again.)
Yet another confirmation that we have officially entered #Droughtlander, Composer Bear McCreary posted his "final blog entry for Outlander Season Two." In it, he talks about seeking inspiration in Scottish folk songs authentic to the time, finding Bree's sound, and the intentional tonal changes required to demonstrate not only the change in venue but more important, the escalation in political climate from uncomfortably tense to full-blown war.
Enjoy some excerpts here, or pop over to the blog itself for the full entry.
Excerpts:
My score needed to shift back to the haunting Scottish sounds of season one, with an added emphasis on military percussion and pipes.
At first, it feels like we are simply reusing the season one theme, but the track quickly evolves from there. Iconic Scottish snare drums sneak in behind her voice, providing a distinctly militaristic feeling.
The instrumentation is predominantly the same, but the emotional impact of this harmonic change is intense. This main title sequence prepares us for war.
"Moch Sa Mhadainn" was very likely sung during the uprising by mounted or marching Highlanders, with larger groups joining in at the choruses. I wanted to capture that feeling by featuring male vocals in the soundtrack.
"Dragonfly in Amber" was a logistical challenge for me because of its structure. The narrative leaps back and forth between two centuries, with different tones in each storyline. In the 1740's, the tension gradually mounts as Jamie and Claire make their final preparations before the battle. This required a backdrop of Scottish instrumentation and a relentlessly accelerating percussive spine that peaked in the soaring emotional farewell at the stones. The music from every scene in the 1740′s can actually be stitched together to form a cohesive single piece of music, something fans will get to hear when the soundtrack album is released this fall.
In the 1960's, Claire reminisces about the past while Brianna pieces together the clues of her ancestry. This storyline required a more subdued approach, leaning more towards orchestra than folk instruments. I struggled with writing a new theme for Brianna and Roger for this episode, and ultimately found there wasn't room in the narrative for an entirely new musical idea. In this story, Brianna chases Jamie's ghost. She discovers her own identity in this episode. It felt premature to define her musically when she hadn't yet defined herself. Instead, I used snippets of the Jamie and Claire theme as she gets closer to the truth, an effective way of underlining this idea. Now that she knows who she is, I am confident I will find opportunity to compose an original theme for her next season.
The season ends with a glorious shot of the camera pushing back in on the stones, as the sun rises in the background. Here, I quoted the Stones Theme once more. I introduced this melody in the first episode, and have used it since to represent our characters taking important steps on an epic journey. There seemed no better way to wrap up one of the most ambitious seasons of television I have ever scored.
No better way indeed, Bear. Until Outlander Season Three. Looking forward it.
Source: BearMcCreary.com