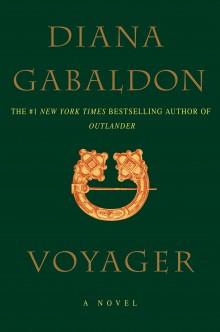 We fans have been spoiled with some really great writers for seasons one and two of Outlander.  The core writers have been Matthew B. Roberts, Anne Kenney, Toni Graphia, Ira Steven Behr, and Ronald D. Moore.  With season two, we had the addition of Richard Kahan (episode 205) and Diana Gabaldon (episode 211) to the writers' group.
On the heels of a season three and four pickup, the Outlander writers' room has a bit of a shake-up to endure, not that it can't be a great thing.  Ira Steven Behr is not writing any episodes for season three.  Diana Gabaldon is not writing any episodes for season three as she is focusing on finishing Book Nine.  Richard Kahan will not be writing any episodes in season three, either, but will continue as the writers' assistant.
@teepe54 Just hired four very talented writers

— Ronald D. Moore (@RonDMoore) June 26, 2016
.@DeborahCalleros the S3 writing team #ToniGraphia @ankenneyy #LukeSchelhass #KarenCampbell #JoyBlake #ShannonGoss Me and Ron of course

— Matthew B. Roberts (@TheMattBRoberts) June 29, 2016
.@OutlanderTVNews they are all experienced writers-producers and yes they have read the book.

— Matthew B. Roberts (@TheMattBRoberts) June 30, 2016
So who are these new writers/producers?
Luke Schelhaas – He was a writer/producer on The Good Wife, The Playboy Club, Off the Map, Law and Order, Runaway, Killer Instinct, Smallville, and Touched by an Angel.  I am sure the ending of The Good Wife series made him available to write and produce for Outlander.
Karen Campbell – She was a writer for Unforgettable, Covert Affairs, Dexter, and Injustice.  She was a producer on Unforgettable and Covert Affairs, as well as being on the crew of Dexter in other capacities.
Joy Blake –  She was/is a producer on Outcast (if you have not seen this show, do so pronto), Matador, Criminal Minds: Suspect Behavior, and Ghost Whisperer.  She wrote for Matador, Criminal Minds: Suspect Behavior, Ghost Whisperer, Heroes, and Kevin Hill.  She was also a story editor on Ghost Whisperer and Heroes.  You can follow Joy on Twitter.
Shannon Goss – She was a producer on Reign and Revenge, and a writer for ER (just based on this, she is good in my book), Dragnet, Harry's Law, Lucky 7, Revenge, and Reign. You can follow Shannon on Twitter.
I will say that I love all the female writer love on this show, and these new writers are not newbies.  I think this change in the writers' room will only make this show stronger as we get different viewpoints and perspectives on how to write the events and story lines of Voyager and Drums of Autumn.
Welcome to the new Outlander writers!
Here is a Facebook post by Diana Gabaldon on the subject:
"NEW/OLD SHOW WRITERS!

I figured y'all might be interested in the new writers for Season Three. Matt B. Roberts, Anne Kenney and Toni Graphia will be writing (as will Ron; he wrote the script for 301 already–I've read it and it's great!), and there are four new writers on staff: Luke Schelhass, Karen Campbell, Joy Blake, and Shannon Goss.

I've met the new writers, though very briefly (no more than a handshake and hello, as I was rushing out after doing the podcast with Ron), and they all seem very bright and enthusiastic.

And since I know you're wondering–no, none of them had read the books before, but all of them _are_ reading. <g>"
And also here is a Storify Twitter wrap-up of a Writers Guild of America spotlight from early June on the Outlander writers from seasons one and two:
Sources: IMDb, respective Twitter accounts, Diane Gordon, Diana Gabaldon