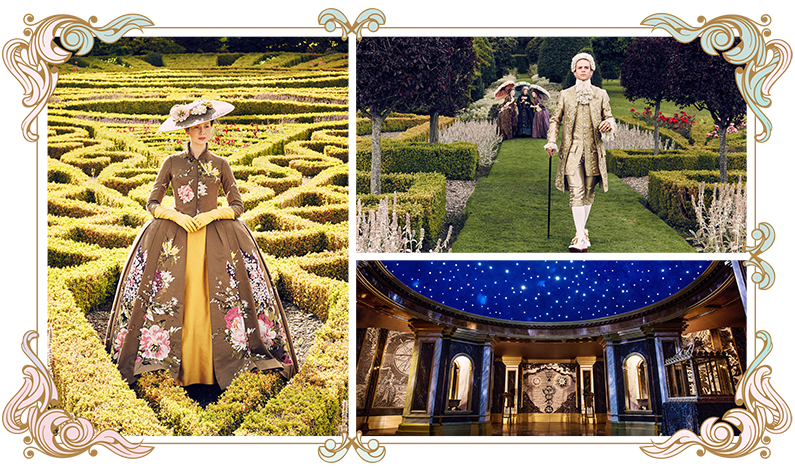 On the evening of June 6th the Paley Center in Los Angeles hosted a preview event for the exhibit,  "The Artistry of Outlander" spotlighting the costuming and production designs seen on the television series Outlander. Actors Caitriona Balfe, and Sam Heughan were in attendance as well as Producer Ron D Moore, Costume Designer Terry Dresbach, Production Designer Jon Gary Steele, and Executive Producer Maril Davis.
The exhibit information is as follows:
The Artistry of Outlander: An Exhibit of Costumes and Set Design, on display at the Paley Center Los Angeles.
Open Wednesdays to Sundays 12:00 to 5:00 pm
Closed Mondays and Tuesdays
465 North Beverly Drive
Beverly Hills, California
June 8 to August 14, 2016.
Admission is FREE and open to the public. 
"The Artistry of Outlander will take visitors into the world of the critically acclaimed STARZ and Sony Pictures Television series Outlander, showcasing many iconic costumes designed by Emmy-winning costume designer Terry Dresbach. Fans can step into 18th century Parisian society, where they will be able to view actual set pieces from Outlander production designer, Jon Gary Steele, life-size episodic photography, and behind-the-scenes video segments."
Many media outlets were on hand for the preview night and were sharing photos, interviews, and video from the red carpet. Hopefully the full panel will be made available from the Paley Center. Let us know if you are planning on stopping by to check out the exhibit.
Updated (6/9/2016): Additional interviews and links added.
Worthy articles (with photos): Indiewire, Nerdist, Buzzfeed, LA Times, Paste
.@jongarysteele & @OutlanderCostum walk the #OutlanderArtistry exhibit at @PaleyCenter. https://t.co/GOqLDzrPmi pic.twitter.com/XdA2A4ZiX5

— Outlander (@Outlander_STARZ) June 7, 2016
The uber-talented @OutlanderCostum & @jongarysteele during the #OutlanderArtistry walkthrough. @Outlander_STARZ pic.twitter.com/ZWXQ8bTDvA

— Paley Center (@paleycenter) June 7, 2016
Here's a small tease of #OutlanderArtistry exhibit @paleycenter LA June 8-August 14. Plan your visit now! pic.twitter.com/6zS3TdLEHC

— Paley Center (@paleycenter) June 7, 2016
Can you feel the love between @jongarysteele and @OutlanderCostum? So sweet! #OutlanderArtistry pic.twitter.com/1WbCKiKJTl

— Paley Center (@paleycenter) June 7, 2016
Team @Outlander_STARZ: @TallShipProds @jongarysteele @OutlanderCostum @RonDMoore #OutlanderArtistry in full effect! pic.twitter.com/YQHcOHzNOg

— Paley Center (@paleycenter) June 7, 2016
The #OutlanderArtistry red carpet has begun! Welcome Ron Moore & @OutlanderCostum Terry Dresbach! @Outlander_STARZ pic.twitter.com/dD92UUiLXP

— Paley Center (@paleycenter) June 7, 2016
https://twitter.com/brianne1017/status/739995792950317056
Oh, good evening @SamHeughan! Lovely to see you at #OutlanderArtistry. pic.twitter.com/eJ7i2dDQRv

— Paley Center (@paleycenter) June 7, 2016
#Outlander costume & design exhibit, The Artistry of Outlander, opens Weds at LA @paleycenter. #OutlanderArtistry pic.twitter.com/OA82xscaHd

— Mo Ryan (@moryan) June 7, 2016
Details from of Master Raymond's coat. The embroidery is incredible. #OutlanderArtistry #Outlander pic.twitter.com/EEsrd7VdzO

— Mo Ryan (@moryan) June 7, 2016
Quick snap of Maril Davis and @SamHeughan on the #OutlanderArtistry press line pic.twitter.com/AVdrni3gXO

— Paley Center (@paleycenter) June 7, 2016
Stuck on a 10-hour flight? @caitrionambalfe hopes it's with our very own @SimonCallow. #OutlanderArtistry pic.twitter.com/BUvupACmVB

— Outlander (@Outlander_STARZ) June 7, 2016
Looks like @SamHeughan wants to follow in @WilliamShatner's intergalactic footsteps. #Treklander #OutlanderArtistry pic.twitter.com/1FN6HsLFol

— Outlander (@Outlander_STARZ) June 7, 2016
Auhmazing @draiochta14 @jongarysteele #OutlanderArtistry #BeverlyHills pic.twitter.com/i1u16WZVAX

— Barry Waldo (@BarryWaldo) June 7, 2016
Star Chamber beautiful gorgeous stunning sets #OutlanderArtistry #Outlander @ADG800 pic.twitter.com/KOsANvBRJ3

— Barry Waldo (@BarryWaldo) June 7, 2016
The incredible artistry of #Outlander at @paleycenter with @draiochta14 @jongarysteele #outlanderartistry pic.twitter.com/y44AH0PXkT

— STARZ PR (@STARZPR) June 7, 2016
Run … Don't walk to @paleycenter to see @jongarysteele @draiochta14 work on #OutlanderArtistry #Outlander pic.twitter.com/RgzS5Wtwva

— Barry Waldo (@BarryWaldo) June 7, 2016
New recruits for my growing ginger/time travel army. Had THE most fab time at #OutlanderArtistry panel #Outlander pic.twitter.com/FaSoHaAl4B

— Mo Ryan (@moryan) June 7, 2016
#OutlanderArtistry at @paleycenter showcases the brilliant work of @jongarysteele & @draiochta14! #Outlander pic.twitter.com/Sb604OC2sw

— Robyn Harney (@IAmRobynNicole) June 7, 2016
https://twitter.com/thesurfreport/status/740167767601512448
.@caitrionambalfe, @SamHeughan & more at the #OutlanderArtistry event: https://t.co/BI22XniqUZ pic.twitter.com/4SlVfZudpp

— Access Hollywood (@accesshollywood) June 7, 2016
https://twitter.com/thesurfreport/status/740171098386366464
https://twitter.com/OutlanderHQ/status/740201440094736384
Great coverage of #OutlanderArtistry panel here https://t.co/Gph71t9UDT Know of no plans for release of panel recording, alas! #Outlander

— Mo Ryan (@moryan) June 7, 2016
Hey, @SamHeughan, if you were stuck on a 10-hour plane ride, who'd you want to be seated next to? #OutlanderArtistry pic.twitter.com/fx6EWgD52v

— Outlander (@Outlander_STARZ) June 7, 2016
Oh look, it's @LionelLingelser's #Outlander costume in the PaleyCenter window. pic.twitter.com/x83iHzVkJi

— Jolie Lash (@jolielash) June 6, 2016
#Outlander's Claire (@caitrionambalfe) costume in the window of the #PaleyCenter. pic.twitter.com/xL5Wv5gjPM

— Jolie Lash (@jolielash) June 6, 2016
Even @stanleyweber's costume mannequin has swag. @paleycenter #Outlander pic.twitter.com/MkYN9kJ5av

— Jolie Lash (@jolielash) June 7, 2016
Fun times at the #Outlander @paleycenter event! Thanks @draiochta14 & @caitrionambalfe! pic.twitter.com/CNHHo4Y971

— Jolie Lash (@jolielash) June 7, 2016
ICYMI, here's our Sam Heughan interview about the ep of #Outlander S2 he's most proud of (this time a YouTube link): https://t.co/K4C6hClPD3

— Jolie Lash (@jolielash) June 7, 2016
https://twitter.com/paleycenter/status/739996518808068096
#Outlander fans: We know where you need to be starting tmrrw 6/8. At Paley LA fr the exhibit https://t.co/Lyf4SkD3Em pic.twitter.com/dxYQG38oDo

— Paley Center (@paleycenter) June 7, 2016
.@RonDMoore jokes about doing two more seasons of @Outlander_STARZ: I just wish Diana would stop writing. pic.twitter.com/8dsdivzyBW

— Paley Center (@paleycenter) June 7, 2016
The calm before the #OutlanderArtistry red carpet begins… @Outlander_STARZ pic.twitter.com/EBck4IpzR1

— Paley Center (@paleycenter) June 7, 2016
Another peek at #OutlanderArtistry exhibit. So gorgeous! @OutlanderCostum detail is incredible! @Outlander_STARZ pic.twitter.com/THVr6FVP3j

— Paley Center (@paleycenter) June 7, 2016
https://twitter.com/paleycenter/status/739995770770751488
Stylish and elegant as always: @caitrionambalfe arrives at #OutlanderArtistry red carpet. @Outlander_STARZ pic.twitter.com/amxI2b3D4S

— Paley Center (@paleycenter) June 7, 2016
.@Outlander_STARZ fans: you must come see the #OutlanderArtistry exhibit. @SamHeughan says so! pic.twitter.com/M8p2STtrkh

— Paley Center (@paleycenter) June 7, 2016
https://twitter.com/paleycenter/status/739998226015653889
And now, a message from @caitrionambalfe about #OutlanderArtistry @Outlander_STARZ pic.twitter.com/EoGdFnLdeB

— Paley Center (@paleycenter) June 7, 2016
Hugs! @caitrionambalfe and @OutlanderCostum on the #OutlanderArtistry press line pic.twitter.com/3m88MgyQpc

— Paley Center (@paleycenter) June 7, 2016
Caitriona Balfe and Sam Heughan aka @Outlander_STARZ Claire & Jamie at #OutlanderArtistry pic.twitter.com/ofdML8Cb0v

— Paley Center (@paleycenter) June 7, 2016
Candid snaps of Caitriona Balfe & Sam Heughan at #OutlanderArtistry press line. @Outlander_STARZ pic.twitter.com/0zotrtXJsY

— Paley Center (@paleycenter) June 7, 2016
https://twitter.com/paleycenter/status/740004918501597185
https://twitter.com/paleycenter/status/740005611505516544
In case you're wondering, Claire's incredible red dress is part of the #OutlanderArtistry exhibit! #LaDameBlanche pic.twitter.com/QHtSGam7fI

— Paley Center (@paleycenter) June 7, 2016
https://twitter.com/paleycenter/status/740007902413389824
And the #OutlanderArtistry panel is underway! pic.twitter.com/6LkFH0XP9D

— Paley Center (@paleycenter) June 7, 2016
Terry Dresbach: I originally didn't want to do the costumes for @Outlander_STARZ then agreed to get it set up for first 4 months. (laughs)

— Paley Center (@paleycenter) June 7, 2016
Terry Dresbach pressed the #Outlander book into @jongarysteele hands & told him he had to work on it. #OutlanderArtistry

— Paley Center (@paleycenter) June 7, 2016
.@jongarysteele: we made cobbles that we took with us to different locations to use. @Outlander_STARZ #OutlanderArtistry

— Paley Center (@paleycenter) June 7, 2016
.@Outlander_STARZ creatives say the detailed Paris sets left little to the imagination. #OutlanderArtistry pic.twitter.com/y189fKnPDk

— Paley Center (@paleycenter) June 7, 2016
There's a rolling slideshow of the lush Paris sets @jongarysteele created for @Outlander_STARZ: painstaking details like waxed walls.

— Paley Center (@paleycenter) June 7, 2016
Footage of the star chamber is rolling now. @jongarysteele built models and worked on the set for many weeks. #OutlanderArtistry

— Paley Center (@paleycenter) June 7, 2016
fun fact: @jongarysteele was in Terry and Ron's wedding! Awwwwww! #OutlanderArtistry

— Paley Center (@paleycenter) June 7, 2016
Terry Dresbach: we started with a small team of 8 people. Now we have 75 people. We don't rent anything. #OutlanderArtistry @Outlander_STARZ

— Paley Center (@paleycenter) June 7, 2016
Terry Dresbach: Gary and I see things through the same eyes. We do things alike. He had to do it. @Outlander_STARZ #OutlanderArtistry

— Paley Center (@paleycenter) June 7, 2016
Sam & Cait on Paris vs. Scotland scenes: Cait says they relish being outside more but it was beautiful to be inside the Paris sets.

— Paley Center (@paleycenter) June 7, 2016
.@SamHeughan: I've seen these costumes & sets, you notice so much more when the actors aren't in them. #OutlanderArtistry

— Paley Center (@paleycenter) June 7, 2016
.@OutlanderCostum and @RonDMoore never unclasp hands onstage. ❤️❤️ #OutlanderArtistry pic.twitter.com/gIQeX8ImDU

— Paley Center (@paleycenter) June 7, 2016
Staggering stat: over 10,000 garments have been created for @Outlander_STARZ during the show's 2 seasons. #OutlanderArtistry

— Paley Center (@paleycenter) June 7, 2016
Terry Dresbach: we had to make sure Jamie was still Jamie. Every man in that time wore a black suit. #OutlanderArtistry

— Paley Center (@paleycenter) June 7, 2016
Terry Dresbach: we tried to keep in mind Claire's a woman from the 1940s. I looked to Christian Dior for inspiration. #OutlanderArtistry

— Paley Center (@paleycenter) June 7, 2016
Terry Dresbach talks about the Dior bar suit as iconic – "even Barbie has one!" and they decided to make one for Claire. #OutlanderArtistry

— Paley Center (@paleycenter) June 7, 2016
Dresbach and @caitrionambalfe say Claire's Dior bar suit is their favorite costume. Caitriona jokes: even tho my arse won't fit in it!

— Paley Center (@paleycenter) June 7, 2016
Dresbach on Claire's red dress: it was a special moment to find when story & character met. Caitriona says she LOVED the shoes too.

— Paley Center (@paleycenter) June 7, 2016
.@OutlanderCostum Terry Dresbach talks about making sure Claire retains 1940s aesthetic. #OutlanderArtistry pic.twitter.com/69KFF3LRNF

— Paley Center (@paleycenter) June 7, 2016
.@RonDMoore recalls a large venue they found for Versailles ball scene but it would've been very hard to fill the space. #OutlanderArtistry

— Paley Center (@paleycenter) June 7, 2016
Maril Davis:Our budget isn't as large as you think. You have to be creative on a limited budget. We are a traveling show. #OutlanderArtistry

— Paley Center (@paleycenter) June 7, 2016
..@SamHeughan: the first day back everyone was happy & smiling and then it started to rain. That's the joy of Scotland. @Outlander_STARZ

— Paley Center (@paleycenter) June 7, 2016
Terry Dresbach: I couldn't wait to get back to Scotland after we shot the Paris scenes.There's a wildness &freedom there. #OutlanderArtistry

— Paley Center (@paleycenter) June 7, 2016
.@OutlanderCostum recalls when she realized they had nothing for Sam to wear but a coat. Ron: fans will like that. pic.twitter.com/BcL47fYyzg

— Paley Center (@paleycenter) June 7, 2016
.@caitrionambalfe says the apothecary looked and smelled like a very old place. "It was dazzling." #OutlanderArtistry

— Paley Center (@paleycenter) June 7, 2016
.@jongarysteele says he and @OutlanderCostum would confer on colors for sets & costumes to avoid clashes on camera. #OutlanderArtistry

— Paley Center (@paleycenter) June 7, 2016
.@caitrionambalfe: Claire's aprons have tiny details like "Claire's Apron of Death" sewn into them. There's a strawberry sewn into another.

— Paley Center (@paleycenter) June 7, 2016
Terry Dresbach: there were no multiples of outfits created for Paris scenes. there are multiples for Scottish scenes. #OutlanderArtistry

— Paley Center (@paleycenter) June 7, 2016
.@jongarysteele team has grown to around 120 people with construction, plaster, set dec. "They're all artisans." #OutlanderArtistry

— Paley Center (@paleycenter) June 7, 2016
.@jongarysteele: these big burly men all love the show like my mom loves it. They're so excited. @Outlander_STARZ #OutlanderArtistry

— Paley Center (@paleycenter) June 7, 2016
.@OutlanderCostum: Ron dragged me back in for this. It's the show I dreamed of working on. Everyone brings their A game. #OutlanderArtistry

— Paley Center (@paleycenter) June 7, 2016
.@OutlanderCostum says they made sure to use colors & materials of the time for @Outlander_STARZ #OutlanderArtistry pic.twitter.com/k0uUuU2OwL

— Paley Center (@paleycenter) June 7, 2016
Panel shot: @SamHeughan and @caitrionambalfe #OutlanderArtistry pic.twitter.com/z95J0UZ6TC

— Paley Center (@paleycenter) June 7, 2016
.@jongarysteele says everything from sets gets repurposed @Outlander_STARZ #OutlanderArtistry

— Paley Center (@paleycenter) June 7, 2016
The #OutlanderArtistry panel is ending. Terry Dresbach thanks everyone at Starz & Sony Pictures TV for all their support.

— Paley Center (@paleycenter) June 7, 2016
.@RonDMoore jokes about doing two more seasons of @Outlander_STARZ: I just wish Diana would stop writing. pic.twitter.com/8dsdivzyBW

— Paley Center (@paleycenter) June 7, 2016
Done with the carpet, on to the panel! Stay posted for updates from the talk with @moryan. @paleycenter pic.twitter.com/FbmRjIMXq8

— Kate Halliwell (@Kate__Halliwell) June 7, 2016
I love the severity of Claire and Jamie ensembles. They certainly matched the mood of the scene #OutlanderArtistry pic.twitter.com/X2pvSLp5x9

— Mo Ryan (@moryan) June 7, 2016
Dior's New Look, #Outlander style. #OutlanderArtistry pic.twitter.com/3cqczLT4bg

— Mo Ryan (@moryan) June 7, 2016
Love these details on Master Raymond's coat. Every part of it tells a story. #Outlander #OutlanderArtistry pic.twitter.com/m5ps8BWMxg

— Mo Ryan (@moryan) June 7, 2016
Details from of Master Raymond's coat. The embroidery is incredible. #OutlanderArtistry #Outlander pic.twitter.com/EEsrd7VdzO

— Mo Ryan (@moryan) June 7, 2016


Source: Paley Center LA, Starz