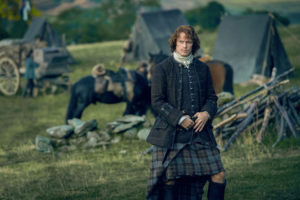 **The excerpts below have been edited for spoilers. The actual Parade story does contain spoilers pertaining to tonight's episode.**
In his interview with Parade.com, Sam Heughan (Jamie Fraser) discusses tonight's Outlander Episode 210 Prestonpans, the many facets of Jamie, and that time he failed his French exams. Mon Dieu!
EXCERPTS:
How do you see Jamie at this point?
It's funny because Jamie wears all these scars on his body, which are marks of things that have happened to him. It's just very interesting that even in the physicality of things, we now have to carry this through forever, for however long we film this, so that's been interesting, but also, the psychology of things. We're all excited to see where this goes.
Was there a scene in Season 2 that was particularly tough to shoot?
Just starting any season is pretty tough, to be honest, because you have to find where the characters are at. We had a break, so we didn't go straight into it, so it was tricky to find where exactly these characters were in their relationships. [More…]
Were there new characters or new actors coming into the cast that you were excited to work with?
All the French cast were terrific. Lord Lovat (Clive Russell), in particular, I think, is a great character. Reading the scenes in the book, there are some great head-to-heads between him and Jamie and Claire as well. I was glad to see a Scottish-raised actor in that role. [More…]
Jamie also showed a different side in Paris, when he was a successful businessman, taking over his cousin's wine company.
Jamie is a natural businessman, I think. He's charming, and he's got a good head for figures, so that side of it, the wine merchant side of it, he does pretty well, and maybe we shouldn't be surprised by that. I think that's one of the elements of his character, that he's good at things.
Are there are any favorite scenes that you read in Dragonfly in Amber that you're looking forward to acting?
I've said it before, but I love the way the chapters about Prestonpans are so well described by [author] Diana [Gabaldon], you know, what happens at nighttime and the little ambushes and the fires. It's such a historical thing, as well, for Scotland and it's not been done for a long time on film, so we're very lucky to be reproducing that on film.
Also, the court of King Louis XV was very glamorous. We went to set the first day, and I saw the set and I was, like, "Wow, this is Versailles. It's beautiful," and they're like, "No, that's just your apartment." I was, "This is my apartment? This is like a palace."
Did you have trouble with the dialogue in French?
I don't speak French, not like Caitriona. I failed my French exam in school, but it's surprisingly a lot easier than Gaelic. I can understand French, generally, and I can almost read it. I can't really speak it as much. We had a fantastic tutor, and he worked very closely with us.
Source: Parade.com