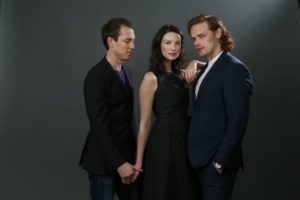 In a recent chat with Deadline, our favorite threesome–Sam Heughan (Jamie), Caitriona Balfe (Claire) and Tobias Menzies (Black Jack/Frank)–discuss the varying challenges and changes of shooting Outlander Season Two.
Excerpts:
Sam on life imitating art: "It was actually a little unsettling—suddenly, we're thrust into this entirely new world,"
Cait on speaking French: "Oh god, my French is so bad," Balfe laughs. The actress lived in France over a decade ago, but when she left, her speaking abilities went with her. "The French that we're speaking in the show is very classical 18th century French, and it's a whole other beast,"
Tobias on the long shoots: "Because of the sumptuousness of how it's shot, it does require giving it a bit of time. It's shot like a film, really. It has a certain grandeur about it,"
Sam on humor in between takes: "There's a great humor on set; Caitriona, I think, is the reason for that," Heughan notes. "When she gets tired, she corpses—all the time, which can be tough sometimes because you're trying to get a scene done, and she's just gone; but it's very funny."
Tobias on the growing similarities between Black Jack and Frank: "It's a game we've been playing all the way along, which always has a rich reward," Menzies says, referring to the parallel evolution of these characters.
Sam on his Scottish history and culture: "We were shooting the last episodes of Season 1 when the Referendum was on," he says, referring to the 2014 vote for Scottish Independence. "To be shooting in Scotland, on a show that's talking about the same politics that we're still discussing two hundred years later, is incredible."
This last excerpt just because I like it: The series also continues to meaningfully examine the history of women, and the extremely difficult road that women have had to walk throughout the centuries. Balfe considers this to be no coincidence; though it would be reductive to describe Outlander as a feminist saga, pure and simple, there's something to be said about the influence wielded by key creatives in opening the door to certain necessary conversations. "Our source material is written by a woman," Balfe says. "Diana Gabaldon, author of the Outlander novel series] is a very strong, amazing woman—she has multiple degrees and masters and has written now probably twelve or fifteen books. That's where we come from."
Source: Deadline.com