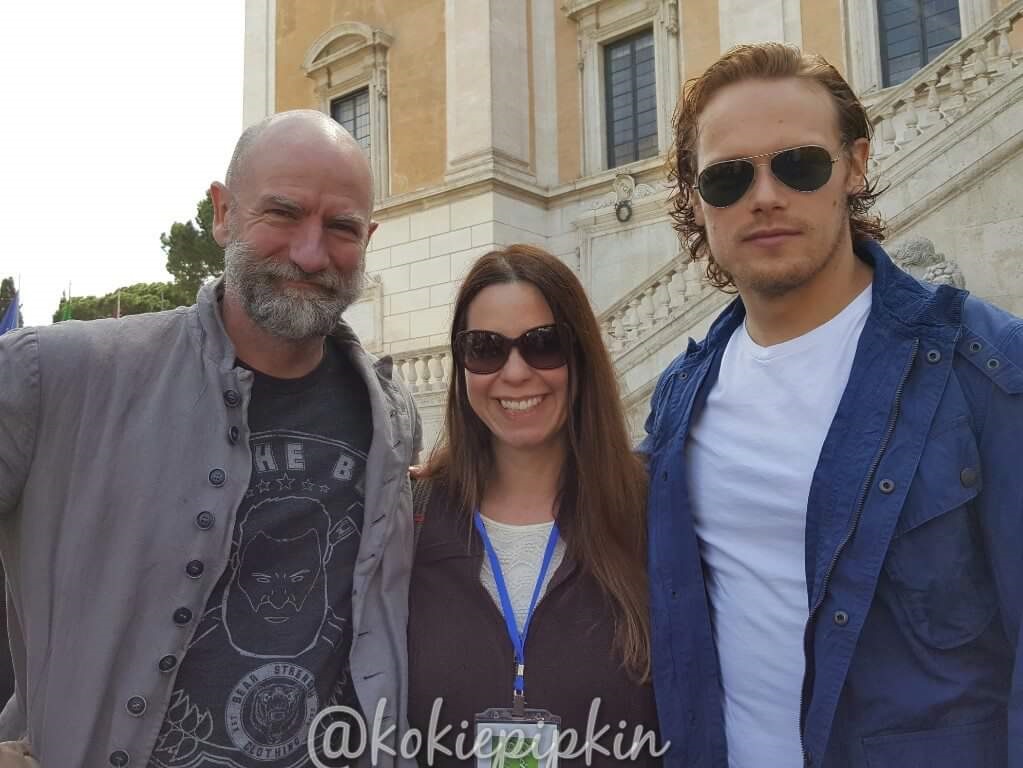 This is a guest post by friend of the site, Megan Lumpkin.
Permanent Smile Lines — I Want to Go Back to Jibland!
When you meet Sam Heughan for the first time, just seconds before your Jibland photo op, words may escape you.  Although I intended to introduce myself like a human being, I think I only managed to say, "Hi."  I definitely do not remember a camera being involved, but I do have proof that my body was there!
With no previous Con experience, I had no idea of what to expect from Jibland.  Added onto the Supernatural -centered Jibcon7, this first year of Jibland featured Sam Heughan, Graham McTavish, Reeve Carney, Sasha Roiz, Jared Padalecki, Misha Collins, Jason Manns, and Travis Aaron Wade as special guests.  A packed, but well-designed, schedule of autograph sessions, photos ops, meet and greets, and stage room programs kept fans running from event to event with smiles never fading from their faces.  The convention was large, but intentionally small enough to make for an energized, family-like atmosphere.  Jibland staff were everywhere making sure everyone was having fun.
Stage room programs included question and answer sessions.  Guests either manned the stage alone (Sam and Graham each had a 45-minute session per day), in pairs (Sam and Graham had sessions on both days), or in combinations.  The best part: fans could line up at side mics to ask their own questions of the guests.  Sam and Graham were on!  We were cry-laughing at Graham's tale of rowdy audiences and past work in puppet theater.  He is truly an amazing story-teller.  Sam met each question with a wonderful combination of honesty and wit.  I was able to clearly see the brilliance of Sam as completely separate from the character of JAMMF.  I can't wait to see where his career takes him.
Some highlights:  Sam and Reeve bonding over past super hero roles in live performances by standing next to each other and comparing Batman vs. Spiderman physiques;  Sam trying to teach a willing, but clueless group of us the Scottish dance "Strip the Willow;"  Graham's account of how he saved Sam from being flattened by a bulldozer on set;  Graham's stage dance at the finale, and Sam describing the Scottish battle tactic of scaring the enemy with "hairy, naked Scotsmen running toward you."  Someone pointed out that this may not always be considered a bad thing.  We were rolling in the aisles.  I loved the discussion between Graham and Sam describing the rich and complicated relationship of Dougal and Jamie– you can see just how they place themselves in the complex minds and hearts of these characters– making it possible to think and react in character.
Did I mention that my wallet was stolen for about 2 hours during this event?  I am grateful it was later returned, without cash, but with ID intact.  After exhausting all the possibilities of finding said wallet, was I calling the embassy?  No!  I was not going to miss Sam on stage.  I decided to think about how I would get home later.  Anyway, my name was rolled across the screen for about 30 minutes above Sam on stage with a message indicating that my wallet was at reception.  Still, I did not leave the stage room.  Not until Sam was finished speaking.  Priorities.
Stage room programs ran the entire day as fans came and went to the various activities they had purchased in advance.  Meet and greet opportunities gave fans the experience of chatting with guests in smaller groups.  Both Sam and Graham have a talent for putting people at ease.   As Sam presided over a table of eager fans, I suddenly became the quiet girl again and mostly just listened.   Regrets.   A special opportunity offered on the last day allowed a group of fans to tour the Capitoline Museum with some of the guests.   It was truly a bizarre experience enjoying the museum as a group of tourists in Rome and knowing the next day I would be in Dallas watching Sam on screen at midnight for Episode 208.
I attended this event ALONE!   It took me all of 2 minutes to make at least three life-long friends.  With whom else can you discuss how many of JAMMF's nine lives are used up?  And what actually constitutes "almost death" for this character that is literally always "almost dying."  I met some amazing people, and we had hilarious fun, laughing at each other and laughing at ourselves.  The whole experience had me considering the absolute magic that is Outlander.  Why do these fans travel to Rome when many have never been to a Con of any kind before?   Why are we so drawn to this story, to this show, to these characters?  I am sure the answer is different for every individual.
Sam, during one of his panel sessions, came close to answering this question for me– as I have yet been unable to answer it for myself.  He suggested that we experience in Outlander something  that many want, but that not everyone has.  It gives us something to strive for.  Whether this goal is a deep, self-sacrificing love, a strength of character, or an honorable way of life– we are drawn to this possibility, attainable or not.
I did think attending Jibland would cure me of the desire to attend any future Cons, but quite the opposite occurred.  Thanks to Sarah for letting me share the experience.  I want to go back to Jibland!
by Megan Lumpkin
Random photos that Megan found with her in them. 🙂