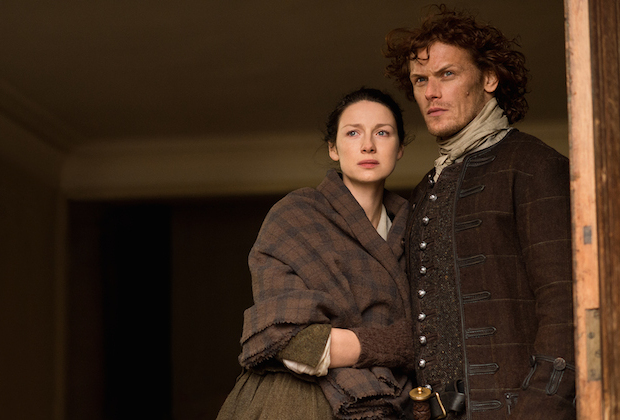 We have been told by crew members that the entire second season will air straight through without any breaks.  However, there will be a one week break on July 2, 2016 as Starz airs a season two marathon.  Episode 213, the season finale aka "Dragonfly in Amber," will air on the following Saturday, July 9, 2016 and it will be a 90 minutes long.
This will also affect international scheduling of the season finale.
Thanks to Karen Henry from Outlandish Observations for figuring this all out!
Update (6/7/2016): Starz finally made an official announcement about this and tries to make a big deal about Roger and Brianna being in this episode.  If you read any interviews after 201 aired, Ronald D. Moore and company spilled the beans on that one and admitted that the bookends of the novel will be switched in the television series.  We also see Claire (Caitriona Balfe) and Jamie (Sam Heughan) in the first photo released from this episode.  Below is a very spoilery synopsis of 213, "Dragonfly in Amber," that I would suggest that non-book readers skip.  
Are you gone?
Synopsis: "Flashing forward to 1968, Claire travels to Scotland with her twenty-year-old daughter, Brianna, and meets Roger Wakefield. Claire visits Lallybroch and Culloden Moor to make peace with the past, while Brianna and Roger bond over researching Randall family history. Claire finally reveals the truth to Brianna about her time travel through the stones, her life in 1700's Scotland, and Brianna's true parentage. The story is intercut with another one back in the 18th century, which happens on the day of the Battle of Culloden. When Jamie's last ditch attempts to deter The Prince fail, he and Claire come up with a dangerous plan – which Dougal overhears, inciting him to a murderous rage. Jamie must do everything he can to save the ones he loves, even if it means saying goodbye to some – or all –of them."
Source: Starz, TVLine