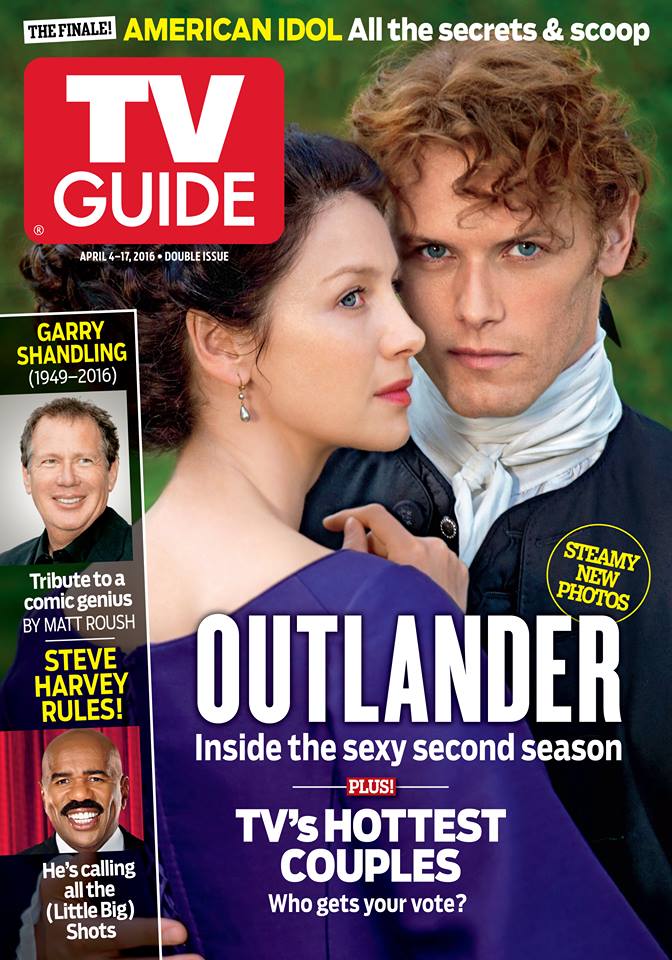 We are giving away three brand new issues of the April 4-17, 2016 TV Guide Magazine that featured season two Outlander heavily.  Jamie (Sam Heughan) and Claire (Caitriona Balfe) are on the cover and there are many beautiful photos of them in the issue.  I picked up extra issues while it was still on newsstands, so you can be assured that they are new.  I tried to do this for that "racy" Entertainment Weekly issue, but I could not find any extras in my area.  You Outlander fans are too quick!
This is an international giveaway as I know not all giveaways are open to all countries, and not everyone could get their hands on this issue.  You only need to have a mailing address to enter.
Two ways to enter (and the rules):
You can enter three times on the Rafflecopter box below.  You may only do each option once for the entirety of the giveaway.  Multiple entries will disqualifyyou.  Please note that Rafflecopter will not prevent you from entering more than once.  You should only have a maximum of three entries via Rafflecopter.
For an additonal entry (or if you are not on social media, this is your way to enter): email outlandertvnewsgiveaway [at] gmail [dot] com with your full name, full mailing address, and answer this question: Who wrote and directed Outlander episode 205, "Untimely Resurrection?"  The answers can be found on our site.
If you enter every way possible, you will have four entries.
You may only enter via each method once per person and per household for the duration of the giveaway.  Entering more than once per method will disqualify you from this giveaway.
This contest runs from midnight June 28, 2016 until midnight July 5, 2016.
Could this get any more complicated?  No.
Good Luck!