*This giveaway is now CLOSED.*
We don't do giveaways very often on this site.  However, Entertainment Earth reached out to us to partner in a giveaway for an Outlander-themed prize pack. How could we pass that up? All of the items are available on Entertainment Earth's website should you want to buy an item for yourself, and they have many Outlander items up for purchase. Entertainment Earth also has a large presence at SDCC in July, so you will be bound to see their stall on the convention floor.  It's hard to miss it.
The prize pack contains one Jamie Fraser Funko Pop! Vinyl Figure, a pack of Outlander magnets, a pack of Outlander coasters (each has a crest from the magnets), and a pack of magnetic Outlander bookmarks.
Want to buy these products?  Click the product link below to take you to Entertainment Earth.
Outlander Tartan Magnet 4-Pack
Outlander Jamie Fraser Pop! Vinyl Figure
Outlander Magnetic Bookmark Set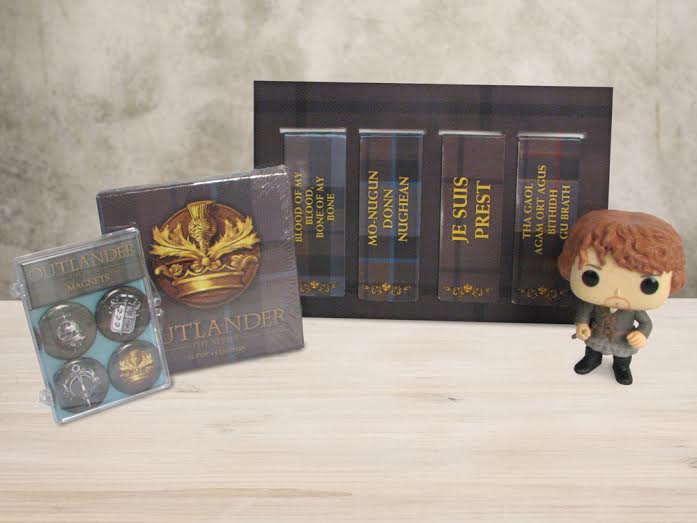 We are using Rafflecopter for the first time, so bear with us as we learn as we go on this one.
To enter: Simply do one or all of the options given below in the Rafflecopter box.  There is an option for posting a comment to enter the contest, but you must check that option through the Rafflecopter box, and then leave a comment on this post with your answer.  However you log on to Disqus, your name should be identifiable to us, and be the same as your Rafflecopter entry.  Please leave a comment (and answer the question put forth in Rafflecopter) in this post for that option to qualify you for an entry.  This is confusing, I know and I am trying to figure this out.  I know there are some of you who do not have social media accounts, so this option is for you.
This giveaway is open to all US and Canada residents.  The giveaway begins at midnight CST on June 11, 2016 and ends at midnight CST on June 18, 2016.  The winner will be notified after the giveaway ends.  Good Luck!