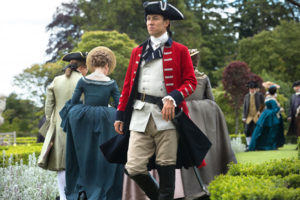 **SPOILERS from this coming Saturday's episode in the Parade story link.**
By now, book readers and non-book readers alike are privy to the fact that the infamous sadist Black Jack Randall (Tobias Menzies) survived the stampede in Outlander season one. In his interview with Parade Magazine, Menzies discusses his character's (recently named TV's "Best Villain" by TVonline.com) resurrection in Season Two, and his approach to scenes from Season One.
Excerpts:
"I was keen for him to be less confident in the second season, so we see the fallout from the injury he sustained, and the fact that he's out of his comfort zone. He's in another country; in a country that Britain is at war with. He's not in control. So, yeah, he's less robust, a less confident man in the second season."
On shooting season one: 
"I was really happy with it in terms of its psychological aspect, that it was an investigation – one man investigating another man, sort of morally, spiritually, psychologically, rather than just physical and sexual violence, so I was keen to make it more epic in a way."
"I was less interested in it being a story of his infatuation with Jamie … It was about sadism and about being interested in people, in the extent of Jamie's resistance, I suppose. His resilience."
"My favorite stuff in Season 1 is the Garrison stuff, where he interrogates Claire, and they have that long chamber piece, where it's just the two of them. The variation let's you see what an unusual person Jack is. I really like what comes up when he starts drawing her, and you're, "Who the hell is this guy?"
Read the full interview here.
Source: Parade.com