Costume designer Terry Dresbach spoke to Access Hollywood specifically about the costumes for Outlander, Episode 205, "Untimely Resurrection."  What costumes stuck out for you in this episode?  One of the likely answers is the stable dress Claire wore to, well, go to the royal stables.
Here is what she said about certain costumes.  Read the entire interview over at Access Hollywood.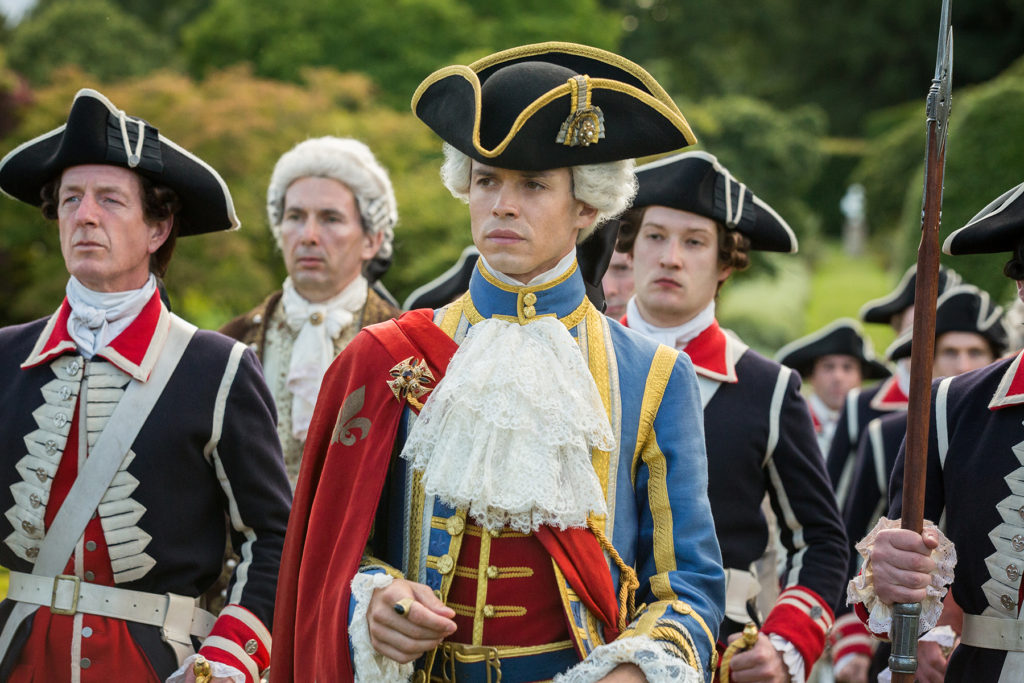 "It was interesting because he's younger than I think any of us anticipated. You always have this vision of a king as always being older, and it's like, 'Well, they actually probably did have to be young at some point,' and so that gave it kind of a rock 'n' roll feeling, you know? He's a little Mick Jagger there," Dresbach said of Lingelser's costume in "Untimely Resurrection." "That is an actual reproduction of a costume that was given to Louis XV by, I think the King of Sweden. Sometimes we recreate completely when there's reference material like that that's so perfect. It's like, 'Yeah, let's just remake that costume.' So we had a lot of photos of it and we tried to redo it as closely as we possibly could. As over-the-top as it seems to us as an audience, I'm not making that stuff up. That's the way it was."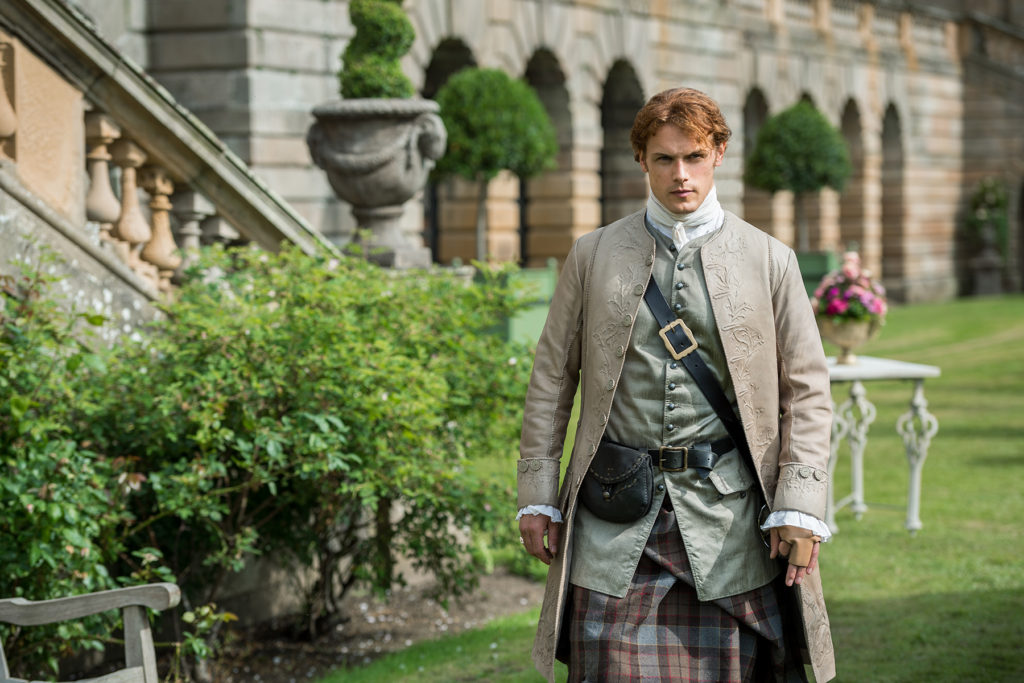 "Sam and I talked about this episode a lot, and we were in complete agreement that we wanted — this was a place where we wanted Jamie to really bring in Scotland, that the clothes he'd worn before were sort of his grudging acceptance of the fact that he was going to have to do this and this was their mission, and so he's drop-dead elegant and very, very wealthy looking, but not particularly French. And this was a place where, rather than us putting him in lighter colors per se being the point, it was much more that we wanted him to really feel Scottish here," she explained. "So what I designed was – it's actually based on an actual leather riding coat that I'd found in some piece of research. And, I wanted it to be very natural and very Scottish feeling, so that when he comes into this world where everybody's wearing these outrageous colors and brilliant, over-the-top costumes, that his costume is Scotland, but impeccable. … Down the front of that costume is the embossing of a deer hunt, a stag hunt, which is very Scotland, but it echoes the kind of embroidery that we saw in the French court so that it is a very, very elegant, sophisticated garment, but it's Jamie-style."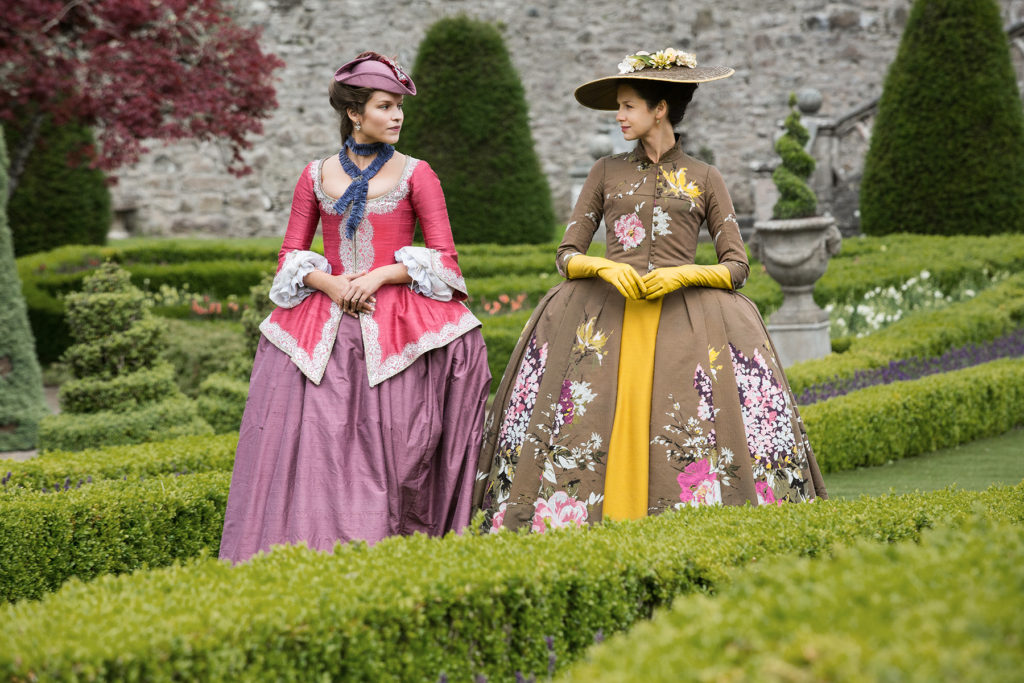 "It's really spectacular. That fabric is actually woven. Those flowers are woven and that was a fabric I found at Britex Fabrics in San Francisco, my favorite store, so I always plug them. And I had no idea what I was going to do with it when I saw it because it's an outrageous, outrageous fabric. … I had that fabric before I had that idea of making Claire's costumes have a 1940s feel to them, so that then when I circled back to make this costume I knew that this fabric was perfect because it is almost — for lack of a better description — it almost looks like curtain fabric from the late '40s with those big flowers on it, so it was a very out-of-the-box choice, but really spectacular. I mean, she just looks amazing in this costume," Dresbach said. "

"Again, that's another costume that I found… I'm trying to remember if that was a painting or that's an actual piece that I found that's in a museum, but I fell absolutely in love with it and one of the things that I loved about it is the color combination," Dresbach said. "We have such an uneducated view of the 18th century in that it's all those colors of Marie Antoinette's period, which is really close to the end of the 18th century and we are not there in our story. And, so that costume I think was actually from 1745 and it is these rich, vibrant colors, so it's a great opportunity to go, 'Yes. See, we're not making this up. These are colors that people actually wore.' And that is just an amazing, amazing costume. The other thing that was important about it is it's a riding costume."
"We went with the assumption that his costume would not have survived, so he needed a new uniform and military men of that time were able to choose their uniforms. They could choose whatever color they wanted, whatever cut. It's really quite fascinating," Dresbach said. "And what happened historically is that at some point, the military went, 'Enough already, you guys. You're all over the map and we can't tell who you are any more.' So the idea is that Jack Randall went into a tailor and had a new uniform made and that this was the direction that he went, which is a little different than he'd gone before, but he could so he did.

"And that's based on an actual uniform that men would have worn at that time and it just was enough of a different look for him that I also wanted to be absolutely clear this was not the same uniform that he wore last time," she added.
Source: Access Hollywood