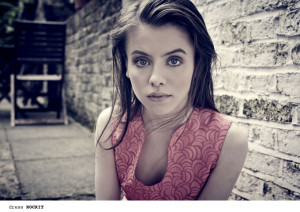 With only five (NOOOO!) episodes left in Outlander Season Two, the show is still receiving praise for its honest depictions of sex as a tool for pleasure and dominance. A few weeks ago, audiences witnessed the rape of young Mary Hawkins (Rosie Day). This is the show's second rape scene since Season One's final episode 116 "To Ransome A Man's Soul" when Jamie (Sam Heughan) reveals to Claire (Caitriona Balfe) what actually took place in the dungeon at Wentworth Prison.
In her interview with Bustle.com, actress Rosie Day discusses the importance of these realistic depictions to the show's (and the time period's) authenticity.
Excerpts:
On the graphic portrayal of Mary's (and Jamie's) rape:
"Obviously there's a social responsibility to portray [rape and recovery] correctly," the actress says. "It's a terrible part of life, but things like that still have to be shown because people are experiencing that in real life."
On how the experience affects Mary:
"It was such a sensitively written, beautiful scene," Day says. "And you see the fact that Mary still has hope, even after everything that happened, that she could be with Alex and that she has a future."
On whether Day would travel through the standing stones:
She'd rather trade places with Claire Randall and visit the years after World War II. "Women had taken over men's jobs and they had a bit more power," Day reasons. "And the fashion was really quite cool then." … "But then I'd like to go back to the time of the suffragette movement, cause I'd love to fight in that," she explains. "I'm quite a 'girl power' kind of girl."
Click here for the full read.
Source: Bustle.com