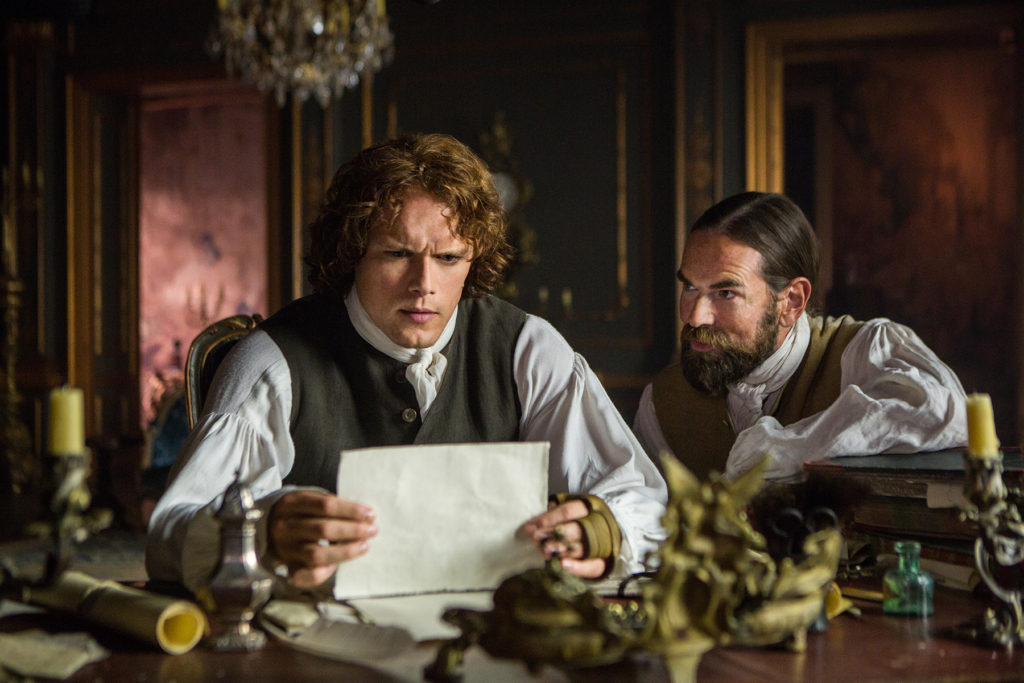 This week's post-episode round-up features interviews with Caitriona Balfe, Sam Heughan, and writer Matt Roberts. As always, read with caution as the interviews contain spoilers for the latest episode and may contain spoilers for upcoming events.
The Hollywood Reporter: 'Outlander' Producer on Nixed Jamie-Frank Scene, Claire's "Emotional Journey" Ahead
The final scene was so tense and emotional. Obviously something is terribly wrong with Claire's baby, so where does the show pick up with her next week?

The next episode starts with Claire in a fog, in a dream state. She'll go to the hospital and we'll discover what happened with her baby. It's such an emotional journey for both Claire and the fans as well. There's a lot that will take things to a new place for the fans, even the ones who have read the books. We've been trying to do things just a little bit differently from the books in each episode even though the main, expected events still happen so there's an element of surprise for everyone.

How did that goal change how you wrote this episode?

Originally, episodes five and six were actually together. They were one episode. It was just so full and the way we let scenes breathe, even though the page count of the script was okay, shooting-wise we knew some of the emotional scenes would play out longer onscreen so we decided to split the episodes. So then I started the script for this episode with a dream that we didn't get to film. It bums me out still. Jamie was in a dream trying to deal with the ramifications of the promise he just made, and it was between him, Frank and Black Jack. The three of them were together and Claire steps in.

Whoa, that scene sounds incredible. Viewers would have loved to see that.

Yeah, and I placed it in modern day, so Jamie was in modern day. He was in a car with Claire driving and he was seated between Black Jack and Frank, and then you flash to the Battle of Culloden and Frank basically grabs Claire's hand and tells her it's time to come home. Jamie would then wake up from the dream distraught and put off. All the actors were really excited about playing it and we were really excited about filming it. But through production issues and things we had to do or came up, we couldn't do it. I had to re-adjust after that.
IGN: 'Outlander' Stars Promise "Upsetting" Fallout to Jamie's Big Betrayal
"It's a huge moment," Heughan told me of Jamie's decision to fight Black Jack regardless of the year he promised Claire. "He can't help it. He sees Randall doing something to someone he loves … and it's uncontrollable fury that Jamie has. He sees the same thing happening to Fergus that has happened to him, so it's totally understandable in my mind that he does this."

Claire might not see things the same way, especially since Jamie's incarceration means she's going to have to deal with the potential loss of their child alone. Heughan said the next episode, "Faith," is going to showcase some of Balfe's best performances to date.

"It's this terrible repercussion in the next episode, and it's a very strong episode for Caitriona. She's amazing in it. It's so upsetting and so sad," he said. "There's a real brittleness to her when they come back together. It's so tough, and beautifully played by Caitriona."
Vulture: Is Claire Trying to Prevent Another Revolution on Outlander?
Was Claire's outburst too much? Not enough? Should Claire interfere with the course of history here, and if she really wanted her meddling to make a difference, why not talk to the king himself? According to showrunner Ron D. Moore, this isn't Claire's primary mission, but they wanted to acknowledge that Claire had knowledge of the future and a modern point of view. Translated, her comments mean, "There is massive injustice in this city. That's why the French Revolution is going to kill all of you people. You should do something about it!"

"It's tricky," Moore said. "Whenever you do something like that, you're automatically putting the audience in a superior point of view, looking down on them because we are much more enlightened. Yet sometimes, it feels like the appropriate thing to do, to say it at least once somewhere in the story."
Source: The Hollywood Reporter, IGN, Vulture