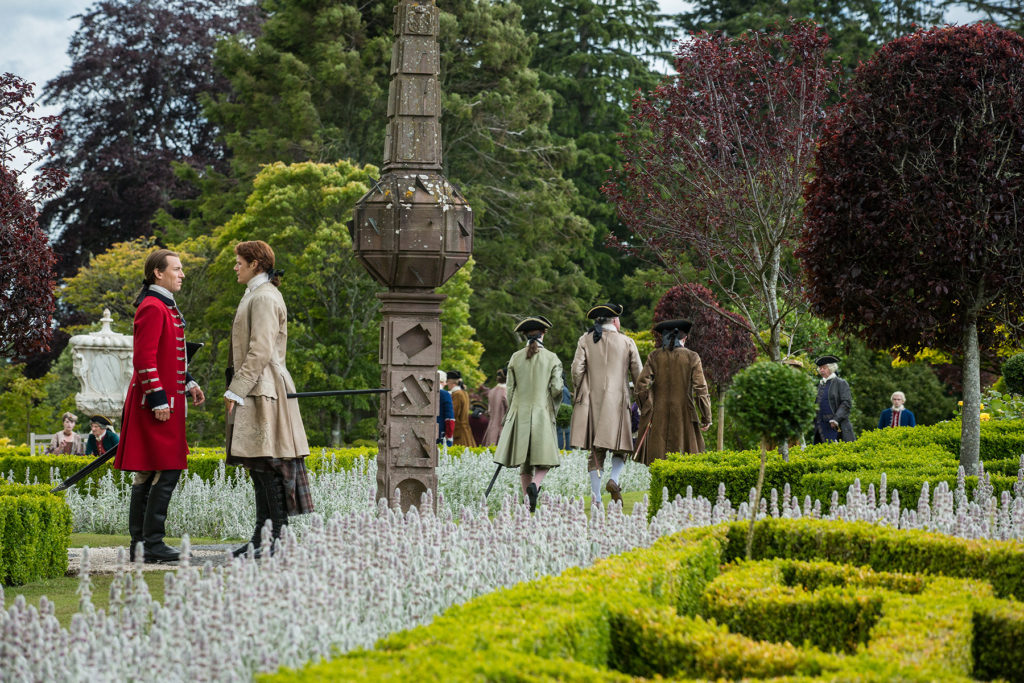 This week's post-episode round-up includes new interviews with Caitriona Balfe, Sam Heughan, and Tobias Menzies. As always, read with caution since the interviews contain spoilers for the latest episode and may contain spoilers for upcoming episodes. Click on the links for the full interviews.
Access Hollywood: 'Outlander': Sam Heughan & Tobias Menzies On Tense Jamie & Jack Scene
"What's fun about that is to play all that history between the three of us through the lens of being in front of the French King and the sort of etiquette that's required with that," Tobias Menzies told Access Hollywood when we asked him what he enjoyed about shooting the scene. "What's good about that is it puts a kind of a lid on. That came out through sort of discussion in rehearsal — to sort of take all that emotion and then jam into that situation I think pays dividends because it then becomes incredibly sort of like, what the hell do you do in that situation?"
The Hollywood Reporter: 'Outlander' Stars Break Down Jamie and Claire's Nasty Fight: "It Destroys Their Relationship"
We have never seen Jamie more furious than he was with Claire in the final moments of the hour. How is this going to affect their relationship moving forward?

Caitriona Balfe: It's definitely really damaged their trust in each other. Their bond is so strong that it hasn't broken it completely, but this is probably one of the darkest moments in their relationship. I can completely understand it from Jamie's point of view. It's a horrific thing to ask but I also feel like, for Claire, she's fighting for the survival of someone she loves and holds dear to her heart. She would do the same for Jamie and more, and does. I understand it, but it's definitely a tough thing that she's asked of him.

Sam Heughan: It's the turning point for the whole season. It's a huge ask of Jamie. Of course, you can understand why she would ask that of him. It's about the history of Frank and the worry that he might not even exist possibly, they don't know. That's what season two is all about, the repercussions of our history and how that affects everything. Every action they take has another reaction. Jamie agrees to it unwillingly and it really tests their relationship and has quite a detrimental effect.

Going back to Frank and his ancestry, Claire started to meddle in both Alex and Black Jack's lives because she thinks Mary needs to be with Black Jack to ensure Frank's survival…

Balfe: Yeah, that was really a horrible scene. (Laughs.) Like, really Claire? Ugh. We're not seeing the best of Claire a lot this season. There's this blindness that she has with the mission where she is blindly going at any cost to try and keep certain things the same and change other things in history. It's not necessarily the actions of the intelligent Claire that we have come to know as an audience. But because these are such emotional decisions, she's not thinking very clearly. She tries to meddle and it's a very cruel thing she does to Alex. But I think she redeems herself in the end.
IGN: Outlander Stars React to Black Jack Randall's Season 2 Return
The drama of Black Jack's return somewhat undercuts why he has come to Paris: to save his younger brother Alex. Their relationship is going to be something Outlander: Season 2 explores more, and will show a different side of Menzies' character.

"I think it's good writing on Diana [Gabaldon]'s part to almost give a complete other sort of side to someone who we've seen be so monstrous," Menzies said. "I think that also feels kind of human and true. People who do terrible things also love their mom, or whatever it is. That's what's interesting about that brother relationship. It seems to be the one wholesome relationship Jack has in his life."

Expect there to be some major fallout to Black Jack's return and the fact Claire put his and Jamie's duel on hold. That ties back to the season's theme.

"It all has a ripple effect, and it's all down to this point in time which is Culloden and the battle, trying to stop history and stop time. But everything has an affect down the line, and definitely it's in the books and it's in our show a lot more this season," said Heughan. "We start to see a lot of the time and repercussions on time."
Variety: 'Outlander' Stars Break Down that Unexpected Reunion and Claire's 'Insane' Request
Star Sam Heughan tells Variety that Claire and Jamie's fight is "indicative of Season 2 and their relationship now — it's complicated, and everything that they do then has a repercussion in time and in history. Season 2 is all about time and this finite point that they've got to stop, and the closer that they get to that, the more pressure it adds to them and their relationship."

"It's the pressure cooker that's been building since Episode 1; they keep trying to come back together, they keep trying to be on the same team, but they're not dealing with the core issues — and that's that Claire feels abandoned by him, he feels misunderstood and alone, and so does she, and they're two people who through lack of communication are on their own private islands," Balfe agrees. "Claire has asked something insane of him, and it's so much to ask and as Jamie says, it's too much, and she realizes that, but she has a very sacred place in her heart for Frank and feels very strongly about trying to protect him, so it's great stuff."

Of Claire's ultimatum, Heughan says, "the fact that she asks him to do this thing really tests him, and the moment that Jamie is kind of given this new lease of life, he's trapped again, and he's trapped by his actions. That really has some dire consequences further down the line."
Wall Street Journal: 'Outlander' Star Tobias Menzies on Black Jack's Tense Reunion With the Frasers
Now that Black Jack has been reunited with Jamie and Claire, what are his intentions? He's already succeed in breaking Jamie's will, which we know was a lot more important to him than the actual sexual assault.

I think he's got what he wanted. Initially, in the early drafts of [the meeting in the garden at Versailles], the writers had him again quite cocksure and it felt very similar to the Jack we met in the first season. I wanted to come away from that and have someone a little less confident, so that we saw someone away from his own country, in a foreign land. I feel like in the first season, we met a man who had no sense of his own mortality, he felt invincible. But as a result of Wentworth and the injuries he sustained there, the man you meet in the second season does have a sense of his own mortality. We're seeing him in situations where he's not in control. That feels like the major change.
Yahoo! TV: 'Outlander' Postmortem: The Cast Talks Black Jack's Return
"It was a huge day for me. To see that red coat in the gardens was very striking," Sam Heughan tells Yahoo TV. "I hadn't seen Tobias [Menzies], and certainly haven't seen Black Jack, since we shot Season 1, and it brought up a lot of emotional memories. But it's a very awkward and dangerous moment because the King's there. I've got to be very courteous and pleasant to my biggest enemy, yet all I wanted to do as Jamie was address Randall, look him in the eye, and stare him down. Jamie wants to kill this man, maybe needs to kill him."

Menzies, too, loved the challenge of that scene. "It's a really good piece of writing that came up through conversation with the writers in rehearsal," he explains. "To put that meeting in front of the King meant that you're taking all that we've built up in the first season and putting it in the pressure cooker of the courts of Versailles. How it feels pays dividends because it's a very unusual and unexpected set of circumstances to see them wrestling with all the emotions that are there [while] also having to present to such a powerful person."
Source: Access Hollywood, The Hollywood Reporter, IGN, Variety, Wall Street Journal, Yahoo! TV