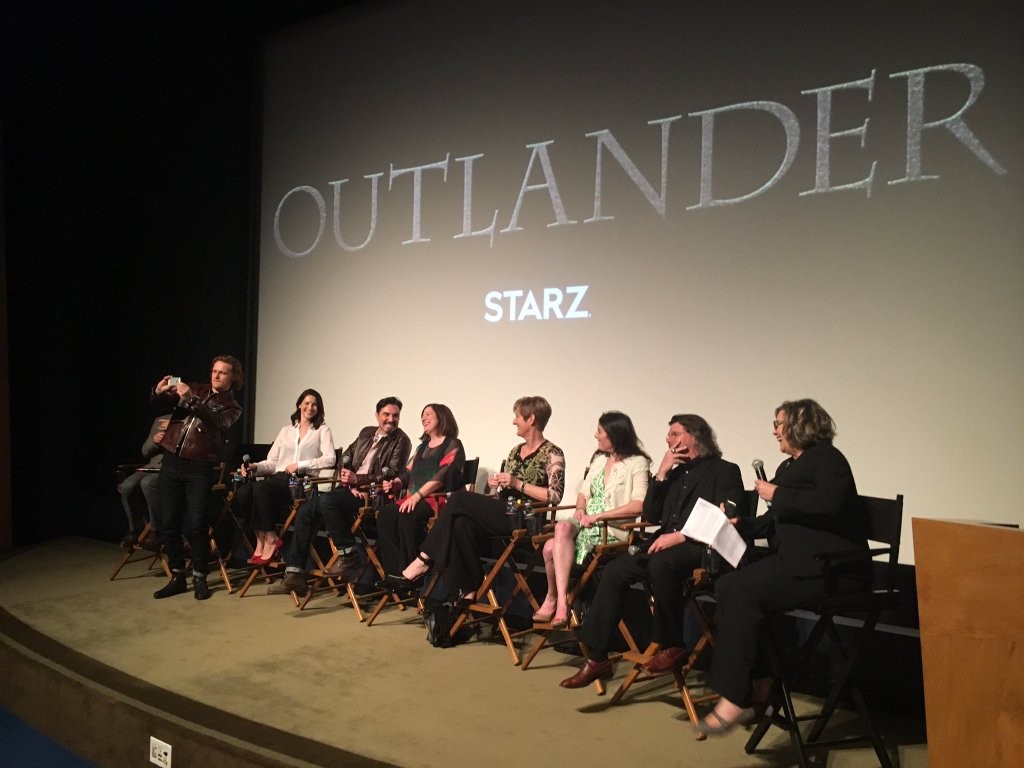 (This is a guest post by Ginger from the Outlander Podcast.)
The evening began as people lined up outside the venue: The Writers Guild Theater in Beverly Hills. Officially, attendees were not supposed to line up until 5:30 p.m., but as people do, there were a few early birds just a bit before that time.
A widely known, but perhaps not widely touted, secret: Time spent in line at events such as this is often just as fun (if not, dare I say, more fun?) than time spent inside an event. You see, inside, though there are cheers and sighs and oohs and ahs over our favorite actors, writers, and producers, attendees are respectful of each other and the moderator. We want to hear, and for that to happen, we have to keep our excitement mostly to ourselves, and be quiet, too. And for this measly price, the payoff is indeed golden: We get to listen to some of these favorites discuss Our Favorite Thing. (I promise I'm not trying to channel Oprah. Though I do love Oprah. And miss her show.)
Outside, however, as long as one is careful and stays out of the way of traffic (and does not attempt to Periscope live while walking backwards down a Beverly Hills street <cough> Ginger<cough>), there is safety in numbers, it's relaxing (as long as you keep your place in line, yo, I see you creeping up there), and people are genuinely happy to connect with old friends and make new ones. Before the event, there is anticipation, excitement, and heck, games, Starbucks trips, hugs, jokes, and wind tunnels.
Once we filed in, we were issued our ticket for the event, and then passed into the theater proper. Inside the rather intimate room were the panelists' chairs in front of a large screen that read "Outlander Starz." People found a seat and then milled about, chatting, taking pictures of the screen and selfies of every possible assortment.
Anne Thompson of Indie Wire, the event moderator, was introduced and came to the front of the theater, after which each of the panelists was introduced. After each panelist had come to the front of the theater, attendees were given 30 seconds to take as many pictures as they wanted before turning off their cell phones.
The panel consisted of a mix of actors, writers, and producers. Present were (from left to right) Tobias Menzies, Sam Heughan, Caitriona Balfe, Matt B. Roberts, Toni Graphia, Anne Kenney, Maril Davis, and Ron D. Moore. Anne Thompson was an effective moderator, varying both question type and whom each question was directed to. While a good amount of information was not new to the informed, or "dedicated," Outlander fan, the evening did include some humorous anecdotes. Among them were Tobias' tale of how he caught the acting bug, a story which involved a badger and urinal (pronounced ur-eye-nul) and Caitriona's statement about how "Claire is much more comfortable flying through horse shit than Versailles."
Other highlights of the discussion included the challenge of adapting the books to screen and how it had both positives (a given roadmap) and negatives (such and such has to happen, and no, this cannot change); and the benefit of having among the writers those who have read the books (indeed, far ahead in the series) and those who have not.
When asked what the characters he played had in common, Tobias said Frank Randall and Black Jack Randall were both formed by war. Sam, speaking of the second season, said, "Paris is a poisonous place for Jamie and Claire."
The writers agreed that season two was harder to adapt than season one. Anne Kenney: "There is so much exposition, explaining to do… all the information that had to be gotten across…" Toni mentioned the challenge was to keep herself from borrowing characters she liked from other parts of the book and including them in a section she was adapting: There is a "great palette of people; it's hard to choose. You want to put it all in." The challenge was "how to get it all in. We get to expand the world. It's a treasure for us."
Speaking to the uniqueness of Outlander, Matt spoke of the great freedom of genre, week to week, and how this is opposite of most procedurals. Sam said it was almost as if he had to learn a new skill in each episode. Caitriona: "The range we get to play—I don't know any other show that you'd get that on." Ron: "What's the cliché Outlander episode? There isn't one."
When Anne Thompson turned to the audience and asked how many in the audience had read the books, and almost everyone raised their hand, she responded, "We've got a room full of ringers!"
Anyone who has ever attended an Outlander-themed event can vouch for that. Fans of this beloved series are dedicated. If reports are correct, the tickets to the Writers Bloc event sold out in about two hours. That is dedication and support.
Diane Gordon (@thesurfreport), we learned part way through the evening, had been granted permission to live tweet the event. She made her coverage available via Storify after the event. (Please see the bottom of this post for her tweets.)
After the event, a number of people made their way to Saks in Beverly Hills to take a look at some of the original costumes from season two on display there. And what luck that I had not gone during the daylight hours. Viewing these beautiful creations of Terry Dresbach, Outlander's costume designer, under their spotlights was evocative of 18th-century France. The pictures do not do the pieces justice, but seeing the clothing made us even more excited for April 9th. Bring on season two! Bring on Paris. Je suis prest.
First image by Starz, all others by Ginger