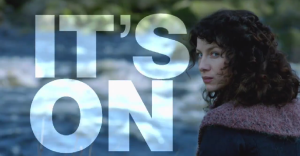 YAAAZZZZZZ!
In a press release circulated today, Starz announced that Outlander fans subscribing to the premium cable network or with access to its new streaming service (now available here) can put an end to Droughtlander in Two. More. Days.
That's right! Adios, Saturday and hello, Thursday!
Excerpts:
"Outlander" fans may enjoy the first full episode of the Golden Globe®-nominated series two days in advance of its official premiere on Saturday, April 9th at 9:00 pm ET/PT.
The standalone STARZ streaming service launched today, offering the first-ever download capabilities from a premium pay TV streaming service. STARZ subscribers from cable, satellite and telco partners can also authenticate and view STARZ in the new, easy-to-use app.
Source: Starz