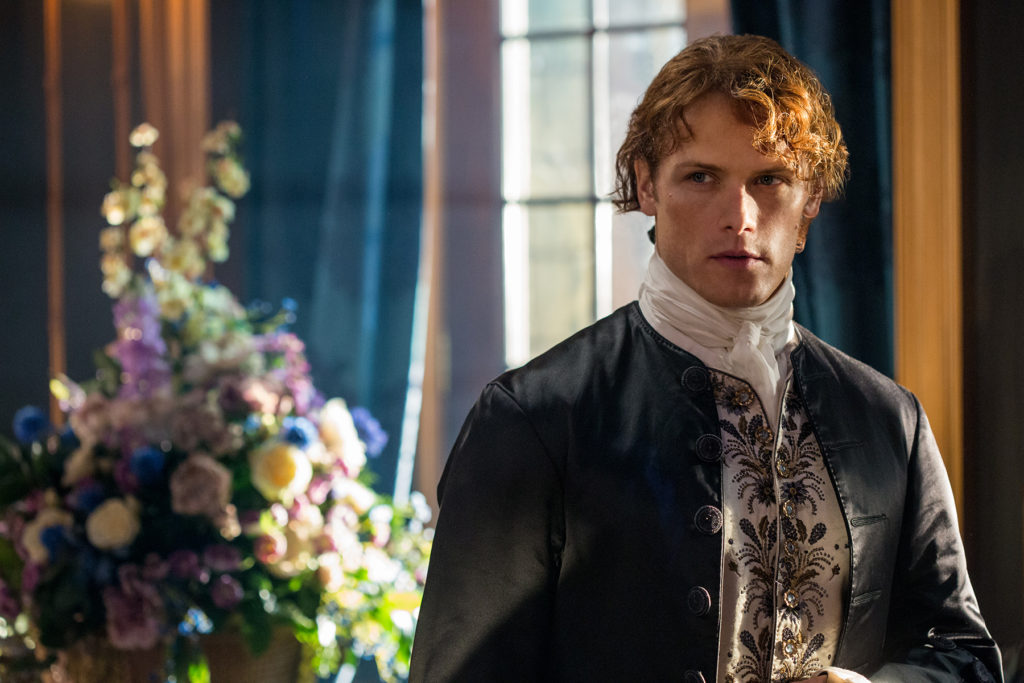 We are still playing catch up with all the interviews that were posted the weeks leading up to and since the premiere of the second season of Outlander.  There are some good interviews that we don't want you to miss, so stay tuned for sporadic interview posts that may not be "new" in terms of date, but they are new to this site.
In this interview with Parade Magazine, Sam Heughan discusses the rape scene, kilts in Paris, his charity, Diana Gabaldon, fans, and musical instruments.  Excerpts are below, but check out the entire interview over at Parade.
One of the things you mentioned is he has to look different.  Did you miss the freedom of the kilt, or were you comfortable with the French attire?

I very much wanted to keep the kilt in France. I think it's important that Jamie wears that, and he does wear it in various places in Season 2, so it's not gone. It wouldn't have been unusual to see a kilt in the French court. However, there was definitely a style and a class, and he's trying to ingratiate himself into the upper echelons of high society, so he's having to be someone else, but the kilt is still there.

Initially I was terrified. I didn't want this to be a costume drama, I didn't want to have frills and things. [Costume designer] Terry [Dresbach] has just done an amazing job. Jamie wears a lot of black in this season, and, I think, it's really important, because he's a shadow of himself for a long time, and I think that somehow that's reflected in the way that he dresses.

Diana's a consultant on this, and she actually wrote a script for this season. Do you still turn to her for advice about the character, or are you strictly staying on the script now? 

Diana very much is a great guide, personally, for me. I think she's a friend; we talk about a lot of things via email if she's not around. Sometimes it's just a line or phrase, but I touch base with her a lot, and it was amazing to have her on set for that episode she wrote. She would be watching us shooting, but also she'd be writing her current book, so you would see her watching you play Jamie, but yet she's writing Jamie in the future. It was quite a special moment.
Source: Parade Magazine