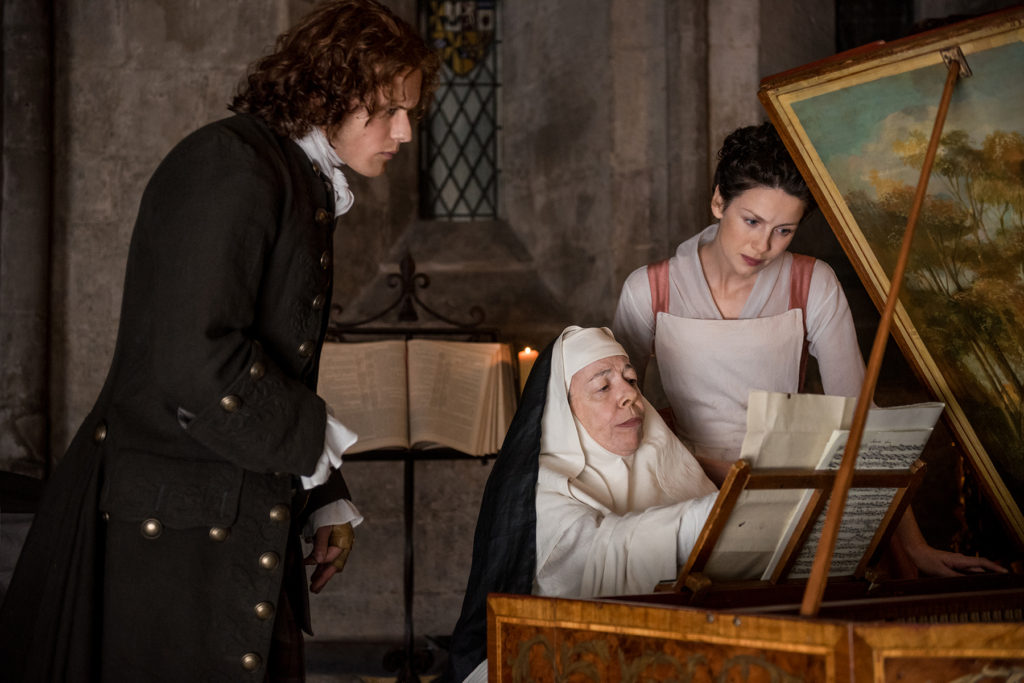 This week's interviews for "Useful Occupations and Deceptions" feature Caitriona Balfe (Claire) and Sam Heughan (Jamie). As always, the interviews may contain spoilers for this and some upcoming episodes, so read with caution.
Access Hollywood: 'Outlander' Stars On Jamie & Claire's Disagreement, Murtagh's New Romance?
"I think they're two people just very frustrated at their circumstance. Neither of them are happy. France has not been the fresh new start that they wanted," the actress said. "I think of it as like this beautiful plate of really tropical, juicy fruit and it just all starts to rot in front of them. And I think that Claire has a calling. Jamie has a calling too. Jamie is a warrior, he's a soldier. Claire is a healer, and she's a professional woman. She's used to feeling purposeful and useful and the fact that he scolds her for that is such a wound to her because she's like, 'You're the man that understands me.' Like, 'You're the person who gets me, and you don't understand this?' But it just speaks to where they're at. I think they're just both on their own private torment, their own private little hellish journey."
The Hollywood Reporter: 'Outlander' Stars Weigh in on Jamie's Shocking Discovery, Claire's "Dangerous" Foe
Regardless of the fact that Sandringham can tell Jamie about Black Jack's fate, Claire still decides not to tell Jamie that Black Jack is still alive. Why did Claire decide not to come clean, even though there's a ticking clock on that secret coming out?

Caitriona Balfe: I think she's scared that he will do something rash. She's just not ready to see him fall backwards. You see him, there's this moment of hope, they're finally getting somewhere, and she feels that if she told him, it would just send him into a spin, into a spiral. She just doesn't know how he'll react.

Claire also realizes that Mary Hawkins (Rosie Day) is destined to marry Black Jack and is Frank's ancestor. What will she do with that information?

Balfe: Claire, for as smart as she is, I think that she doesn't know how this whole time travel works. She doesn't know if you can change the future or what fate is or how it will all work. All she knows is that this is supposed to happen and this is supposed to happen. When she finds out that Mary Hawkins is supposed to marry Black Jack, she realizes or she believes that then, Jamie can't kill him because unless they reach that date and have a child, then Frank won't exist. Maybe she won't exist. Maybe what would have happened won't happen. There's a lot that hinges on the fact that Mary Hawkins and Black Jack will marry.
Yahoo! TV: 'Outlander' Postmortem: How Paris is 'Killing' Jamie and Claire's Relationship
"Jamie is not in a healthy place when they begin this part of their journey," says Sam Heughan. "And France and the mission they are on there — trying to infiltrate the Jacobite rebellion and stop the battle of Culloden and a race of people being wiped out — has a lot of consequences on their relationship, and love may not be strong enough to see them through. They're not comfortable in this world."

Caitriona Balfe (Claire) admits that she experienced an adjustment period when they started filming season 2. "Even though we were playing the same characters, it felt almost like a different show. Our characters, in a sense, were also playing characters as well. We're so used to Jamie and Claire being so honorable, honest and forthright. And here, we find them in a situation where they're being quite duplicitous and manipulative. It was an uncomfortable readjustment for us, but they were also feeling that, so it helped us [as actors] too."
Source: Access Hollywood, The Hollywood Reporter, Yahoo! TV