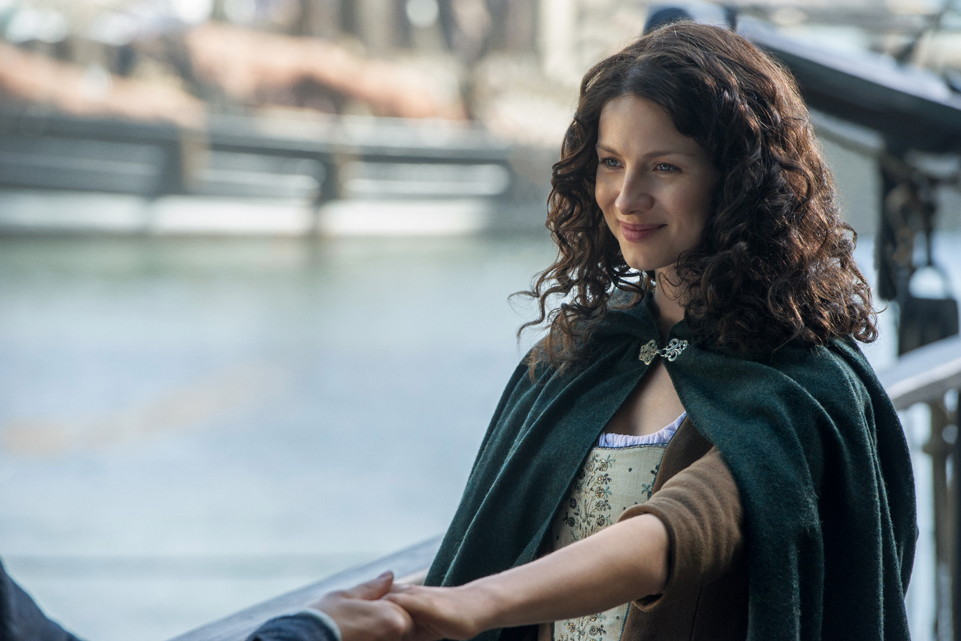 Outlander is back! As we did with season one, we will post an interview round-up following each episode from the new season. Below are a few excerpts from this week's interviews with Caitriona Balfe, Sam Heughan, Tobias Menzies, and Ronald D. Moore. Be sure to click on the links to read the full interviews. Since these posts/interviews follow the latest episode, beware of spoilers if you have not watched the episode.
Collider: Tobias Menzies on Frank's Return & What it Means Moving Forward

E! News: Outlander Returns and We Cannot Get Over That Opening Scene

The Hollywood Reporter: 'Outlander' Boss Breaks Down Major Premiere Twist: "It's a Big Reset"
The way season two opened was such a surprise. Why make that change?

I thought that it was a big enough change to suddenly grab the audience and put them in the 20th century right off the bat, which I thought was really interesting. You're expecting that we're going to open in France and start that story, so to suddenly go to the 20th century and to say that Claire left Jamie behind, her daughter Brianna was born here and raised here, Frank's dead, that's a huge amount to suddenly jar the audience. But to also make it a 20-year jump to the '60s where Brianna's grown and Frank's dead, it was too much.

Not counting the change at the beginning, will season two follow Dragonfly in Amber closely, or will the structure be different?

Besides that structural change at the beginning of the premiere, the basics are still definitely recognizable as Dragonfly in Amber. It's still that story, just told slightly differently in how we're choosing to parse it out. It's still going to be that story at the end of the day.

There are a ton of new characters this season now that Jamie and Claire have arrived in France to stop the battle of Culloden before it starts. Which character were you most excited to bring to life?

I'm most excited for everyone to see Prince Charlie [Andrew Gower]. It's one of the historical characters that we'll meet on the show this year, and it's probably the only one whose name most of the audience has heard thanks to the phrase Bonnie Prince Charlie. People just have no idea who or what that is. He's a really complicated character. I'm looking forward to everyone seeing who he is and what he's about and why this did all fail. When you first meet him, you realize almost instantly why it almost succeeded and why it could never have succeeded because he's the guy that can rally people to him and is a man with a mission but he's also so deeply flawed. You'll meet him pretty early, in the second episode.
Variety: 'Outlander' Stars Talk Season 2 Premiere Revelations, New Enemies in France
Balfe tells Variety that they kicked off the season by filming those first scenes between Claire and Frank in Scotland. "When I got the script I was like 'oh my god, I can't wait for this' — I cried reading it," she recalls. "[Showrunner Ron Moore] wrote that episode and it's just beautiful, because it's so tragic – it's so complicated and neither one of them are wrong and neither one of them are right, and you can't help how people feel depending on circumstance."

Menzies had spent the last half of Season 1 playing Jack Randall, and viewers hadn't seen Frank since Episode 8 of last season, which meant that revisiting Frank at the beginning of Season 2 had extra potency. "They managed to write some really interesting stuff, because we go forward in the story, her arriving through the stones, pregnant, and Frank and Claire have to come to terms with that and what it means for their marriage, so that seemed rich territory," he says of the challenging scenes. "That also felt like it was a good payoff from having built Frank up in the first part of the season, to root it in the emotional cost of the story, in a way. The challenges of it [are that] you're obviously up against some of the more far-fetched aspects of the story, the time-travel and making that real and emotional, but I think we pulled that off. It feels like a really good episode, and a really surprising and strong place to start off."
The Wall Street Journal: 'Outlander' Star Caitriona Balfe on Claire's Harrowing Emotional Journey
How did it feel to slip back into the Frank and Claire relationship after having done the Jamie and Claire relationship for so long?

It's tough because obviously we haven't visited that stuff since the beginning of Season 1. It's funny, because we started Season 1 in this place, Hunterston House, filming the 1940s stuff with Frank and Claire, and then we started Season 2 in the exact same house filming the stuff with Frank and Claire again. So it did feel like, at least for me, that Claire was such a different person, and then it was a different relationship. And I think I too, in the beginning of Season 1, that I was bright-eyed and bushy-tailed, and everything was so new – like, Claire felt very girl-like to me. And now it felt like she was a woman who had been through an awful lot [laughs].

It was quite amazing, because Tobias brought such openness to Frank in this part, and I think what he did was so beautiful. It was so difficult to not meet him in that, but, for Claire, I feel like she had to have her barrier up, because her heart, it just can't take anything at the moment. Seeing this man want love from her, it's just the last thing she's capable of giving. So it was painful stuff for the characters, but really beautiful to play.

Your issues with the 18th-century Scottish bum roll are famous among "Outlander" fans. So how do you feel about the lavish Parisian costumes this season? Fun to wear or just as unwieldy?

Even more so. I mean, they're works of couture. Each piece is so beautiful, and because I've spent some time in the fashion industry (Balfe is a former model), I love watching ["Outlander" costume designer] Terry Dresbach's process. But it was that initial, "Oh, this is so fun!" And then you're like, "Oh, I have to walk sideways all day!" [laughs]. I have to take everything off if I want to go to the bathroom. I had to have separate dressing rooms, a separate place to sit at lunchtime, and I felt really isolated! Like, I just want to hang out with the guys! So, poor Terry, she thought she was getting a life-size doll and she got a tomboy! [Laughs]

Source: Collider, E! News, The Hollywood Reporter, Variety, The Wall Street Journal