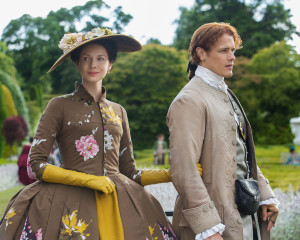 TVOnline.com published a new spoiler-laden (to say the least) article highlighting the slew of twists and turns headed our way in Outlander Season Two.
In it, Sam Heughan (Jamie) yearns for the days of rolling into his kilt, Caitriona Balfe (Claire) empathizes with her character's struggles with "18th-century gender conventions," and the pair discuss the important role the family and social network play in coping with post traumatic stress from sexual assault.
EXCEPRTS: 
HELLO MOTHER, HELLO FATHER |Viewers will recall that Claire announced her pregnancy as she and Jamie set sail for France in the Season 1 finale. As the trimesters tick by, the Frasers deal with impending parenthood in different ways. "In the books, [Jamie's] very gung-ho about it," Heughan says. "But I think there would be, certainly at the time of birth, I would think he would probably be absolutely freaking out about it… I think he probably won't be quite as brave as he thinks he is." Claire, too, isn't so sure of herself in this arena. "There's the excitement, but there's also a lot of trepidation because she doesn't have a strong mother figure in her own life," Balfe says. "It's an unnerving time for her."
A NEW ENEMY | Early in the season, the Frasers run afoul of Le Comte St. Germain (played by French actor Stanley Weber), who quickly develops a strong hatred of Claire. "She's made a pretty ferocious enemy," Balfe concedes, teasing that the villain is "possibly a lot darker than we first thought." Heughan calls St. Germain "a dangerous adversary — a very charming one, as well" whose political savvy makes him an even more lethal opponent. Look for that thread to play out "throughout most of the season," he adds
Article Sections:
Aftershocks
A Woman's Work
Hello Mother, Hello Father
Bump 'N' Uglies
A New Enemy
BEWARE OF SPOILERS: Read the full interview here.
Source: TVOnline.com