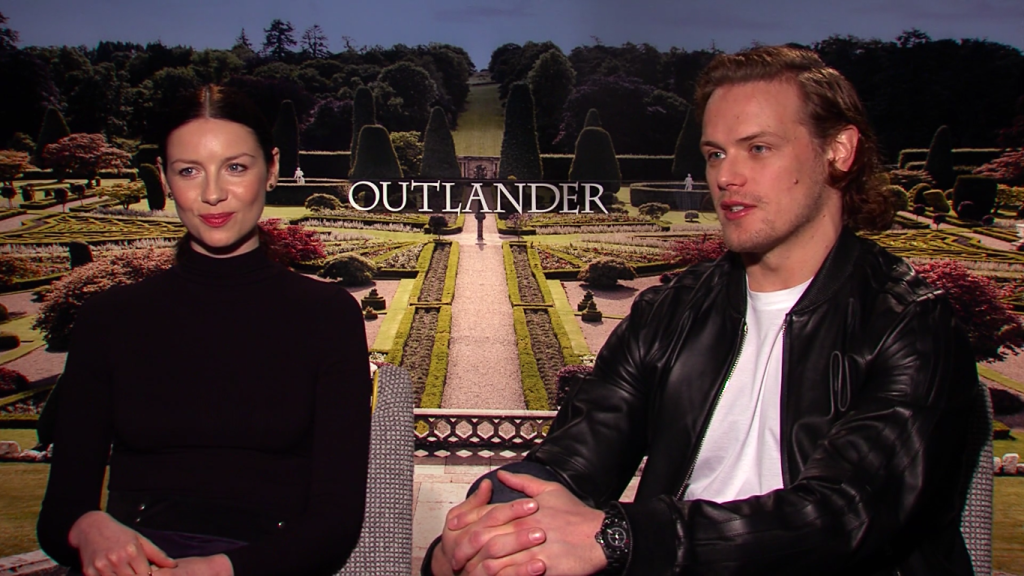 There has been a barrage of press with upcoming premiere of the second season of Outlander.  Part of this is the press junket that was held in New York City after the red carpet premiere.  Here are all of the interviews that have come out of that junket so far.  Check back often to catch any new interviews as they become available.  You can also check out the red carpet interviews given at the NYC premiere.
Update (4/15/2016): Interviews with E! Online (about Sophie Skelton and Richard Rankin), People Mag, Gold Derby interviews with Cait, Ron, and Terry, and NTN24.  Some others that were added by outlets already on this post were spliced in as well.
Update (4/17/2016): Added People's interview with Sam doing his Sad Affleck impression.
Update (4/28/2016): Added a new Decider video.
TV Line: No embeddable video, so click here to watch the interview.
Another TV Line interview with Tobias, click here.  And another about the season two premiere, click here.
Another Sam and Caitriona interview about Le Comte St. Germain.
Behind the Velvet Rope:
TV Line:
Bay Area HQ:
KMTV:
E! News:
Justine Browning:
Sidewalks: Not embeddable, click here to watch
People: This one is hilarious as they try to make ordinary words sound sexy.
Decider:
Another Decider video (on French kissing), click here to watch.
Another Decider video on feminism and working moms, click here to watch.
Yahoo!:
Outtakes from the above video, click here.
CT Style:
Elle:
Collider:
MSN: Click here to watch Sam and Caitriona talk about Richard Rankin and Sophie Skelton
People Magazine:
Gold Derby:
NTN24:
All sources are in the videos.