Last week amid all of the Outlandish excitement, Outlander TV News was invited to the Knockout Licensing office in New York City to sit down with Ken Wong Director of Marketing to discuss all things Outlander.
Knockout Licensing is the company that works directly with Sony Pictures Television to bring fans all the fun and exciting products that can be purchased from companies like AbbyShot, The Celtic Croft, and Funko. Not only were we able to see all of the products that are already on the market like this Sassenach shirt by Ripple Junction (pictured below) We also got to check out items that will soon be released like a double sided yellow handled reusable shopper tote that has two different images of Jamie and Claire on each bag.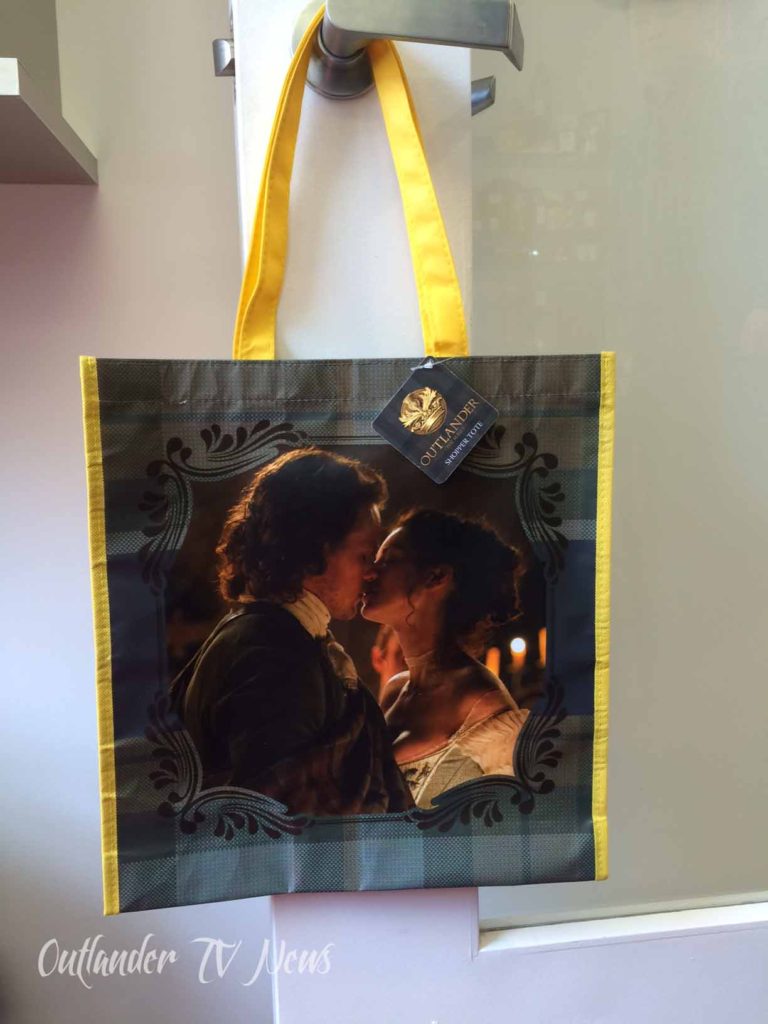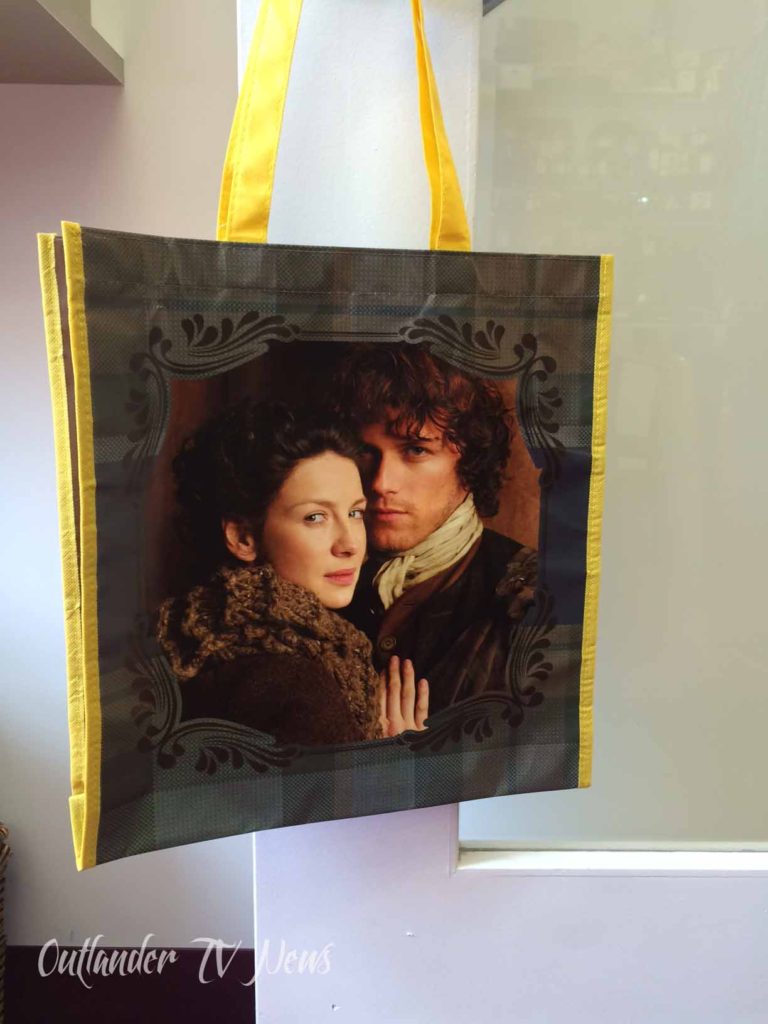 One of the highlights of the visit was being able to touch the knitwear offered by AbbyShot, and see how the woolen and knit items work together. The Claire Chunky Cowl is amazingly soft.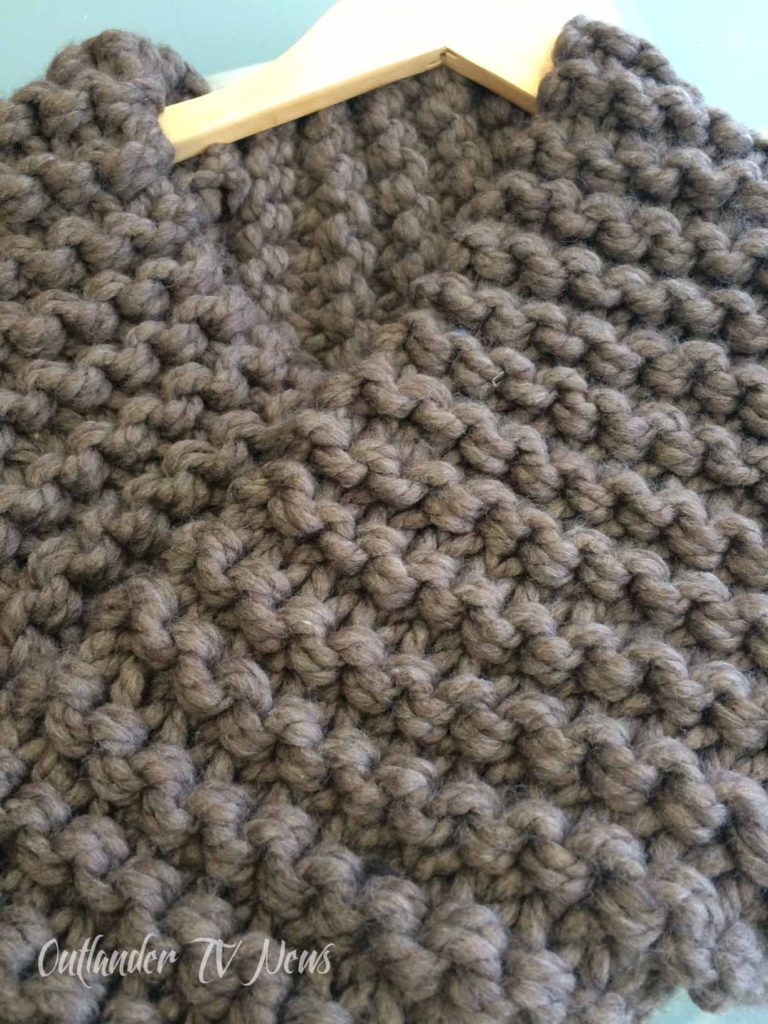 And a personal favorite combination was the Rhenish Arm Warmers, Rhenish Cowl, with the Fraser Wool Cap.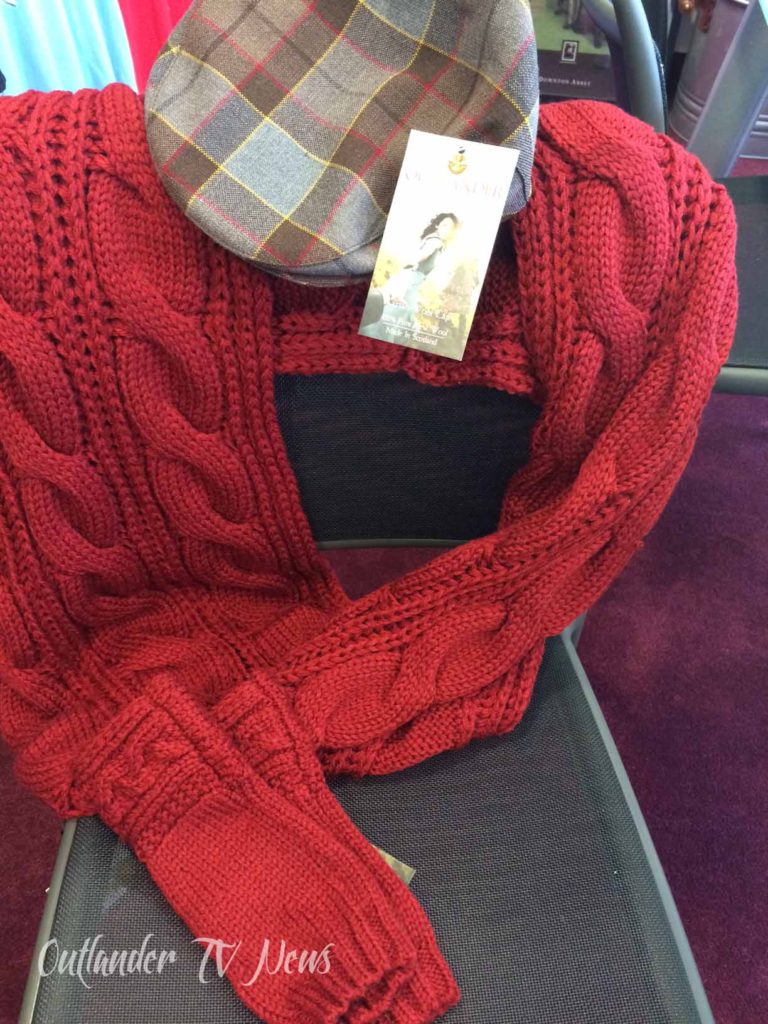 The following is the list of Companies and the Outlander Products each offer or will soon be offering.
AbbyShot:  Costume Replicas and Fashion Clothing
Ata-Boy Inc.: Magnets, Laminated Buttons, Key Chains, and Mouse Pads
The Celtic Croft: Traditional Scottish Apparel & Accessories including Kilts made with authentic Outlander Tartan sources from Scotland (same mill as the show wardrobe)
Cryptozoic Entertainment: Trading Cards, Playing Cards
Dark Horse Comics: Assorted Gifts, including sculpted snow globe and book ends, ceramic steins and journal.
EMCE Toys: Novelty Items
Factory Entertainment: Jewelry and Accessory Replicas, Stationary, Lithographs, Pillows, and Towels
Funko: Pop Vinyl Figurines
Katalyst Licensing & Promotions: Stationary, Housewares, Accessories, Food Items, and Drinkware (Canada only)
North American Bear Co: Collectible Stuffed Bears in Costume
Orchard Yarn & Thread: Yarn and Patterns
Random House: "The Making of Outlander: The Series" Book
Ripple Junction: Shirts and Jackets
RockLove: Handmade Jewelry in silver and/or bronze
Running Press: Mini Gift Kit
Scorpio Posters: Wall Posters
Seller's Publishing: 2016 Daily Boxed & Wall Calendar, 2017 Daily Boxed & Mini Wall Calendar
Surreal Entertainment: Glass beverage ware (sold individually), 3D molded  drink ware, fleece blankets, novelty items
Tonner Dolls: Limited Edition Collectible Dolls
Torrid/ Hot Topic: Women's Apparel and Accessories
Toy Vault Inc.: Card Games, Board Games and Party Games, Kitchen Linens, Resin Wall Decorations, and Wine Charms
Vandor: Drink ware including drink ware (sets only), flasks, tin containers, cookie jars, sald and pepper set, wall clock, impulse stationary
Walkers Shortbread: Walkers shortbread assortments
Zazzle: On- demand apparel and gift items.
What items are you most excited for or would most like to see? Let us know, we would love to pass on suggestions.