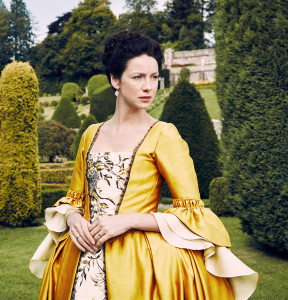 In the new ENews interview, Caitriona Balfe (Claire) gives Kristin Dos Santos the skinny on Season Two's absolutely fabulous costumes.
Sneaky Caitriona and Terry (Dresbach, costume designer). Turns out, the two began the fitting process at the close of shooting Season One. Balfe describes the final product as restrictive but consisting of "luscious fabrics."
On her character's opinion of the wardrobe shift, Balfe says "It's two-fold. I think Claire was finally excited to explore her femininity, but also once you've enjoyed it in the beginning, then there's that restriction. It puts her in a different place as a woman that she didn't really expect."
Sam Heughan (Jamie) makes an appearance in the interview too. But he's mum's the word in this one. Good lad, Sam. Good lad.
Source: EOnline.com