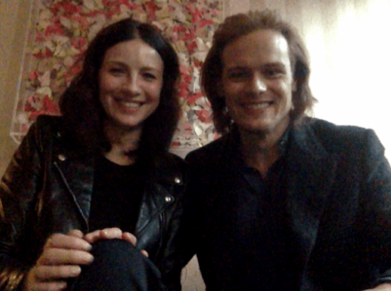 With the end of another Droughtlander in site, Amazon Video UK hosted a live Tumblr Q&A this afternoon with Outlander stars Sam Heughan and Caitriona Balfe. The pair discussed their favorite costumes, filming locations, and why Sam would want to be the coffee guy on set. Below are a few select questions from the Q&A. Read the full interview here. Outlander returns to Amazon Prime UK on April 10th.
jamesandclairefraser asked: Hi Sam and Cait. The amazing chemistry between the two of you is something that many people talk about and it's part of the reason why the show is so popular. It's clear that you have a great friendship, so what I'd love to know is what's the one quality that you admire most about each other?

Sam: Caitriona's generosity of sharing a bloody mary.
Caitriona: His kindness and his thoughtfulness.

demonsunshine asked: Can you tell about the next season in 3 words?

Caitriona: Intrigue. Heartbreak and closure.
Sam: Fate. Blood. Redwine.

noregretsjustlovecc asked: S1 or S2 which one was harder to perform emotionally and physically? love you guys!

Sam: They're both completely different with their own challenges. However, Season 2 is more complex.

marieinthemist asked: We're doing a *30 Days of Oultander* challenge, counting down until premiere day. One of them is to pick your favorite location from Season 1 (indoors or outdoors). Which one was your favorite, Sam and Caitriona? #30DaysOfOL

Caitriona: Loch Rannoch.
Sam: It has to be the same. Where we shoot the standing stones. There's a beautiful mountain there

sarcasmisalifechoice asked: The costumes for the first season of Outlander were insanely beautiful, and from what we've seen of season two they continue to stun. What were you're favourite costumes from both seasons?

Caitriona: My tartan dress from the season 2 poster and my '40s nightgown from season 1… and all of my Parisian wardrobe.
Sam: The kilt and the kilt. However I get some awesome clothes in Paris.

melonieross asked: Which of the new actors added to Season 2 is the funniest on set and can you share a story?

Sam: Lionel who plays King Louie was very funny and some ad libbing moments in French between the two of us that can never be repeated.

technicallycleverdaze asked: In season two, what are the qualities Claire and Jamie bring to the partnership which help them undertake their daunting task?

Sam: They support each other and have faith in one another. They have a drive and determination and they learn to manipulate.

gotham-ruaidh asked: If you could pick one "behind the camera" job, what would it be and why?

Caitriona: I would love to direct. Then you get to work and collaborate with all of the departments. That would be a lot of fun.
Sam: The coffee guy. You get unlimited caffeine and you get to see everyone.
Source: Amazon UK Video