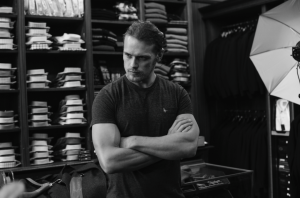 Sam Heughan (Jamie Fraser) recently chatted with Stewart Christie & Co. (SCC), the "oldest bespoke tailors in Scotland." Established in 1720, roughly 20 years before Claire (Caitriona Balfe) meets Jamie–thank you, standing stones–the self described esteemed tailoring firm picks Sam's brain about all things Outlander, Scotland and of course, fashion.
Sure, a couple of the questions posed by SCC could be considered for an Oscar in the  "Shameless Plug" category, however Heughan definitely offers up new insights into his character and the importance of sustaining Scottish culture and heritage.
Excerpts: 
Twelve yards of fabric can be tricky to handle, but can you tie your own kilt? 
Absolutely. It's an interesting process (especially in a small enclosed space) – laying out the fabric and folding pleats, then laying down to tie it around the waist. It's part of a ritual, and one that warriors and highlanders share.
Considering that Outlander is largely filmed in Scotland, have you ever found yourself on location at a place you've visited, or think of fondly, having grown up in Scotland?
This has happened many times. Recently we shot around Drumlanrig Castle in Dumfrieshire, which has many ties to the subject matter (the Jacobites having stayed there etc). Plus, I was brought up nearby and had visited as a child. It's such a gift to be able to bring that to a role: the history and sense memory of a place.
Playing Jamie Fraser, you've had the unique opportunity to experience firsthand (at least in some respect) Scottish life in the 18th century. What do you think has changed most?
Technology, warmth and roads. We've become soft. They were hardy people and probably didn't live long!
See the full interview here.
Source: Stewart Christie & Co.