**Heavy Spoiler Alert:  If you would rather not see the red dress until it airs in an Outlander episode, look away now before it is too late.  Seriously.**
The day began with Starz saying to go grab the newest issue of People Magazine for a look at *the* dress for season two of Outlander.  For us readers, that immediately means the red dress.  While I quickly found out that stores don't switch out the magazines until Thursday or Friday, a fan (thanks, Wanda) on Twitter found a copy (it has Ryan Reynolds on the cover, bonus!) and snapped a photo of the reveal.
Yes, indeed it is Claire (Caitriona Balfe) in that red dress, with a bonus Jamie (Sam Heughan) by her side.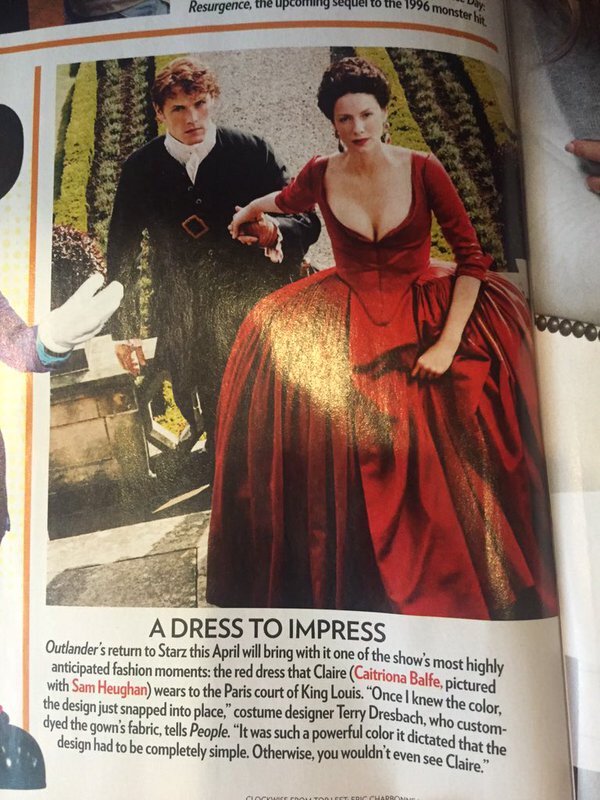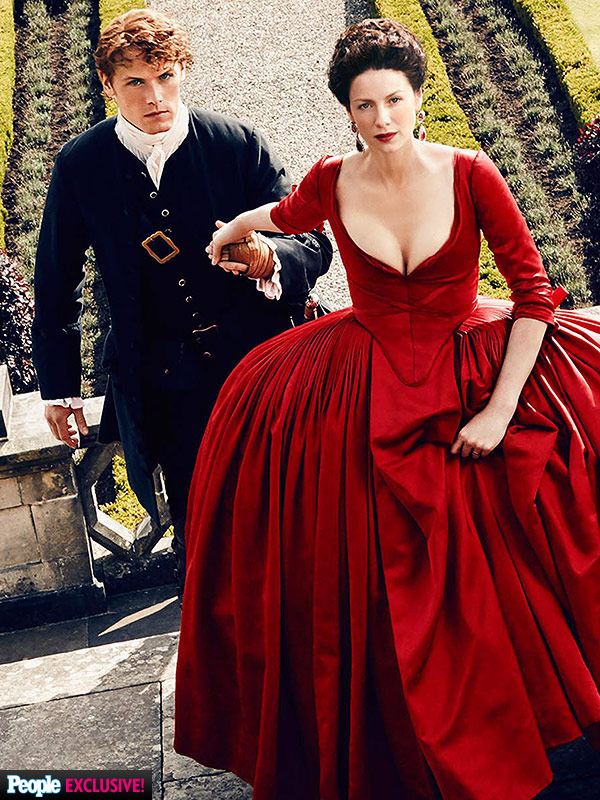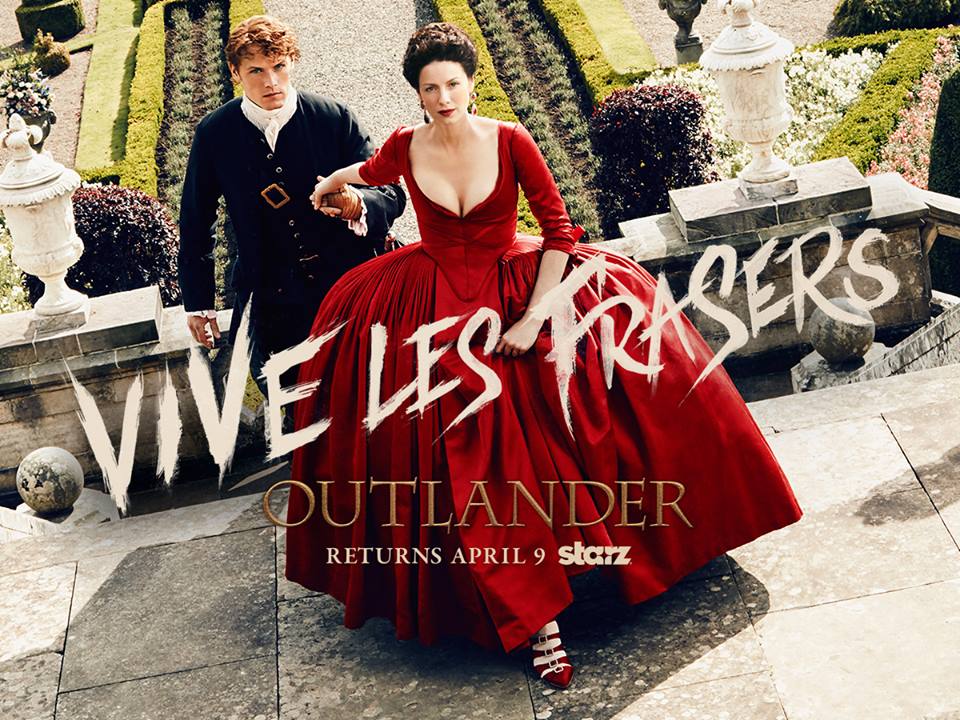 The reveal in People is accompanied by quotes from costume designer Terry Dresbach on the color and construction of the dress.
Update: It all makes sense now because Starz has used the above photo as their season two key art or poster.  So there is no avoiding it, and Terry may be pleased as punch that this costume is front and center for the whole season.
Now, let's get to the controversy that Starz's tweet started and the resulting photo in the magazine.  Many fans are upset that they revealed the only dress that had held something special in the book and fans before the episode that it will be in.  Flashback to season one when that dress was Claire's wedding dress.  We did not see it until the episode aired.  We did see photos of the wedding dress' undergarments, but not the dress itself.  We did not even see Jamie in his wedding clothes either.  Now before the season premiere's date is even announced, we get the whole damn costume.
Previous to this, Terry Dresbach was not happy with how the first look at Claire in a yellow dress was revealed in Entertainment Weekly.  It was against a green background, and she was rightfully angry.  She has also talked on Twitter about not discussing a costume until it is presented in an episode.  The costume is part of the story, and taking it away from that takes it out of the context it is meant to be presented in. Again, Terry has stated time and time again that she is not involved with the publicity of the show or making decisions about what is revealed and when.
So, here is my own personal opinion.  Yes, the red dress should have been saved for a big reveal in the episode it is in, just like the wedding dress.  I don't know why Starz decided to use this image.  There are plenty of characters that I would have loved to have seen used in an image instead (Mother Hildegard, Master Raymond, Fergus) that would have satisfied reader fans and piqued the interest of non-readers and non-fans.  I am not a publicist or someone in marketing, but I have been on the press side of films and television since 2009.  Sometimes things like this just don't make sense, and trying to figure it out will make you want to bang your head against the wall.
Source: People Magazine