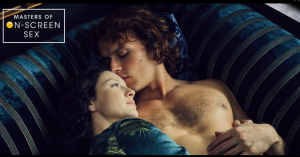 The Queen of Sateen! The Duchess of Damask! The Empress of Embroidery! And honestly one of my favorite contributors to Outlander, Ms. Terry Dresbach recently talked shop with Elle.com.
When it comes to costumes, it seems production time is as constraining–if not more–as Claire's (Caitriona Balfe) corsets. But more interesting is Dresbach's approach to balancing authenticity with functionality in the quest for a more realistic depiction of female characters.
Excerpts:
Ron has been very, very clear that he wants things to be as realistic as possible. So that dictates how the costumes function. We have to have a separate room for our lead actress, Caitriona [Balfe], to get dressed in, because her costumes don't fit through her trailer door. So it's not about figuring out a way to do a contemporary television show with the expectations that most contemporary TV has but rather doing it accurately.
 I mean, we have things in the writers room where they're like, 'And then he rips open her corset,' and I'm like, 'No, actually, you don't rip open the corset. Try it. Here, I'll put it on a mannequin, try to rip that sucker open. It's not going to happen.'
I'll just say this: You don't have to be naked to be sexy. This show is sexy, and yet we don't make sexy clothing—we just make clothing that's accurate to the period. It's about the actors. It's about the scene. And it's about the writing. It's not about somebody's breasts."
Rock on, Terry.
Follow Terry on Twitter: @Outlandercostum
Source: Elle.com