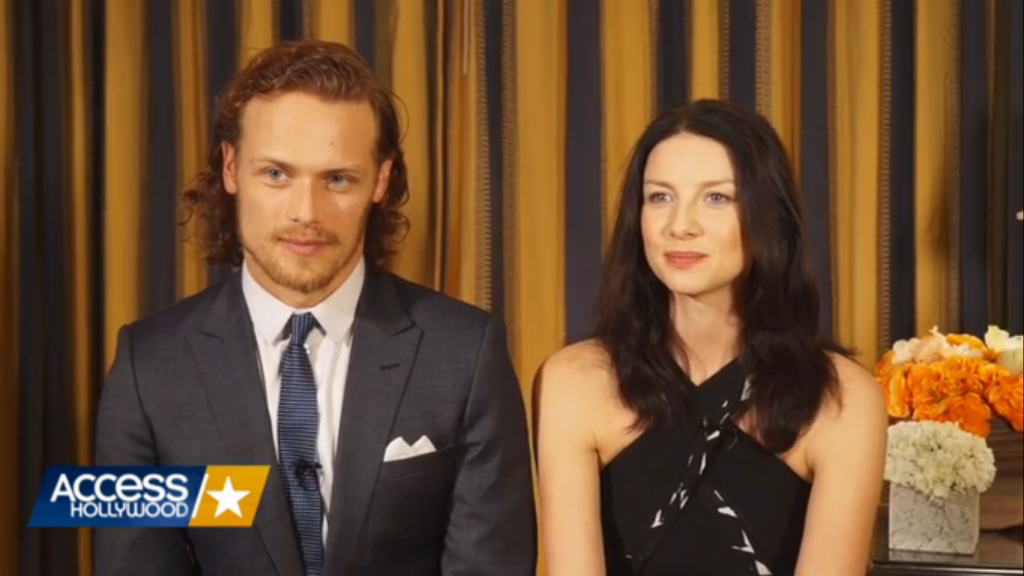 While the Outlander quartet was at the winter 2016 Television Critics Association tour, they also made the rounds for interviews with critics and journalists.  Below are the interviews that have posted thus far.  Please check back as new interviews will be added as they become available.
Some videos may start playing automatically as the page loads.
Updated (3/4/2016): Two new TV Guide videos added, one written TV Guide interview, Yahoo! TV interview, and a lovely interview with Caitriona from The Globe and Mail.
TV Guide: Caitriona compares Frank and Jamie (MAJOR SPOILERS, do not watch if you have not read the Dragonfly in Amber.) Source link.
Sam and Caitriona discuss what is new in season two. Source link.
TV Guide Interview #3: In this interview with Sam and Caitriona, they discuss whether Jamie will get past what happened to him:
"There's definitely still some mental trauma there. The physical side he can heal. It's not modern-day life, so there isn't a psychologist he can talk to," Heughan tells TVGuide.com. "He did something that was out of his control. He betrayed Claire and he feels guilty about that. He feels that he can't be the husband or the man that he wants to be. He needs some sort of reconciliation."

That guilt will lead to Claire playing a very active role in helping Jamie rebuild his life. There's a baby on the way to bring them hope, but Claire comes up with a more immediate plan to help them get past everything that happened. "She also takes this idea of giving him a mission as something that will help him heal and take his mind off what he'd gone through," Balfe says. "We see her really being this champion of this idea that they are really going to change the future. It gives him something to get up for."
Access Hollywood:  Sam, Caitriona, Ron, and Diana talk about finding out about the Golden Globe nominations and what they might wear to the awards.
E! Online:  Sam and Caitriona talk Golden Globe chances and dates to the awards.
The Globe and Mail: Caitriona talks with John Doyle
Balfe says this is true. "To be a super-heroine means having superpowers. Claire has no special power, she is intelligent and able to adapt to situations that befall her. She is a woman of the 1940s, when the war meant that women had jobs they had not been entrusted with before, and able to leave the home. She's seen a lot, was a nurse in wartime, and she's strong in any situation."

"I was surprised by some the details and events of Scottish history. I grew up not knowing about it. In Ireland we learn a lot about Irish and European history, not about Scotland. Its history is astonishing; it's bloody and full of heartbreak. You just can't help but be moved by it."

Another one of those very direct, cool looks as she answers, but with a billow of amusement: "For me, it's kind of wild," she says, laughing gently. "Before this I had five or six acting credits to my name. Two of which I didn't even speak in. It's a personal milestone, you might say. It puts me in a place when I have more opportunity, and it comes from this wonderful opportunity."

"For the show, for everyone involved from the crew in Scotland to Diana, to everyone, it brings more attention, something Outlander deserves."
Yahoo! TV: All quotes are taken from a lengthier post about season two which includes quotes from their TCA interviews.
"Just because we got nominated for a Golden Globe doesn't mean I have access to an unlimited budget now. Things will still have to be cut or modified," Moore joked in an interview with Yahoo TV at the Television Critics Association Winter Press Tour.

With a change of scenery comes a change of clothing as well. Costume designer Terry Dresbach, according to Caitriona Balfe in a January interview with Yahoo TV, has gotten to "go wild with color and prints and silks. Our Scotland clothes, for the most part, were practical and subdued. But in France, everyone in Court is dressing to impress. The look of the show is extremely different thanks to the sumptuous colors, rich fabrics and feel."

The show's creators and producers, who have always worked in close conjunction with author Gabaldon, have taken their relationship to the next level by asking her to write episode 11. She told Yahoo TV in a January interview, "I never expected to be asked, but I was delighted to be asked. It was very different than writing a novel, but I had so much fun learning how, writing an episode, and being on set to see it filmed. I would do it again in a heartbeat if they need me to in Season 3."
All sources linked in the post.