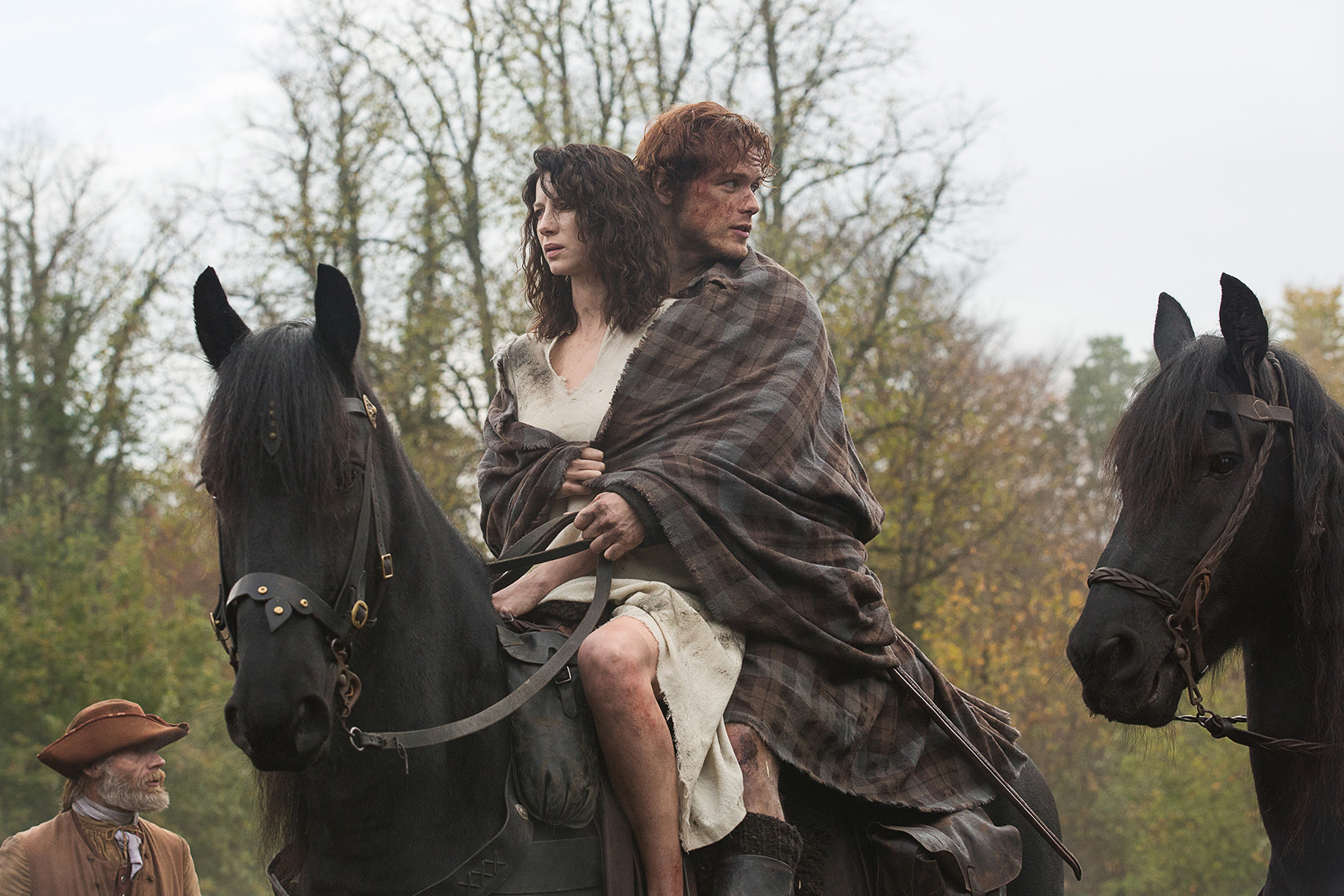 After Outlander received three Golden Globe nominations this morning, Ronald D. Moore has given some interviews to outlets about the news.  He also discusses the second season, casting (Brianna and Roger), and Sam Heughan's nomination snub.  Below are excerpts from the interviews, so please click the links to read the entire interviews.
TVLINE | These are major nominations, especially for a new show with a weird concept.
We're all very surprised and very honored. It's really great for the entire team. They're out there right now shooting in Scotland in the dark and cold. It's winter. It's a big shot in the arm for everybody. It's a lot of hard work to make this show and it's great to see it recognized.

TVLINE | I don't mean to bring the party down, but it's surprising Sam Heughan didn't get nominated when Caitriona Balfe and Tobias Menzies did. Why do you think that might've been?
I agree. I wish Sam had absolutely been recognized, too. We always think of them as the Big 3 on the show. He's a huge part of our success, so that is disappointing. He absolutely deserved to be recognized, as well.

TVLINE | Have you shot the scene where the boy who will become Lord John meets Claire and Jamie?
Yes we have shot that scene. I haven't seen it cut together yet, but it has been done.

TVLINE | You know I have to ask: Brianna and Roger? Have you cast them?
Very close. We're hoping to be able to announce them very soon.
How conscious were you that the Globes nominations were going on?
I was asleep; I had honestly kind of forgotten that today was the day. [Laughs] My cell phone kept buzzing, and I was like, "Who the hell is calling me at this hour?" I look over, and it's my agent [on the phone], and I'm like, "Really?! Are you kidding me?" He's like, "You got a Golden Globe [nomination]!" What?! So I shouted out to my wife, Terry [Dresbach], the costume designer on the show, who was in the kitchen…and she came running and was like, "Oh my God, what happened? Is somebody dead?"

So once you reassured her everyone was alive and well, what was your next move? Did you reach out to the cast and crew?
I was trying to get people. I'm in L.A., and they're out on location in Scotland. And it's night, and cold, and it's hard to reach anybody. But people there were thrilled, once they got the word. It's a huge recognition for the entire team, and it's a shot in the arm for the people who are freezing and tired at this moment to know that their work is being recognized.

What does this nomination mean to you?
Anything like this boosts your profile. There's only a handful of shows that are recognized, and suddenly people go, "Oh, Outlander. I've heard of that. Didn't they just get a Golden Globe [nomination]? Maybe I'll check that out." It helps you penetrate the public consciousness.

The bittersweet element of this is Sam's snub. Have you been able to speak with him yet?
I haven't been able to hook up with him yet. We're disappointed Sam didn't get one as well; he's absolutely part of the success. We always thought he, Tobias and Cait are the big three on the show. He had a huge amount in putting us where we are—he's the male lead. The fans love him, and his work with Cait and Tobias was tremendous. But it's tough. It's a tough category. All three categories are very difficult. We certainly wish he was recognized as well.
Moore, who plans on celebrating with an extra-indulgent breakfast – specifically, "some goods eggs benedict" – says he's proud that Balfe has been named alongside fellow nominees Viola Davis, Eva Green, Taraji P. Henson and Robin Wright.

"If you think about what she did, being part of every scene plus her voice-over, you can't help but be impressed with Cait," says Moore of the Irish actress, who plays Claire Beauchamp in the Scotland-set period series. "It's a unique performance, and it's a tremendous responsibility … she's earned her place in those ranks."

"Tobias never made Jack Randall a monster," reflects Moore. "He was a human being who was doing something horrible. There was a humanity in that character that was always present. That's a tremendous salute to what he's been able to bring to the role."

Moore says Heughan's performance in the upcoming season is definitely awards fodder.

"He has a much bigger part in the second season. If you think of the arc of his character in this first season, it was a much slower build," says Moore. "It was really Claire's story, which included certain issues and characters along the way. He certainly has a lot more material in the second season than in the first."
The show, Catriona and Tobias are all nominated. Have you talked to any of the cast?
I've exchanged emails with Cat haven't been able to talk with Tobias yet but we're just all thrilled. It's great that the show is shooting today, they're out on location in the dark, winter cold and it's certainly a big morale boost to everyone to see their work recognized.

A great day and yet the fans are devastated that by the Sam snub. Have you talked to him? Any thoughts on how that could have possibly happened? 'Cause I'm at a loss.
It's a tough field. There's a lot of content out there, there's huge amount of material for people to wade through. It's tough. He absolutely deserves to be included in those ranks. And we always treat our cast as 'the big three' on the show and so yeah, it's disappointing he wasn't included. He absolutely deserves it.

Any update on the casting of Brianna? That started a couple months ago. How has it been going? Has it been more challenging than you thought?
Hopefully we'll be announcing soon. We're getting close. But it's a tough part to cast and it's just taking a while.

Are you looking for a known name or that doesn't really matter? Because I would think at this point, well-known actors are wanting to come on the show.
We haven't been really looking for a name per se. I think we're open to it but it hasn't really been our focus.

When do we get an official start date for season two?
I hope we'll be hearing about it soon. I'm not sure where they are.

And how about season three? Will we get any new of a pickup soon?
Hopefully soon. We're certainly talking about it and we're talking about it with the stars and Sony but nothing is official. I don't know what the timetable is officially. But I'm pretty optimistic.
How does it feel to have Caitriona and Tobias nominated too, and are you disappointed that Sam was snubbed?
Bummed for Sam. We obviously thought he was in the same caliber as they were. We think of them as the Big 3 on the show. Like I said, he did tremendous work with Tobias in the last couple of episodes and was a big success overall. But it's a tough field, tough competition. We certainly feel like he earned it as well.

Cait is in a class by herself. If you look at Season 1, she was in every scene, every episode, for a long time. She was there from call to wrap over and over again. Audiences had to get comfortable with her, in voiceover she was in your head, you had to watch her continuously, and I think it was an amazing performance. The show literally sat on her shoulders, none of us would be here if Cait wasn't as good as she is.

And Tobias, you think "wow." Lots of actors have done what he's done over the years, playing two characters, and he did it better than I've ever seen done. He gave both characters dimension and depth, richness and detail. Neither of them are a caricature. Jack Randall is a really complex person, his humanity is always there. These are horrible things he's doing, but he's never a cartoon character. And Frank was not just some nice guy, he was complicated and tortured too.

There's speculation that it doesn't follow the book, "Dragonfly in Amber," quite as closely as the first season did.
Yeah, it took more work to adapt it. It's a more complicated plotline. Diana shifted points of views a couple of times, it's more politicals, it deals with a lot more elements, it shifts locations more than once. It's just a more complicated piece of material to try and adapt. Whereas the first season, it was relatively more straightforward, more linear and you can just track it moving forward. Season 2 just required more work. It was a harder book to adapt and as a result, we did make more changes from the source material than we probably did in Season 1, but it's definitely that world. It's definitely that story. Anyone who's read the book will definitely recognize it.

I have to ask if you've cast Jamie and Claire's daughter, Brianna, or her love interest, Roger yet.
We have not cast anyone yet, but we are very close. We are closing in on it.
Source: Linked in the post