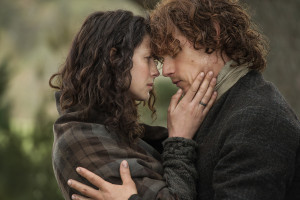 Amazon Prime account holders now have the option to bundle Starz and Showtime streaming services. This means users can access cross-channel programming, including Outlander, from the convenience of one user interface.
Available Tuesday, December 8, this marks yet another first for Starz who saw record-breaking viewership numbers with its 2014 premiere of a show about a strong-willed, time-traveling heroine.
See the full story here. Then go get your Outlander fix!
Update by Sarah:
We have gotten a few questions about this news, and I wanted to try and answer them.
Is this only for the United States?
So far, yes.  If you are in the U.K., Outlander is already offered through Amazon Prime.
How much does it cost?
You must already have an Amazon Prime membership.  It costs $99 to become a member and it is good for one year. To access Starz content, you are offered a free 7-day trial, and after that the additional cost is $8.99 a month.  I am assuming that you can cancel your add-on at any time.  Unlike Prime membership, it is not good for a whole year.  You are paying monthly to have access to Starz content.
Will all of season two be available at once?
No, this is not Netflix.
When will new episodes of Outlander be available to watch?
According to Amazon's advertisements, they will be available the moment they air.
#Prime just got better. Add #Showtime, #Starz & more to your Prime Membership. Learn more: https://t.co/WA8KNQt89l https://t.co/be88tuzUur

— Amazon (@amazon) December 8, 2015
Source: HollywoodReporter.com