[Spoiler Alert:  Although there is no description of characters in season two, there is mention of two in this post.]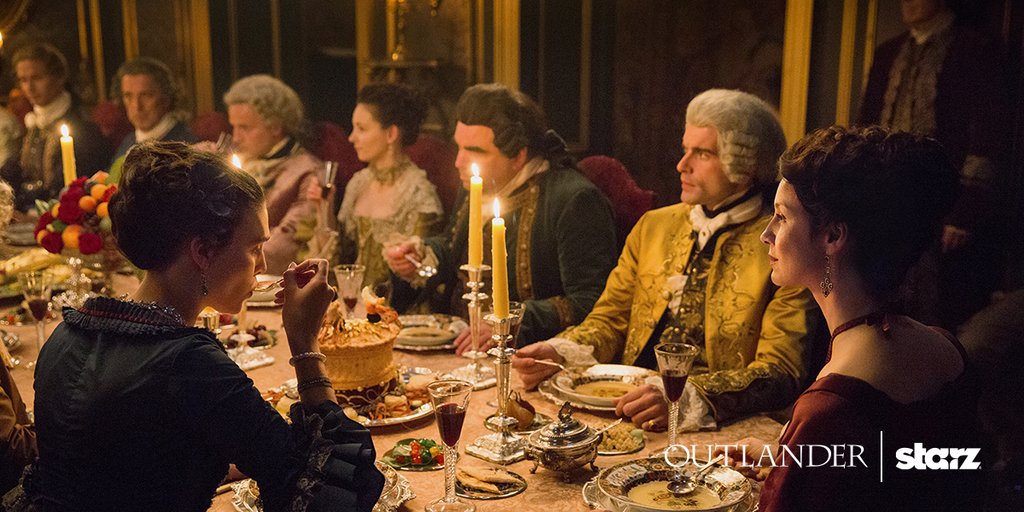 Back in July, French actress Gaia Weiss responded to a tweet from Stanley Weber (Compte St. Germain) about filming Outlander.  It was through that tweet that we found out that she had posted some Instagram photos of her in costume and with a wig on.  It was heavily assumed that she joined the Outlander cast.  There has been no confirmation from Starz, but having seen Gaia in those now deleted Instagram photos, I can recognize her in the newly released official photos of season two.
The question still remains of what character she is playing.  Referring back to the tweets from July, TV Recapalooza asked her if she is playing Vicomtesse de Rambeau, to which she responded to with a "… no." Another character she might be playing is King Louis' mistress Madame de La Tourelle.  Whomever she is playing it is an important enough character to be invited to dinner at the Fraser house in Paris.
Gaia Weiss is most known for playing Porunn in the third season of The History Channel's Vikings.  She also played Hebe in The Legend of Hercules alongside Kellan Lutz.  Gaia is 24 years old and was born in Paris, France.
You can follow Gaia on Twitter, Instagram, and Facebook.