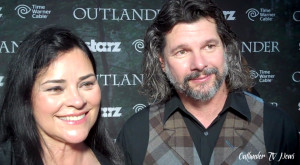 TVLine.com just released additional Outlander Season One behind the scenes footage of showrunner Ron D. Moore giving "Herself," Diana Gabaldon, a hands-on tour of the prop department.
From Geillis' late-night fertility dance offerings to a fascinating candlelight radiance contraption, check out her reactions to the various "antique implements and furnishings" as she calls them.
This and additional snippets of previously unaired Outlander joy will be included on Outlander's Season One, Volume Two Blu-ray and DVD, available Tuesday, September 29. Right around the corner!
Ah, it really is the little things that make the difference when suffering through Droughtlander. Watch it here!
Source: TVLine.com