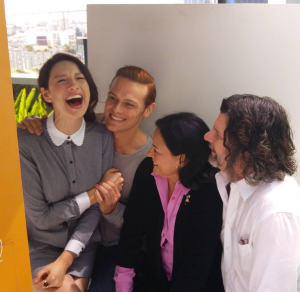 In a recent interview with Blastr, showrunner Ron D. Moore and lead actors Sam Heughan and Caitriona Balfe discuss changing shoot locations, Jamie and Claire's changing relationship dynamics and of course, their mission to change the future.
With season two (based on the novel Dragonfly in Amber) set partly in the 18th Century French Court, the change in story setting affects more than just the production location. In addition to shooting parts of season two in Prague and southern England as a practical replacement for the famed City of Lights, the new setting brings on additional challenges.
From the Article:
"We felt a little bit of discomfort in the transition, because we were so used to playing in this gritty Scottish mud," Balfe said about leaving their Scottish location shooting behind. "Everything was very muted with the wools. Now all of a sudden we're in these luxurious apartments and grand houses."
Moore concurred and explained, "Every set, costume and prop [from Season 1] had to be set aside. Now it's a whole new series.
As to how Jamie is adapting to life at the French Court in the aftermath of his abuse at the hands of Captain Black Jack Randall, Sam Heughan refers to Jamie's internal struggles to cope while focusing on the new task at hand.
From the Article:
"Publicly he's a good businessman and very charming, but in those late nights with Claire we see the mask come off."
Sam and Caitriona also discuss how Claire juggles her own insecurities in adjusting to pregnancy while keeping Jamie focused on their "secret mission."
Source: Blastr.com