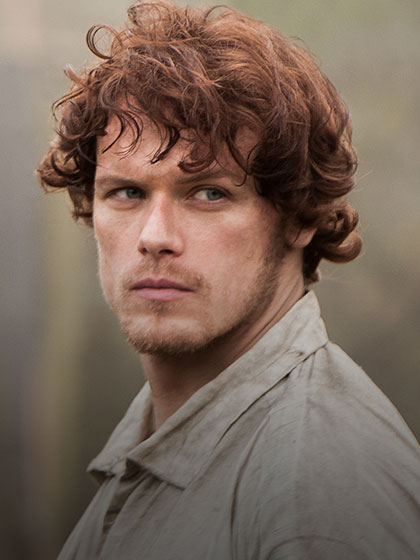 In an interview with Variety, Sam Heughan talks about having all of season one of Outlander completed and airing to the fans, contact with Diana Gabaldon, rape, the Wentworth scenes, and what to expect from season two in regards to Jamie's trauma and the relationship between Jamie and Claire.  [There are some spoilers for season two, so skip this interview and the excerpts if you do not want to be spoiled.]
Fans of Diana's books have been anticipating seeing Jamie's journey translated to screen for years now, and we've been talking about his season one trajectory since you first started doing interviews to promote the show. How does it feel to finally have the whole season out in the world?

Initially, relief was probably the first [emotion] because it's such a big event and we worked really hard towards those scenes and I was really proud of them. We'd obviously been talking about them for quite a while — I was excited to see what people thought of it and also nervous whether we got it right. Ultimately, I'm very proud of it, and the reaction has been terrific.

In the finale, "To Ransom a Man's Soul," you really get to see the emotional aftermath of Jamie's ordeal, which is every bit as affecting as the rape itself. To see this character who has always been so resilient in such a broken state is a very powerful image. How did it feel to explore such a previously untapped aspect of Jamie's character?

I loved it, I really enjoyed it. [Laughs.] Because he can be quite buoyant, not many things really get him down, and with this, his whole being is called into question; his humanity; his character; who he is; and his relationship with Claire is called into question. He's got shame and guilt and all these different emotions are hitting him and it's a really hard thing to deal with. I really enjoyed that, and certainly it's gonna be carried through into season two as well.

What strikes you most about Jamie's evolution over the first season?

I wanted for him to be a boy at the start, quite carefree. He does have this big-headed stubbornness, but he's very much a young lad with no responsibility, and then we see him growing up and becoming a man and having responsibilities, and also deciding what he wants to do with his life and who he wants to be. And then in season two, it's going to be quite different — he's thrust into a world that he's not wholly familiar with.

Claire and Jamie's relationship has continued to shift and deepen throughout the first season — where do they stand now that they've both seen each other at their most vulnerable?

It's funny — there's wedding vows you make, "to have and to hold, for better for worse," but they really have seen each other at their worst. Jamie was absolutely prepared to kill himself because he couldn't be a husband, he couldn't be loyal to her, he felt guilt that he'd betrayed her, he hadn't come to terms with the whole idea of what had happened to him and what he'd done, so the fact that she then brings him out of it and says she would kill herself makes him realize that he has her, that he has to stay alive to save her, to look after her. So she is the center of his world and he's there for her. As long as he's got her, I think he's pretty happy. It definitely made their relationship stronger and more complex, more grey. It's the whole process of a relationship and growing up, as well.

The second season seems like it will be building towards the historical Battle of Culloden, which Claire and Jamie are trying to avert — how are you feeling about venturing further into history?

I'm ecstatic that we're doing that. There are two parts of the second book — the first half is in France and the second half is in Scotland, and I think that's what our show's gonna be. I can't wait to return to Scotland to that safety and comfort of that country, and Jamie's gonna feel the same thing. France is incredible, but the build-up to Culloden is the reason they're in France, to stop this terrible thing happening, and they know from history that it's a terrible tragedy for the Highland culture so… It's also not been filmed for a long time, so the fact that we're getting to portray this historical moment is terrific. I believe there's another film that's going to beat us to it, which I'm quite upset about.
Read the entire interview with Sam on Variety.
Source: Variety