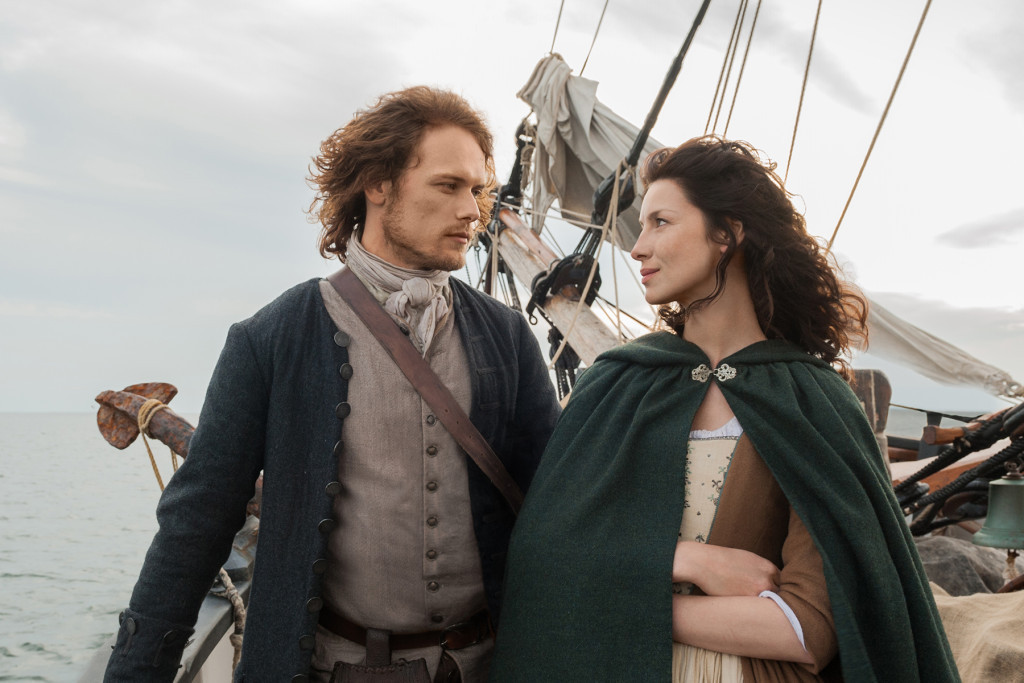 Outlander impressed fans and critics from the very first episode and now that the first season has come to a close, there is a strong sentiment and hope among fans that Outlander will be among this year's Emmy nominees. In a pair of new interviews with Sam Heughan, the actor discusses the show's success, its emotional finale, and Emmy prospects.
EOnline: Outlander's Sam Heughan Talks "Shock" of Emmy Buzz for His Fearless and Risky Performance
Well, my friend, first of all, I have to say, congratulations. I'm sure you had some anxiety going into those episodes and how it was going to be received and everyone has been so positive. You must be so floored.

Honestly, I just have to say thank you, to the fans, and to you. The reaction has been pretty positive and yeah, I was nervous about what people would think about it. We knew even the fans who read the story, just in seeing it, that's different than reading it. I knew the fans would be shocked. There's a sense of relief, too, in people knowing what we're talking about when we're talking about the end of the season, and where they are in their relationship and where they're going. So it feels like we're all on the same playing field again, which is nice.

Going into Outlander's finale with the sexual assault, there was a lot of talk about the Game of Thrones rape and people were upset about that. But the responses could not have been more different. But how did you expect it to be received and are you surprised?

Yeah, I saw that episode last week. I had obviously heard that it had happened, but I mean, they did it really well. You know, just playing off someone's face, it's all about what do you show and what do you not show, and what's more powerful: The imagination or actually seeing it. But it's certainly, on our show, it's crucial to the characters and the relationships and that you know exactly what we've gone through. And yeah, I was really shocked by the response. I knew we'd done some really intense work and I was really proud of it, but I didn't know what people would make of it. I know that a lot of it comes down to the director Anna and Ron editing as well. We did go farther in some places and there was pullback in some places, but I think we really found that fine line. It's challenging viewing, but I think that's sort of what viewers want these days.

The word "Emmy" keeps being thrown out there. Even before the final two episodes and then particularly with the final two. Did you have any hopes or expectations when you signed up for this series that this show, and your performance, would be taken seriously as award-worthy? And how does it feel to know that not just the fans, but the media as well are saying, this is an Emmy worthy performance?

It's kind of a shock. You don't think about that at all when you're filming it obviously, and you're just trying to do the best work you can. And I think if we are being talked about in any sort of capacity, it's just because everyone is working their butts off on the show, and everyone's doing a really good job. And if people want to reward it, then that's even better, but I guess the best part of it is the reaction from the fans, and the people watching it, that's the real payoff. If there is anything else beyond it, then that's just a bonus.
Click here to read the entire interview from EOnline.
CarterMatt: 'Outlander' Emmy exclusive: Sam Heughan on Jamie's defining moments, filming process, season 2 work
You mentioned this earlier, the notion of just concentrating on the work. As you're filming some of these scenes, and there are extremely difficult scenes from this past season, is the notion of the Emmys or any awards show really on your mind?

I don't think so. I think we're quite removed over here in Scotland. I think that's one of the joys of the job, we're removed from that vibe. The shows these days [that do really well], it seems to come from word of mouth. They become hit shows. Your friends and family talk about it, and they recommend it for you to watch. I just hope that our show goes that way. Even if people do mention our show in conversation about Emmys or awards, that's fantastic.

It seems to be the fans really [offering tremendous support], and their response is more than enough.

I know everyone will talk about your performance in 'Wentworth Prison' and really the final two episodes as a whole, but I'm curious if there is a moment from the season that you are particularly proud of that maybe isn't getting that same sort of attention.

I would say episode 9, the first episode of [the second part of the season], after the rescue from Fort William [there is a scene with] Claire and I at the river where we have this argument. I think it was the first time that we got the chance to use our acting chops to get our teeth into something. Up until that moment, especially with my character, I felt the character was kind of on the periphery, and you don't really get to use all of the skills that you've got as an actor. I think that's why the show has been so great to me; you get an opportunity to go to some places that you don't really get in a cop show or regular television. I think what we're doing is quite new and quite different.
Click here to read the entire interview from CarterMatt.
Source: EOnline, CarterMatt