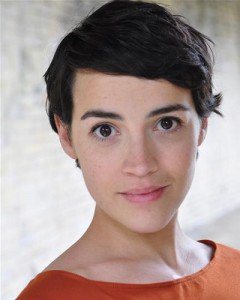 News came this evening that Audrey Brisson has joined the second season of Outlander in the role of Sister Angelique.  TV Wise reports that this is a guest starring role, but with the potential to reappear in other episodes.
Sister Angelique will no doubt be one of the nuns present in the L'Hopital Des Anges in Paris.  This is the hospital that Claire begins to volunteer at after Jamie and Claire move there.  Sister Angelique first appears in Chapter 12 of Dragonfly in Amber.  She is described as short, with a plump features and a pudgy face.  I think it is safe to say that she will not fit the physical description of the character.
Audrey Brisson has appeared in Hereafter and W.E..  Here is her personal information from her Facebook Page:
Audrey Brisson-Jutras is a Canadian singer and performer, known for her work as the original singer and character of Zoë in Cirque du Soleil's Quidam.

Brisson-Jutras was cast as the leading character of Quidam when the show opened in 1996. She sang on the first American Tour, and sang partly in the European tour. Brisson-Jutras also features on the Quidam CD, released in 1996, and is also featured on the Quidam extended CD, released 2001. In addition to CD recordings, she also features on the live recording of Quidam in Amsterdam, filmed in 1999.

More recently, She has been working with Kneehigh Theatre, performing in Midnight's Pumpkin and The Wild Bride, both in UK and international tours.
Brisson-Jutras's voice is also featured on the Le Rêve soundtrack, composed by Benoît Jutras.
You can follow Audrey on her Facebook Page.
Source: TV Wise, IMDB, Audrey Brisson