[Spoiler Alert: If you have not read Dragonfly in Amber and do not want to be spoiled about anything in Season Two, skip this post.]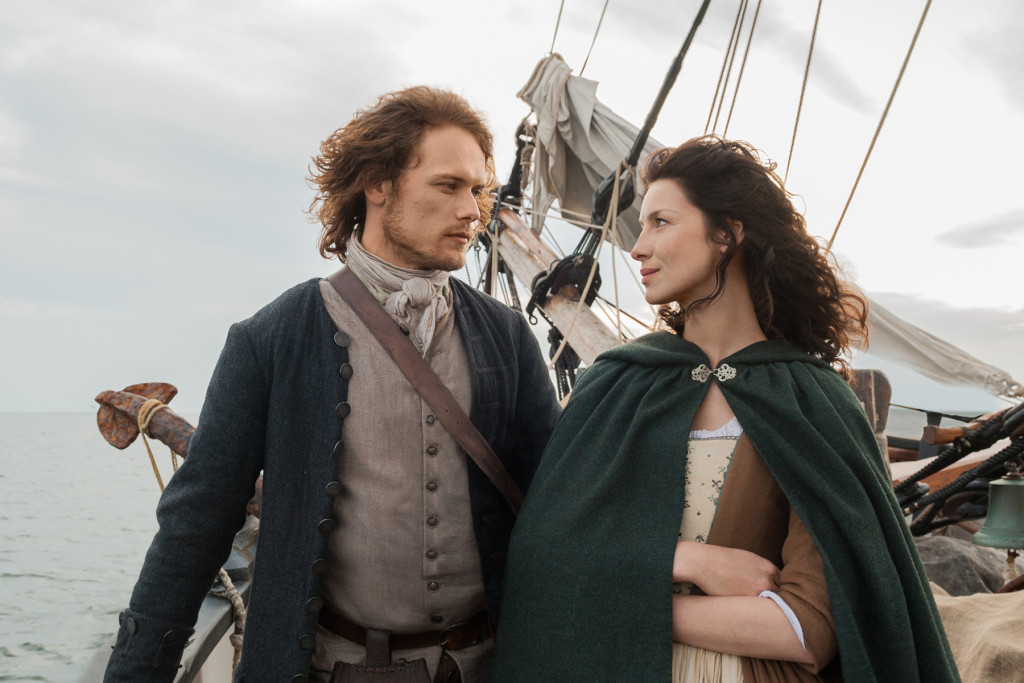 Outlander executive producer Ronald D. Moore did an impromptu Twitter Q & A today, and co-executive producer Maril Davis answered some questions yesterday and today.  Here are relevant question and answers from both.  For full look at what they discussed/addressed, head over to Ronald D. Moore on Twitter and Maril Davis on Twitter.
Important bits from these tweets: 1) Season Two will be filmed in Scotland, the south of England, and Prague, 2) some important supporting characters have been cast, 3) Brianna and Roger have NOT been found yet, 4) already discussing "future seasons," 4) Apparently Frank is a hot button topic, 5) Possible casting announcement this week for Jared and Comte St. Germain.
Ronald D. Moore's Q & A:
On behalf of the entire cast, crew and staff: Thank You! It's been our pleasure to present year one and we look forward to many more.

— Ronald D. Moore (@RonDMoore) May 31, 2015
@kathymom01 @draiochta14 Season Two is more complicated to adapt because Book Two is complicated. More political, moving to Paris, etc.

— Ronald D. Moore (@RonDMoore) May 31, 2015
@KarenNeale1 @draiochta14 Ira Behr was the on-set creative producer for both episodes. I was only there for a few days unfortunately.

— Ronald D. Moore (@RonDMoore) May 31, 2015
@sabriel017 @draiochta14 Might be one in the DVD set

— Ronald D. Moore (@RonDMoore) May 31, 2015
@obenhaus_kathy @draiochta14 No. I don't think you get to play that gag twice. We'll cast a new actor for Alex Randall.

— Ronald D. Moore (@RonDMoore) May 31, 2015
@DebDake @draiochta14 Not sure I have an answer for that one. We tried to include all the parts that we felt were vital to the story.

— Ronald D. Moore (@RonDMoore) May 31, 2015
@Shadowsouix @draiochta14 There's always time for Frank. One of my favorite characters.

— Ronald D. Moore (@RonDMoore) May 31, 2015
@gwhitmanwriter @draiochta14 Very rewarding, very gratifying experience. Great production, great audience response.

— Ronald D. Moore (@RonDMoore) May 31, 2015
@Yr_Obt_Svt @draiochta14 We always start with the book scenes and even have the dialog written up by our assistants.

— Ronald D. Moore (@RonDMoore) May 31, 2015
@DEBORAHRUSSELL @draiochta14 Not yet. Sometime in first half of 2016

— Ronald D. Moore (@RonDMoore) May 31, 2015
@sofbal22 I leave the announcements to Sony & Starz, but several of those characters have been cast.

— Ronald D. Moore (@RonDMoore) May 31, 2015
@Twin1222 We're off to a good start. Sets and costumes are amazing and the cast has settled into the new story.

— Ronald D. Moore (@RonDMoore) May 31, 2015
@myladypeg @Outlander_Starz Still looking for those two.

— Ronald D. Moore (@RonDMoore) May 31, 2015
@TcOdeta @draiochta14 Not part of the casting process — that was just a happy coincidence.

— Ronald D. Moore (@RonDMoore) May 31, 2015
@NinyaDA @draiochta14 Has to do with budgets and schedules. Starz usually doesn't order more than 10/season so we were way above that

— Ronald D. Moore (@RonDMoore) May 31, 2015
@jiggajo @draiochta14 Long hours in the writers' room hashing it out.

— Ronald D. Moore (@RonDMoore) May 31, 2015
@kathymom01 @draiochta14 Just a creative choice. Could've subtitled it since we were in Jamie's POV. Thought it this was more interesting.

— Ronald D. Moore (@RonDMoore) May 31, 2015
@TcOdeta @draiochta14 Not sure I recall making a conscious choice there. Either Ira or I just wrote it that way.

— Ronald D. Moore (@RonDMoore) May 31, 2015
@JaneEllen135 @draiochta14 Keeping all the myriad elements together. Very complex book with many new characters & plot lines.

— Ronald D. Moore (@RonDMoore) May 31, 2015
@MillieLfge @draiochta14 Not screwing up my wife's favorite book.

— Ronald D. Moore (@RonDMoore) May 31, 2015
@MarybethMaxwel1 @draiochta14 Can't give away too much on this one…

— Ronald D. Moore (@RonDMoore) May 31, 2015
@larissahof @draiochta14 Just didn't want to dwell on it right there at the end. Wanted to go out on the big emotions.

— Ronald D. Moore (@RonDMoore) May 31, 2015
@DarleneCPhoto @draiochta14 We'll be shooting a lot of things out of sequence this year for logistical/budgetary reasons.

— Ronald D. Moore (@RonDMoore) May 31, 2015
@RaynerSa @draiochta14 I think to acknowledge the name from the book and also for rhythm of cutting pattern there at the end.

— Ronald D. Moore (@RonDMoore) May 31, 2015
@BsnhoweHowe @draiochta14 Deciding what to keep and what to change. First time I'd done an adaptation. It was a learning experience.

— Ronald D. Moore (@RonDMoore) May 31, 2015
@Pattirose52 @draiochta14 I've done my cameo. The life of an extra ain't all that it's cracked up to be. Those people work hard

— Ronald D. Moore (@RonDMoore) May 31, 2015
@OutlanderTO @draiochta14 We spent a long time worrying about the cows but they hit their marks like professionals.

— Ronald D. Moore (@RonDMoore) May 31, 2015
@A_forAmanda @draiochta14 Maybe someday. No plans to release them at the moment.

— Ronald D. Moore (@RonDMoore) May 31, 2015
@wonderlandjen @draiochta14 @sassssenach @Shadowsouix We'll have to agree to disagree. I think he's very important to understanding Claire.

— Ronald D. Moore (@RonDMoore) May 31, 2015
@cherokee1020 @draiochta14 It'll be great to meet Prince Charlie. Think mixing in real figures from history will add texture

— Ronald D. Moore (@RonDMoore) May 31, 2015
@hvandort @draiochta14 We'll be in Scotland, the south of England, and Prague

— Ronald D. Moore (@RonDMoore) May 31, 2015
@jlentocha1 @GrantORourke @DiscoSmithBand @FinndH @draiochta14 They'll be back when the story returns to Scotland

— Ronald D. Moore (@RonDMoore) May 31, 2015
@teepe54 @draiochta14 It's an adaptation so right away that changes the whole approach. Different task than creating new eps every week

— Ronald D. Moore (@RonDMoore) May 31, 2015
@renreader @draiochta14 Everything shot at Fort William was extremely difficult due to the weather and conditions at the location.

— Ronald D. Moore (@RonDMoore) May 31, 2015
@hvandort @draiochta14 Writers sometimes express a preference, other times it's just a matter of rotation. Directors selected separately.

— Ronald D. Moore (@RonDMoore) May 31, 2015
@YourRacingBelle @draiochta14 @Shadowsouix I think Frank helps define Claire and that in turn helps define J&C relationship.

— Ronald D. Moore (@RonDMoore) May 31, 2015
@YourRacingBelle @draiochta14 @Shadowsouix Also think that counting minutes on screen isn't the way to judge importance to story

— Ronald D. Moore (@RonDMoore) May 31, 2015
@rebeccajohns71 @draiochta14 Time and money, as usual. Features have weeks to do battles, TV have days

— Ronald D. Moore (@RonDMoore) May 31, 2015
@HolaasSandy @draiochta14 Challenging – the writing, Rewarding – seeing final ep. Fun – writers room. Taxing – budgets

— Ronald D. Moore (@RonDMoore) May 31, 2015
@blast4475 @draiochta14 Nope. Satisfied and happy.

— Ronald D. Moore (@RonDMoore) May 31, 2015
@autumnxdays @draiochta14 No, but we've talked about doing that in future seasons.

— Ronald D. Moore (@RonDMoore) May 31, 2015
@draiochta14 @Seussontheloose @bethorne @rogerwakefield We build the story organically from the source material, not trading one for another

— Ronald D. Moore (@RonDMoore) May 31, 2015
@draiochta14 @Seussontheloose @bethorne @rogerwakefield And hard to argue Claire's relationship with Frank isn't a key element in DIA

— Ronald D. Moore (@RonDMoore) May 31, 2015
@blast4475 @draiochta14 Let's hope we have such problems

— Ronald D. Moore (@RonDMoore) May 31, 2015
@dea4dogs @draiochta14 I think J&C are both at center stage of the show. Doesn't mean we can't include other stories/characters.

— Ronald D. Moore (@RonDMoore) May 31, 2015
Maril Davis Q & A:
.@orestialex I've mentioned this before but @SamHeughan is right handed not left handed like Jamie. So switch was necessary.

— Maril Davis (@TallShipProds) May 31, 2015
@angela_sasso @Outlander_Starz maybe

— Maril Davis (@TallShipProds) May 31, 2015
@lynnecunningh13 @TinaRezvani we couldn't do it.

— Maril Davis (@TallShipProds) May 31, 2015
@Alexispetit2 still 1 hour eps.

— Maril Davis (@TallShipProds) May 31, 2015
.@TinaRezvani joint decision. And As I've said before 16 episodes is a huge strain on cast and crew.

— Maril Davis (@TallShipProds) May 31, 2015
@HellenGillies Troon Harbour

— Maril Davis (@TallShipProds) May 31, 2015
@kathymom01 nope. Scripted

— Maril Davis (@TallShipProds) May 31, 2015
.@medevac0129 every block (two episodes a block) takes 24 days to film. Occasionally more #OutlanderFinale

— Maril Davis (@TallShipProds) May 31, 2015
.@FManor75 for insert shots. Where we film added shots later in close up in second unit.

— Maril Davis (@TallShipProds) May 31, 2015
.@johnsonloisk4 @SamHeughan hmmm. The back, the hand, the brand, the musket wound scar (ep. 101), bruises from shackles & dirt/bruises

— Maril Davis (@TallShipProds) May 31, 2015
.@deegirl210 normally more than 60! 🙂

— Maril Davis (@TallShipProds) May 31, 2015
.@poilgino only the times when the camera was pointing his way

— Maril Davis (@TallShipProds) May 31, 2015
.@whitecrisp2 @Outlander_Starz second season is 13 eps. Already mapped out. No changing now!

— Maril Davis (@TallShipProds) May 31, 2015
.@hvandort yes. Funny I know

— Maril Davis (@TallShipProds) May 31, 2015
.@chmok1 wigs

— Maril Davis (@TallShipProds) May 31, 2015
.@rev_loes_brenda easier to move around and she still had her juggler's outfit from 114

— Maril Davis (@TallShipProds) May 31, 2015
A line I wish we'd been able to use is where Jamie says he's built a little roof over the part w/in himself that was broken #OutlanderFinale

— Maril Davis (@TallShipProds) May 31, 2015
Source: Maril Davis, Ronald D. Moore