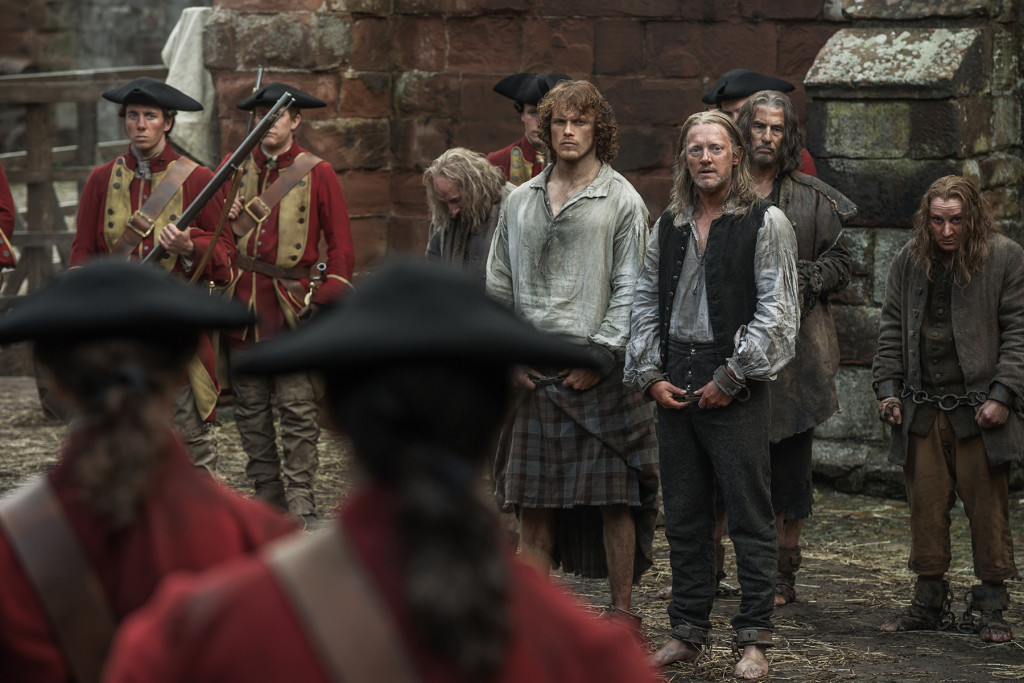 Check out the latest interviews with the cast and crew following episode 115, "Wentworth Prison."
Entertainment Weekly: Outlander postmortem: EP Ronald Moore, director Anna Foerster talk violent prison scenes
This episode hints at some troubled scenes to come. What weighed most heavily on your mind as you were preparing to bring an entirely different aspect of Claire and Jamie's storyline to life?

MOORE: Well you know, from my perspective, from the moment I read the book and then outlined the first season, we knew where it was headed. So this was always looming out there on the horizon that we were going to head to this very dark and harrowing place at the end. We spent a lot of time internally thinking about it in the writer's room and talking about it with the cast well before and prep on it. We just knew this was going to be a big deal and when we got to prep and shooting, we tried to create extra rehearsal time for Anna and the cast to create you know an extra space because we were going to be asking them them all to go to some very difficult places, and we wanted to allow them to do the best work that they all could.

FOERSTER: I have to echo that. It was an amazing experience. I read the book too and when I did the first two episodes ["Both Sides Now" and "The Wedding"], I had no idea that I was going to be involved in the last two episodes. It was really interesting because as I read the book, I thought "Wow, whoever is going to get this will have a real challenge that's exciting and dark." And then sure enough, it came my way, which was super exciting for me. But as Ron said, we all knew that was coming. And just having the ability to rehearse before hand and have in-depth conversations with the actors helped everyone so that we got on set, we all knew where it was going. It was great to have the opportunity to wrap your head around it and have everyone on the same page, from cast to writer and crew and myself.
The Hollywood Reporter: 'Outlander' Writer on "Uncomfortable" Jamie vs. Black Jack Scenes: "Worst I've Ever Spent on a Set"
It's interesting because the episode sets up for an even more intense finale, but it was, in and of itself, also incredibly violent and hard to watch. What was it like creating that environment?

It was much easier to write this episode than it was to be on set. I know how this is probably going to look in print, but the fact is the five or six days we shot were without a doubt the most uncomfortable and worst I've ever spent on a set. Most crews on TV shows and film are very matter-of-fact, tough hombres. And they do that job no matter what's being filmed. This time, though, everyone was feeling it. The guys would walk past me and go, "When is this going to end?" I've never had that happen before. Same with hair and makeup and costume — I would check with them on occasion after a particularly harrowing scene and, I kid you not, there were tears. I'd never seen that before.
Vulture: Outlander's Tobias Menzies on Playing Torture Scenes, Going Full-Frontal, and Getting Back on Game of Thrones
When Black Jack hammers Jamie's hand and nails it to the table, how did you guys pull that off?

They did an amazing job, creating this prosthetic imitation of Jamie's hand, which we were able to hammer a nail into and rig it with blood. They cheated it into the sleeve, so Sam [Heughan] had his arm under the table, and it looked like his hand. It was quite a delicate thing, and they had it wired, animatronics, so the hand could contract. It was really clever work, and hopefully that adds to the severity of it! Plus, we were in this gloomy, rat-infested room. Jail cell rats. I don't mind rats, really. But these were more amenable, more docile than your New York subway rats. Stay away from those! [Laughs.]
Zap2It: 'Outlander' cast agrees: Black Jack is not gay; he's a sadist
"His interest in Claire comes by association, in a way," he adds of Caitriona Balfe's character. "I think he's intrigued. He's just interested in all types of people who are a match to him, who give him a good fight. Claire is no different. She's witty, smart, very able. She's able to joust very ably with him, and that gives him I think just genuine pleasure, to cross swords with someone mentally."
Source: Entertainment Weekly, The Hollywood Reporter, Vulture, Zap2It