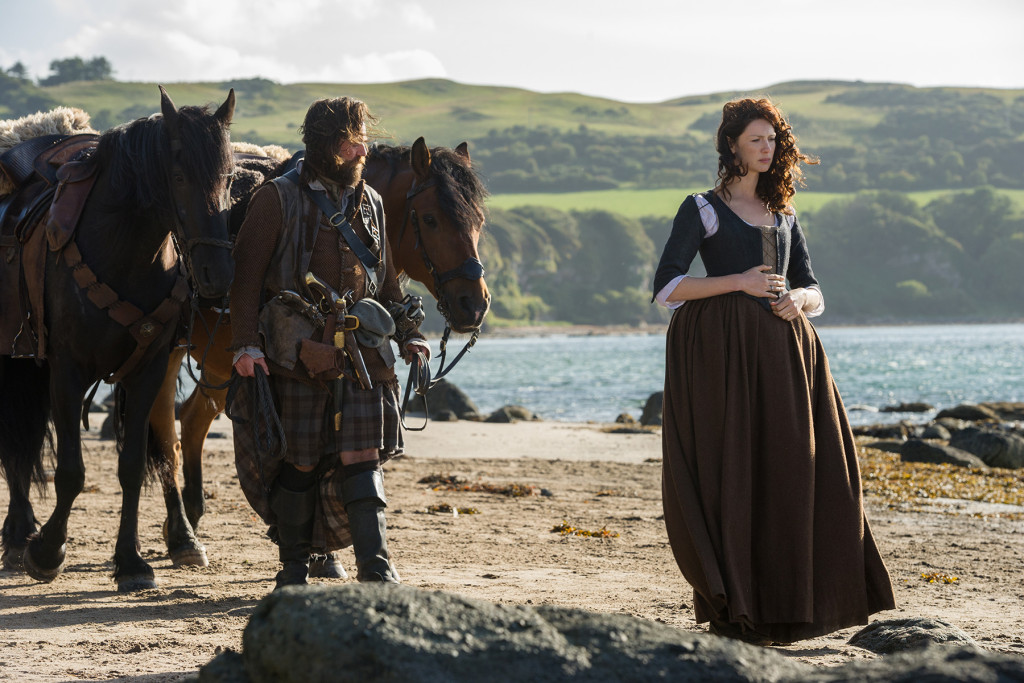 Catch up with all the interviews about Outlander Episode 114, "The Search," with the cast and crew.
Terry Dresbach: Obsessed : The Juggler's Costume
I remember in the beginning one of my team members, Graham, who has quite an impressive collection of 18th century clothing, brought in this amazing coat. It had clearly belonged to a wealthy man, who had worn it a lot over many, many years. You could tell, because when you looked at the inside of the coat, it was covered in darned bits, and with carefully sewn in patches. We don't do that anymore. We discard our clothing when we get bored with it, either individually, or as a culture. We do not nurse a garment across the decades. Even the poorest of our societies, discard the cheap garments purchased at Wal Mart, or Target only a few months or a few years before. But clothes like that coat, tell a story. They tell us about the wearer, they tell us about his life, and the world he lived in. Even a wealthy man, who could afford an ornately embroidered coat, took care of it, cherished it, and above all valued it. It had meaning.
The Hollywood Reporter: 'Outlander' Writer on Jamie's Capture, Dougal's Proposal and Its "Western" Moment (Interview with Matt Roberts)
How did you tackle this episode?

It was an odd and difficult assignment, particularly based on the fact that Jamie's not in it at all. I felt a need to keep him very present in every scene throughout the episode. The previous episode, [writer] Toni Graphia had taken on the gangster genre with "The Watch" and [being inspired by] The Sopranos and all that. But this one felt like the Western where a loved one goes missing and you have to find them at all costs. There are horses and guns and it really had that The Good, the Bad and the Ugly feel to it, in three parts. It's actually kind of set up in that way, too: the good, Jenny and Claire; the bad, the Murtagh; and the ugly — no offense to Graham, he's a very handsome man — being Dougal (Graham McTavish).

Overall, this episode was the lightest of the season.

We needed to take a breather between "The Watch" and the last two episodes, which are going to be very, very heavy. And in writing "The Search," I already knew what was coming down the road so we intentionally wanted to give the audience a break. We couldn't just hit the audience over the head with dark, dark, dark, dark. It's like a war movie. When you just see battles, you need a moment to let the audience just breathe around a campfire or whatever. For the book readers, they obviously know there's a battle coming in more ways than one. You haven't seen Jack — and you're about to, be prepared.

No doubt the singing and dancing bit added to that levity.

In the book, Murtagh sings and dances. [But] Cat sings quite a bit in between takes; she'll sit down in her chair and hum and sing and I jokingly one day said, "I'm going to make you sing one day on camera" and she said, "No you'll never do it." And when it came about that we were going to train Duncan to dance, I thought, "Let's give Claire the singing part."
Yahoo!: 'Outlander' Postmortem: Get Away With Murtagh (Interview with Duncan Lacroix)
This episode had laughs and a generally lighter feel. Murtagh becomes a bit of a sidekick to Claire, a pairing someone who has not read the novels would have never seen coming.
It does indeed turn into a kind of buddy road movie. Reading the script, I was surprised by the humor. I think maybe some of my own sense of humor was bleeding into the part by that stage. There is a time when the actor and the character start to merge, and I think that was happening. But it was great fun working with Caitriona and doing the singing and dancing act.

When Murtagh comes across Jenny and Claire in the woods torturing the Red Coat, he calls them natural outlaws. Was it as fun for you as it was for fans to see the ladies hold their own?
Absolutely. I think that is what is interesting about the whole show, that element of feminism and independence that Claire brings back to that period. There have been so many movies — Rob Roy, Braveheart type things — where it was purely guys running around in their kilts doing swordplay. So it is great to see the girls getting in on the action. Laura [Donnelly]'s performance as Jenny is so strong as well, and the two of them together are quite a formidable pair. They were brutalizing that Red Coat and just about to murder him when Murtagh steps in and handles that last step to save their souls a bit.
The Hollywood Reporter: 'Outlander's' Laura Donnelly: Jenny and Claire Are the "Thelma and Louise of Their Time"
Despite their many similarities, Jenny and Claire's relationship evolved in a very trepidatious fashion.

Jenny, I don't imagine, relates all that brilliantly to other women. She's used to running her own estate and being the leader of the house. So Claire's arrival automatically meant that she would instead take over that role of being the lady of the house even though Claire doesn't have any experience in it. So Jenny is not very impressed, but their mutual love of Jamie forces them to get to know each other better and they definitely develop an understanding and respect for one another.

Which is fun and gives the characters more nuance.

They don't just run into each other's arms like sisters to begin with, and I like the fact that their relationship is allowed a lot of time to develop. Even with the time that they spent together in season one, I don't feel like that's resolved or developed fully.

So what's next for season two?

There's still plenty more to do! In season two there will be a lot more to investigate in terms of [Claire and Jenny's] relationship and places to go. It's going to be really fun.
Vulture: Outlander's Duncan Lacroix on His Character's Romantic Side and Eyebrow Acting
So, as it turns out, Murtagh was in love with Jamie's mom …
Big time. I think it's an interesting character point for him that he's stayed in love with the idea of this woman. He didn't even have her in the first place. But the oath he took to protect Jamie has become the driving force of his life, really. I think he recognizes in Claire and Jamie, what they have together is what he was never able to have.

He's the one who defended Claire in the very beginning, when she first stumbled through time and Black Jack Randall tried to rape her, the first time. And he told everyone, "No, she's not a whore."
He's kind of responsible for the whole chain of events. I remember when we were doing that episode, we were asking, "Why do we even say that? After saving her, why does he bring her back with him?" I think it's because he's got a strong moral compass, an inherent decency, even though he does knock her out on the way. [Laughs.] And once he's done that, I think he feels an immediate responsibility for her, especially when some of the Highlanders start talking about rape. He leaps to her defense there as well. When it comes to matters of the heart and ideas of everlasting love and friendship and loyalty, he's got a strong compass. But he's someone who hides it well. He very much internalizes that and gives off this outwardly brusque, surly demeanor.

Because Murtagh's usually pretty taciturn, you've had to do your fair share of eyebrow acting.
[Laughs.] Ira Behr, one of the producers, told me I pretty much got the role in the first two seconds because of my eyebrows! I've got to be thankful for my caveman genetics.

Is it all your own hair? No wigs, no fake eyebrows?
It's all my bushy own. I already had a beard because I did a small part onVikings, and I just let it go. Who knew I was able to grow a big, majestic, bushy beard? There are a lot of hairy Scots on the show, but I think I might have been the only one who was initially au naturel, apart from Graham McTavish. At this stage, I've forgotten what my face looks like without it. I was able to shave it off between seasons, but once you have a beard this length, your face looks like the size of a peanut, so I immediately grew it back.
Access Hollywood: 'Outlander': Duncan Lacroix On Dancing, Claire & Murtagh's Ellen Backstory
Much of the episode followed Murtagh and Claire on their tour, performing and then squaring off with the gypsies who borrowed their routine. Duncan said he had fun working with Caitriona on "The Search."

"She's so funny behind the scenes as well. It was lots of laughs and it's just an odd dynamic between those two characters, really," he said. "They make such an unlikely duo, but it kind of works… and… you get to see a lot of what makes Murtagh tick all of a sudden. He suddenly kind of blossoms as a character in that episode, so it was great to explore."

Access asked Duncan if he kept the backstory of Murtagh and Ellen in his mind while playing his character.

"Not so much the specifics of that, it's more the fact that he's the kind of guy that's almost an idealist romantic," Duncan said. "He stayed in love with the idea of someone throughout his entire life, and I think that's very revealing about his character — that he's very kind of black and white and very romantic and has a very strong moral compass and won't let things go. He's very tenacious, and yeah, it's a huge aspect to the character — the idea that you would just stay loyal to the memory of someone, even though… he wasn't even with her in the first place."
Zap2It: 'Outlander': Dougal's marriage proposal to Claire is not personal (interview with Graham McTavish)
"[Dougal] is interested in [Claire], and I think Dougal sees Jamie as a young version of him," McTavish says. "There's a part of him that recognizes something in him, and there's a part of him that fears that as well. But he wants to protect the clan, and he wants to also protect his interest in becoming the next laird. So that is the thing that supersedes everything."
Access Hollywood: Caitriona Balfe On Murtagh's Dancing In 'Outlander'
Sources: All are linked back to the original post in their mention.